Special Event: A Recital by Augustin Hadelich violin and Orion Weiss piano
Back To Calendar
With special thanks to Alexandra Munroe and Robert Rosenkranz
This event has
already taken place.
BEETHOVEN: Violin Sonata No. 4 in A minor, op. 23
DEBUSSY: Violin Sonata
YSAŸE: Sonata for Unaccompanied Violin in E major op. 27, no. 6
---
BRAHMS: Violin Sonata No. 2 in A major, op. 100
DEBUSSY: L'isle joyeuse
JOHN ADAMS: Road Movies
Named 2018 Instrumentalist of the Year by Musical America, Augustin Hadelich is known for his phenomenal technique, deeply felt interpretations, and exquisite tone. He'll be joined by Avery Fisher Career Grant winner whom the Washington Post described as having "virtuosity to spare" in this gorgeous evening of Romantic works.
The varied program opens with Beethoven's Fourth Violin Sonata, one of only two in a minor key. The two outer movements are driving and dramatic, and the playful second movement is an innovative slow movement/scherzo hybrid. Debussy composed his only Violin Sonata near the end of his life. There's a deep sense of melancholy here, but also sweetness, vigor, light-heartedness, and nostalgia. Brahms's glorious Second Violin Sonata reveals his softer and more contemplative side. Clara Schumann was most impressed by it and said, "I wish the last movement could accompany me in my journey from here to the next world." After a short detour to Debussy's L'isle joyeuse played by Mr. Weiss, have fun on a wild and whimsical drive with Road Movies by John Adams, which requires the piano to let loose and "swing."
Hear two superb artists team up for an unforgettable evening!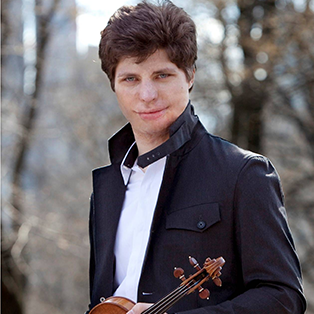 Featured Conductor & Artists