Special Event: A Recital by Daniil Trifonov piano
Back To Calendar
With special thanks to Jane and Larry Sherman
This event has
already taken place.
MOMPOU: Variations on a Theme by Chopin
SCHUMANN: Chopin from Carnaval, scènes mignonnes sur quatre notes, op. 9
GRIEG: Studie (Hommage à Chopin) from Moods, op. 73
BARBER: Nocturne (Homage to John Field), op. 33
TCHAIKOVSKY: Un poco di Chopin from Eighteen Pieces, op. 72
RACHMANINOFF: Variations on a Theme of Chopin, op. 22
---
CHOPIN: Variations on "Là ci darem" from Mozart's Don Giovanni, op. 2
CHOPIN: Piano Sonata in B-flat minor, op. 35
Daniil Trifonov also performs with the Aspen Festival Orchestra on July 15.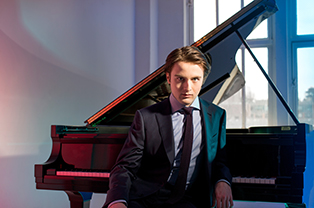 Featured Conductor & Artists