Winter Music Recital Series:
Alexander Malofeev piano
Back To Calendar
Alexander Malofeev's appearance is made possible with generous support from Chuck Wall and Nancy Wall
This event has
already taken place.
BEETHOVEN Piano Sonata No. 14 in C-sharp minor, op. 27, no. 2, "Moonlight"
WEINBERG Piano Sonata No. 4 in B minor, op. 56
RACHMANINOFF Piano Sonata No. 2 in B-flat minor, op. 36
To view the entire 2023 Winter Music Recital Series, click here.
-------
Since winning his first major international competition at age 13, pianist Alexander Malofeev has captured the world's attention. Still only 21 years old, Malofeev regularly performs with top orchestras around the world, garnering critical praise for his technical prowess and emotional maturity. Following his triumphant debut with the Aspen Festival Orchestra during the 2022 Festival, the young star returns to Aspen for a solo recital of wide-ranging piano sonatas.
There is perhaps no better vehicle to showcase Malofeev's impressive artistry than Beethoven's cherished "Moonlight" Sonata, which opens his winter program. A dynamic sonata from a lesser-known Polish composer and friend of Shostakovich, Mieczsław Weinberg, follows. Though his music was largely disregarded during his lifetime, many of Weinberg's works have been rediscovered posthumously. Bringing the program to a close is Rachmaninoff's virtuosic Piano Sonata No. 2.
Don't miss this intriguing young virtuoso in the acoustically pristine Harris Concert Hall this winter!
-------
To learn more about supporting winter recitals in Aspen, please click here or contact Chandler Martin, Annual Giving and Events Manager, at cmartin@aspenmusic.org or 970 205 5065.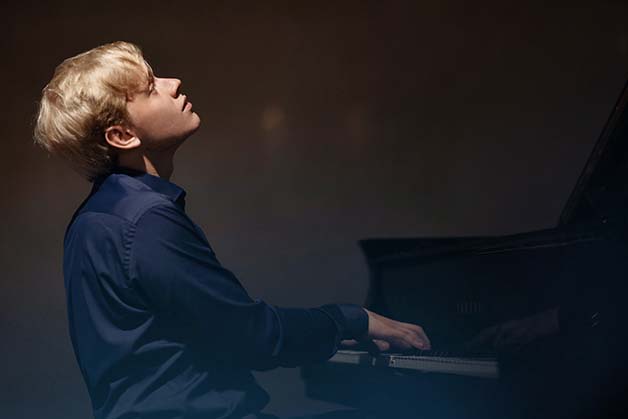 Featured Conductor & Artists