Winter Music Recital Series:
Calder Quartet
Back To Calendar
Please Note:
Tickets on sale January 10, 2022.
Subscriptions available, see below.
HAYDN | String Quartet in B-flat major, Hob. III/40, op. 33, no. 4
PAUL WIANCKO | New Work (North American Premiere)
BEETHOVEN | String Quartet in D major, op. 18, no. 3
ALBERGA | String Quartet No. 2
The dynamic artists of the Calder Quartet are blazing their own trail in the classical music world. Called "one of America's most satisfying—and most enterprising—quartets" by the Los Angeles Times, the ensemble of AMFS alumni brings equal passion to both incisive, masterful performances of the classical canon, and the commissioning and performance of works by emerging composers. One such work by composer Paul Wiancko will receive its North American premiere in Aspen.
Calder Quartet's sensitive and insightful interpretations of classical string quartets will be on full display with both Haydn's String Quartet in B-flat major and Beethoven's String Quartet in D major, op. 18, no. 3—a work that reflects the notable influence Haydn had on a young Beethoven.
Closing the program is the Caribbean and Bartók-inspired String Quartet No. 2 by Eleanor Alberga, a Jamaican-born pianist and composer who has established her place as a giant among today's artists.
Time honored and cutting edge are seamlessly integrated in the Calder Quartet's textured, refined program of music for Aspen audiences.
Also, join us for these other Winter Music Recitals:
Thursday, February 10, 2022: Inon Barnatan piano
Thursday, March 3, 2022: Simone Porter violin and Hsin-I Huang piano
Subscribe and save!
See all three recitals for $99; premium subscription with premium seating available for $180.
To learn more about supporting winter recitals in Aspen, click here.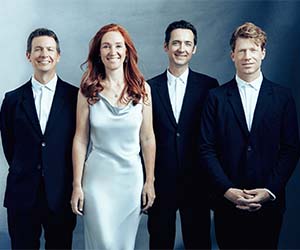 Featured Conductor & Artists