Winter Music Recital Series:
Inon Barnatan piano
Back To Calendar
Please Note:
Tickets on sale January 10, 2022.
Subscriptions available, see below.
J. S. BACH | Toccata in E minor, BWV 914
HANDEL | Allemande from Suite No. 5 in E major, HWV 430
RAMEAU | Courante in A minor from Nouvelles suites de pieces de clavecin
COUPERIN | L'Atalante from Second livre de pieces de clavecin,12e ordre
RAVEL | Rigaudon from Le tombeau de Couperin
THOMAS ADÈS | Blanca Variations
PERKINSON | Toccata
BARBER | Fuga: Allegro con spirito from Piano Sonata, op. 26
BRAHMS | Variations and Fugue on a Theme by G. F. Handel in B-flat major, op. 24
"One of the most admired pianists of his generation" (The New York Times), Inon Barnatan is celebrated for his poetic sensibility, musical intelligence, and consummate artistry. A regular performer with many of the world's foremost orchestras and conductors and a favorite of Aspen audiences, Barnatan kicks off the 2022 Winter Music series with a tapestry of works that span the centuries.
In the first part of his Harris Hall program, Barnatan weaves together movements from larger works that share characteristics of Baroque dance styles. Together, these create a coherent suite comprising composers as varied as Bach and Handel, Ravel, and even Thomas Adès.
Closing the program is Brahms's Variations and Fugue on a Theme by G. F. Handel in B-flat major—a work inspired, in part, by Handel's Suite No. 5 included in Barnatan's carefully connected selections.
Celebrate the return of live classical music to winter with this thoughtful, inspiring pianist!
Also, join us for these other Winter Music Recitals:
Thursday, February 17, 2022: Calder Quartet
Thursday, March 3, 2022: Simone Porter violin and Hsin-I Huang piano
Subscribe and save!
See all three recitals for $99; premium subscription with premium seating available for $180.
To learn more about supporting winter recitals in Aspen, click here.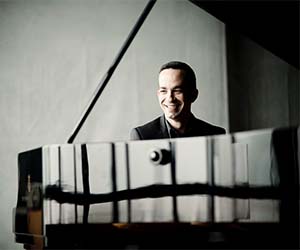 Featured Conductor & Artists