Winter Music Recital Series: Pacifica Quartet
Back To Calendar
This event has
already taken place.
MENDELSSOHN: String Quartet No. 2 in A minor, op. 13
WEINBERG: String Quartet No. 6 in E minor, op. 35
—
SCHUMANN: String Quartet in A minor, op. 41, no. 1
Recipients of the 2006 Avery Fisher Career Grant and named Ensemble of the Year by Musical America in 2009, the Pacifica Quartet, which trained in Aspen, has gained international recognition for virtuosity, passionate performances, and daring repertoire. Their performances consistently reveal a depth of musical understanding, yet always sound fresh and spontaneous, inviting the listener to hear even the most familiar works in vivid new ways. The New York Times has praised their "delicacy and clarity," and Chicago Classical Review called their ensemble playing "impeccable." The Quartet has played nearly 1500 concerts all over the world, from the monumental cycles of Beethoven and Shostakovich to numerous premieres.
Join us for the Winter Benefit and these other Winter Music Recitals:
Tuesday, February 27, 2018: Winter Benefit
Wednesday, February 28, 2018: Inon Barnatan piano
Saturday, March 10, 2018: William Hagen violin
Tickets for children eighteen and younger are just $5! Call the box office at 970-925-9042 for this special rate.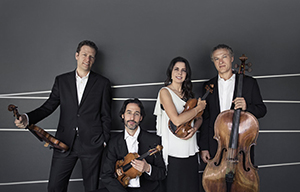 Featured Conductor & Artists