Winter Music Recital Series:
Pacifica Quartet
Back To Calendar
This event has
already taken place.
SHOSTAKOVICH String Quartet No. 2 in A major, op. 68
SHULAMIT RAN String Quartet No. 3, "Glitter, Doom, Shards, Memory"
DVOŘÁK String Quartet in F major, B. 179, op. 96, "American"
To view the entire 2023 Winter Music Recital Series, click here.
-------
Praised by The New York Times for its "spine-tingling intensity," the Pacifica Quartet ushers in a welcome return of classical music to Aspen this winter. Since its appointment to lead the AMFS's Center for Advanced Quartet Studies in 2017, the multiple Grammy Award-winning quartet has been a fixture at the Festival with world-class performances and instruction.
Pacifica Quartet will kick off its Aspen recital with Shostakovich's brilliant and forceful Quartet No. 2. Next, the ensemble showcases its insightful musicality with a work from their recent Grammy-winning album: Shulamit Ran's Third String Quartet, "Glitter, Doom, Shards, Memory." Ran pays tribute to and transforms the powerful artwork of German-Jewish painter Felix Nussbaum in this heart-wrenching four-movement work. The program concludes with Dvořák's lively and evocative "American" Quartet.
Share in the joy of live music this winter with this virtuosic quartet!
-------
To learn more about supporting winter recitals in Aspen, please click here or contact Chandler Martin, Annual Giving and Events Manager, at cmartin@aspenmusic.org or 970 205 5065.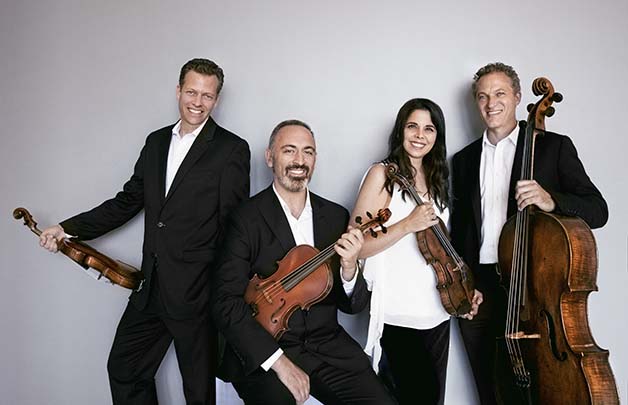 Featured Conductor & Artists