Winter Music Recital Series: William Hagen and Albert Cano Smit
Back To Calendar
This event has
already taken place.
BEETHOVEN: Violin Sonata No. 5 in F major, op. 24, "Spring"
STRAVINSKY: Divertimento
---
JESSIE MONTGOMERY: Rhapsody No. 1
SCHUMANN: Violin Sonata No. 2 in D minor, op. 121
The AMFS's beloved alumnus William Hagen, violin, praised for his "energetic presence and buoyant sound" and "beautiful tone" is joined by Albert Cano Smit for a refined recital of Beethoven, Schumann, Stravinsky, and a work by contemporary composer Jessie Montgomery.
Also, join us for these other Winter Music Recitals:
Thursday, February 13, 2020: Joyce Yang
Thursday, February 20, 2020: David Finckel and Wu Han
SAVE $25! Purchase the Winter Music Subscription and see all three performances for just $140.
Bring your kids or grandkids! Tickets for children eighteen and younger are just $5. Call the box office at 970 925 9042 for this special rate.
To learn more about supporting winter recitals in Aspen, click here.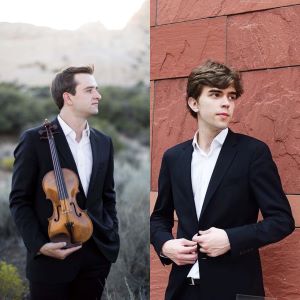 Featured Conductor & Artists