Maroon Bel Canto Children's Chorus — Festival Summer Camp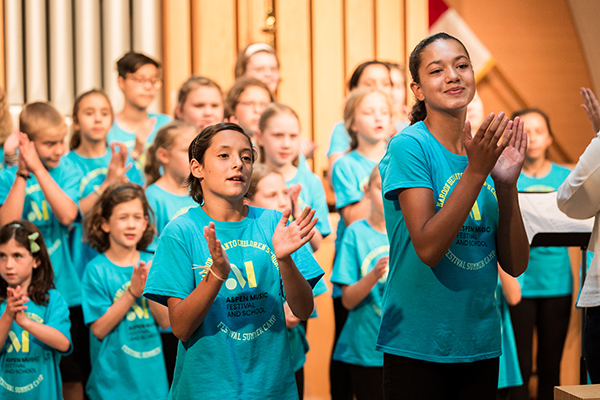 Maroon Bel Canto Children's Chorus - Festival Summer Camp
July 31 – August 4, 2017
The Aspen Music Festival and School is pleased to once again offer a fun and music-filled summer choir camp through the AMFS AfterWorks program. As part of the Maroon Bel Canto Children's Chorus (MBCCC), the fifth annual MBCCC Festival Summer Camp is open to students entering fourth through eighth grades. The camp will be run by professional music educators and choir directors, along with the AMFS Director of Education Katie Hone Wiltgen. Participating kids will have an opportunity to learn about vocal technique in a choir setting, sing a varied repertoire and perform a camp finale concert, attend AMFS rehearsals and observe closed rehearsals in the Aspen Opera Center, meet Festival guest artists, conductors, and students, and participate in fun acting, movement, and outdoor activities.
The 2017 Festival Summer Camp runs Monday, July 31, through Friday, August 4, from 8:45 am (daily check-in no earlier than 8:30 am) to 4:30 pm (at Christ Episcopal Church in Aspen's West End), with a performance on Friday at 4 pm (also at CEC).
Camp Cost: $200
The cost for the camp is just $200 for the week! Camp participants receive two snacks per day and a camp T-shirt. Space in the summer camp is very limited, and singers who participated in the MBCCC school-year program will be given first priority for placement in the summer camp program.
Scholarship
A limited number of scholarships are available to students based on family need and past involvement in the MBCCC program. Preference is given to students who live in the Roaring Fork valley full time.
About AfterWorks
The Aspen Music Festival and School's AfterWorks program offers after-school, in-school, and summer programming, in collaboration with valley schools, to support music education. These programs are designed to complement the quality music instruction students receive from schools and private instructors.
How to Register
Registration will begin March 2018