Tours
Matthew and Carolyn Bucksbaum Campus Tours
LOCATION: Meet in front of the Hardy Administration Building
SCHEDULE: Mondays July 11 and August 8, 10 am
TRANSPORTATION: RFTA Bus to Bucksbaum Campus
FREE
Take a guided tour of the spectacular redeveloped Bucksbaum Campus, completed in 2016. This $80-million complex, blended harmoniously into the 38-acre forested site, comprises state-of-the-art, acoustically designed rehearsal halls, studio teaching spaces, practice rooms, a cafeteria, administrative offices, and more.
The Bucksbaum Campus is located on a storied site--at times it has been a Ute Indian ancestral home, a silver mine, and an exclusive restaurant--and is one mile up Castle Creek Road from the roundabout on Highway 82. The Campus facilities provide the world's top musicians who come to Aspen each summer premier spaces for teaching and rehearsing. The pastoral site is abuzz all summer with the sounds of rehearsals, lessons, and the activities of more than 630 students and 130 artist-faculty members at the AMFS.
The AMFS shares the Campus in a unique and sustainable partnership with Aspen Country Day School. All spaces are dual use, meeting the needs of each institution in their distinctive seasons of the year.
Learn more and see the construction process at www.BucksbaumCampus.org.
Meet at the Hardy Administration Building located at 225 Music School Road, just over the bridge from the bus stop. Tours are free, take one hour, and are an enjoyable way to learn about the Festival and School as well as the colorful history of this historic site. Parking is limited; please take the free RFTA bus to Campus. For bus schedule information, call 970 925 8484.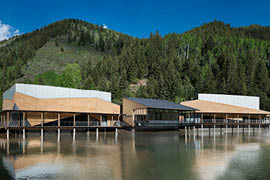 Benedict Music Tent and Harris Concert Hall Backstage Tours
LOCATION: Meet on the Benedict Music Tent Plaza
SCHEDULE: Select Mondays at noon -- July 10, 17, 31 and August 7, 14.
FREE
Get an inside look at two of the world's finest concert facilities. A guide walks you through the performance, audience, and backstage areas, stopping to share anecdotes and explain the history as well as the architectural and acoustic details of these two incredible venues. Don't miss the underground tunnel!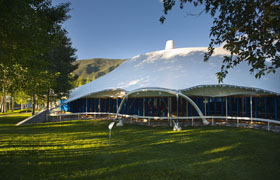 ---