Music on the Go
Bringing the Music Tent to You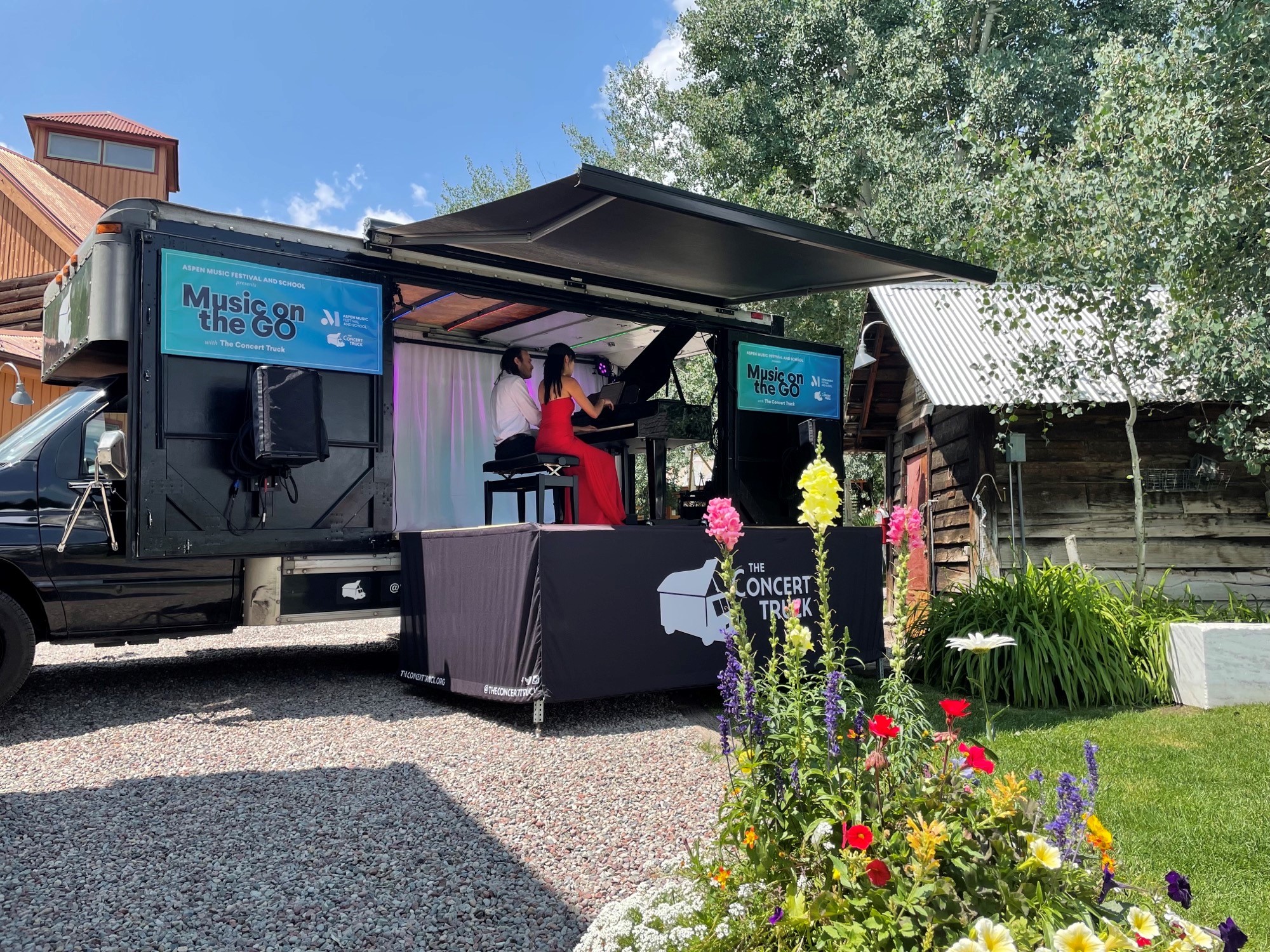 Follow The Concert Truck, a mobile concert venue that will bring musical joy to community gathering places across the Roaring Fork Valley. The three-week residency, July 27 – August 15, will feature 36 "pop-up" events in partnership with local businesses and non-profit organizations for you to enjoy the spirit of Aspen's summer music in unexpected places.
Concerts are free and last 60 minutes. They are held outdoors where audiences and performers are able to maintain safe distancing. Lawn chairs or blankets are encouraged.
Performances will feature Aspen Music Festival and School students and The Concert Truck's founding artists, Nick Luby and Susan Zhang.
About The Concert Truck
Founded in 2016 by concert pianists Susan Zhang and Nick Luby, The Concert Truck is a mobile concert stage that brings classical chamber music directly to communities. The Concert Truck travels all over the United States performing alone and with other musicians to a variety of venues and audiences.
Schedule of Performances:
Date
Time
Location
Sponsor
July 27
12 pm
Anderson Ranch Arts Center
July 27
7 pm
Mollie Gibson (Smuggler) Park
Clark's Market
July 28
1 pm
Koch Park
Mountain Chalet Aspen
July 28
6 pm
The Arts Campus at Willits
TACAW, Basalt Chamber of Commerce
July 29
1 pm
Wheeler/Stallard Museum Lawn
Aspen Historical Society
July 29
6 pm
Wheeler Opera House (outside)
July 30
6 pm
Willits Town Center
Valley View Hospital
July 31
1 pm
Aspen Saturday Market
Aspen Chamber Resort Association
July 31
6 pm
The Gant Aspen
August 1
11:30 am
Christ Episcopal Church Aspen
August 1
6 pm
Koch Park -

WEATHER CANCELLATION

Mountain Chalet Aspen
August 3
12 pm
Anderson Ranch Arts Center
August 3
7 pm
Mollie Gibson (Smuggler) Park -

WEATHER CANCELLATION

Clark's Market
August 4
1pm
Wagner Park
Mountain Chalet Aspen
August 4
6 pm
The Arts Campus at Willits
TACAW, Basalt Chamber of Commerce
August 5
6 pm
Basalt Regional Library
August 6
6 pm
Willits Town Center
Valley View Hospital
August 7
1 pm
Aspen Saturday Market
Alpine Bank
August 7
6 pm
Snowmass Base Village
GoSnowmass
August 8
1 pm
Snowmass Base Village
GoSnowmass
August 8
6 pm
Koch Park
Mountain Chalet Aspen
August 10
1 pm
Carbondale Branch Library
August 10
7 pm
Mollie Gibson (Smuggler) Park
Clark's Market
August 11
1 pm
Wagner Park, Aspen
Mountain Chalet Aspen
August 11
6 pm
The Arts Campus at Willits
TACAW, Basalt Chamber of Commerce
August 12
1 pm
Aspen High School (outside)
August 12
6 pm
Red Brick Center for the Arts
August 13
6 pm
Willits Town Center
Valley View Hospital
August 14
1 pm
Ducky Derby 2.0 at Aspen Highlands
The Rotary Club of Aspen
August 14
6 pm
Basalt Regional Library
August 15
1 pm
Glenwood Springs, Veltus Park
Valley Settlement
August 15
6 pm
Koch Park
Mountain Chalet Aspen