Annual Fund FAQ
The following are answers to Frequently Asked Questions about donating to the Aspen Music Festival and School's Annual Fund and its recurring donation program, Encore.

ANNUAL GIVING FAQ

Do ticket sales cover the cost of running the AMFS?
Ticket purchases make up only 7% of AMFS's operating costs, while charitable contributions from friends like you account for over 40% of our annual budget.
How can I support the AMFS Annual Fund?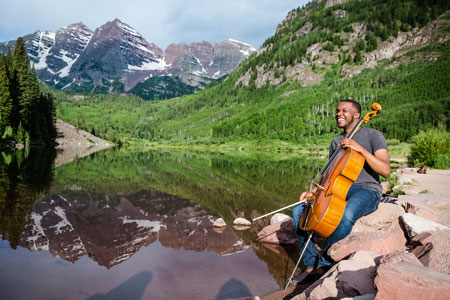 There are several easy ways to make a gift:
Over the phone — call Kat Berg, Donor Stewardship Manager, at 970 205 5061
By Mail — Send a check made out to the
Aspen Music Festival and School, along with your name, address, and telephone number
to:
225 Music School Road
Aspen, CO 81611
Gifts by wire transfer, stocks, and IRA distributions are also accepted (see below for more information).

Where does my Annual Fund contribution go?
The Annual Fund makes every aspect of the AMFS's annual Festival and School possible, including need-based student financial assistance, merit scholarships, in-demand artist-faculty, guest artists and conductors, year-round community education programs, winter and summer concert productions, numerous public engagement events, and so much more.
Do I get to choose how my donation is directed?
The AMFS offers four designated giving options, listed below.

The AMFS Fund - Where we need it most —

A gift to The AMFS Fund lends unrestricted assistance to every aspect of our organization from concert performances, student financial aid, and summer staff to facilities management, production costs, and numerous other areas of investment.

Summer Student Assistance —

Provides funding for student scholarships, travel, food, and health services.

Artist-Faculty —

Helps to recruit and retain a competitive roster of accomplished artist-faculty from around the world.

Local Education and Community Programs —

Subsidizes youth music education and free community events for families.
The easiest way to designate your gift is to make a gift online here, and select the fund in the drop-down menu. You can also select your preferred fund by checking the appropriate box on our pledge form, or with a simple written request when you send your check.
How do I know if my employer will match my gift?
Increase the impact of your contribution with a corporate matching gift to the AMFS.
Please click here to see if your company will match your donation and to access the forms, guidelines, and instructions that you need to submit a matching gift. Your company's match may be combined with your personal gift to access benefits associated with the total amount.
Can my company donate to the Annual Fund?
Yes, business partnerships and sponsorships play an important role in the AMFS Annual Fund. Businesses may access tickets, invitations to exclusive gatherings, and high-level recognition through their annual gift. For more information, you may download and print the "Business Partnership and Sponsorship Guide," or contact Grant Strom, Development Manager.
How can I make a gift in honor or memory of a family member or friend?
All honorary and memorial gifts can be made here. All honorary and memory gifts are fully tax deductible as allowed by law.
Can I make a gift of stock or securities to AMFS? What about a distribution from an IRA?
Yes. Please consult your tax professional for specific tax advice regarding gifts of stock or more complex giving vehicles. For more information on gifting stock, please contact Kat Berg, Donor Stewardship Manager, at 970 205 5061.
How will I know you have received my gift?
For gifts made by check, phone, stock, and wire transfer, you will receive your tax acknowledgement letter from the AMFS Development Office typically within five business days of the receipt of your contribution. Online donors will automatically receive confirmation and tax acknowledgement information via email. For more information regarding your tax acknowledgement, please contact Kat Berg, Donor Stewardship Manager, 970 205 5061.
What are the AMFS donor levels and benefits?
Gifts of $300 or more may include benefits including tickets, invitations to special events, advance seat reservations with validation, and much more. Donors may also choose to waive these benefits for a fully tax-deductible contribution. You can find all donor levels and corresponding benefits here. If you would like a physical copy for your records, you can also download and print our donor benefits here.
Do donor benefits include tickets for the AMFS's Winter Music Recital Series?
No, the Winter Music Recital Series is separate from our Annual Fund campaign. Winter Music sponsorship opportunities—as well as concert passes and individual tickets—are available shortly after the summer season.
How do I receive my donor benefits?
Invitations to special donor events will be sent via mail and/or email. Once season tickets are on sale, donor passes can be redeemed for tickets by contacting the AMFS Box Office at 970 925 9042 or tickets@aspenmusic.org. Passholders may guarantee their seat assignment in advance with a validation fee per ticket.
Tickets typically go on sale in April for the coming summer season. Affiliate level donors and above will have access to an exclusive pre-public sale of summer season tickets. Details about the pre-sale will be sent via email. For questions, please contact Chandler Martin, Director of Annual Giving and Special Events, at 970 205 5065.
For members at the Associate level and above, a member of the development team will reach out to you personally to discuss how your support will be recognized in the summer.
Who can I contact about ticketing inquiries?
Please contact the Box Office at 970 925 9042 with any ticketing questions and concerns.
How long will my donation and donor benefits be valid?
Our fiscal year runs from October 1 until September 30. Your donation and donor benefits will be valid until September 30.
Is my donation tax-deductible?
Your donation is tax-deductible to the extent allowed by law. Non-deductible portions (fair market value of benefits) can be found here.
If you wish for your gift to be fully tax-deductible, you may decline your benefits by checking the box online and on our donor response card.
According to IRS regulations, gifts from Donor Advised Funds, Family Foundations, and IRAs cannot be made in exchange for goods or services, including tickets or passes. However, the AMFS offers tickets and passes that may be purchased separately. Please consult with your giving institution and the AMFS Development team concerning your gift and any accompanying donor benefits.
Is my donation refundable?
Charitable contributions to AMFS are not refundable and do not guarantee any benefits or specific concert seating at any level.


What is Encore?
Encore is the AMFS's recurring giving society. It is an easy, convenient, and affordable way to invest in the vitality of the AMFS for months and years to come.
How can I make a recurring gift to the AMFS?
You can visit the Encore page here to join our recurring giving program and receive donor benefits.
What are the AMFS recurring giving donor levels and benefits?
You can find all donor levels and corresponding benefits here. If you would like a physical copy for your records, you can also download and print our donor perquisite chart here.
How do I manage my recurring donation?
As a supporter, you're able to manage your recurring donations using your Classy account. Learn how to edit or cancel your recurring donations below.
Open your Supporter Page
Sign into your Classy account
Navigate to the Recurring Donations section
Select Edit Donation under the recurring donation you want to edit

Edit Recurring Donation
From here you can edit the credit card information and the billing address for your recurring donation. Click Save to update your donation information. You can also click on X Cancel My Recurring Donation at the bottom of the form to cancel your recurring donation.
To change the amount you give or the date of the next transaction, please contact Chandler Martin, Director of Annual Giving and Special Events, 970 205 5065.