Zeynep Alpan Interview
By Olivia Homewood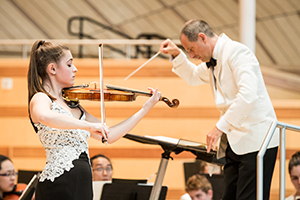 With her signature ponytail piled high atop her head, and standing barely over five feet tall, you may not recognize 22-year-old Zeynep Alpan as the violin phenom she truly is. At the Aspen Philharmonic Orchestra concert on July 5th at the Benedict Music Tent- the showcase concert for the 2017 Dorothy DeLay Fellowship winner- Ms. Aplan played Mozart's Violin Concerto No. 4 in D major, K. 218 with technique, grace, and self-awareness far beyond her years (or stature), receiving a standing ovation from the crowd—and a large bouquet from an adoring young admirer.
A bright future lies ahead for Turkish-American Ms. Alpan, including the beginning of her master's program at Juilliard in the fall, recording her first CD with a Turkish music label in 2018, and a national tour with the Presidential Symphony of Turkey in the spring of 2019. Still, she continually returns to Aspen to breathe, escape the hustle of New York City, practice solo rep with her long-time teacher Ms. Naoko Tanaka (a former student of Miss Dorothy DeLay), attend the many weekly concerts and master classes, and even instruct four students of her own through the AMFS P.A.L.S. program.
I sat down with Zeynep following her APO performance to ask her about her choice of instrument, how her teachers have influenced her playing, and learned of her fascinating introduction to the violin.
OH: You've been playing the violin since you were five years old; what was your introduction to music?
ZA: When I was in Kindergarten, I was placed in a special needs class because I was diagnosed with Auditory Processing Disorder and wasn't talking much. My parents are both doctors and knew the connection between music and cognitive development and introduced me to the violin when I was five. And almost immediately I started talking! I continued to take speech therapy throughout my childhood. I vividly remember in second grade that I would be taken out of class once a day to go and play different kinds of games with one of the teachers. I thought I was super special because I got to miss class to play board games, but it actually happened to be the speech therapist taking me out of class to work with me, so I really had no idea! My parents didn't tell me I had a disorder until I was about sixteen-years-old because they didn't want me to think of it as a setback; they only told me so that I would be able to get extra time for the SAT and other school tests. Looking back, I'm glad my parents didn't tell me because I had no excuse to fall back on if I was struggling with something, it only made me work harder and find more motivation.
OH: When did you realize music was not only a medical solution, but possibly your career?
ZA: I think when I was about thirteen or fourteen, I started to realize playing the violin would be my career and my life. That was when my parents and I decided that, to focus my energy on playing the violin, I would be home-schooled. I was in a youth orchestra, a chamber group, I was a National Symphony Orchestra Fellow, and I had Juilliard Pre-College on the weekends. In middle school, I was struggling with both academics and my music playing, so this decision really helped both my schedule and my stress level.
OH: Do you remember how you felt your first summer in Aspen?
ZA: When I got into Aspen the first time I was very excited and very nervous! I always remembered hearing about Aspen as being one of the best festivals in the world, and because of that I wasn't sure if I would get in or not at such a young age. I think I was fifteen my first summer and it was the first time I ever did a big festival or was ever gone from home for two months!
OH: This is your fifth summer in Aspen; what brings you back each year?
ZA: Definitely to keep studying with Ms. Tanaka, but also because Aspen is such a beautiful place and there are so many good opportunities musically. The orchestras are good. It gives me a chance to be away from the busyness of NYC. I can work on solo rep too, and if I want to do some chamber music, I can do that as well. There is great faculty here, wonderful master classes... It relaxes me to be here because I don't have school to worry about. I have all this time to figure my future out.
OH: In celebration of your Dorothy DeLay Fellowship, let's discuss the role of great teachers in your life. You've studied with Rebecca Henry and Shirly Givens in pre-college programs and have been studying with Naoko Tanaka for nearly a decade.
ZA: In times of doubt or struggle, my teachers have really been there for me. They have said, "You can do this" and shown me the way. There were times when I was around thirteen, I was really struggling and it was a time of doubt. Then I had my first lesson with Oleg Rylatko, concertmaster at the Washington National Opera, and I was so inspired. The amount of information I retained, the way he taught and how enthusiastic he was and how he cared so much for the music making. It was okay to make a mistake. At the end of the day, what was really most important to him was, "Are you expressing yourself; are you making music?" And after I walked out of that lesson, it was a breaking point. I knew what to do now. The doubt I had before went away. Just after one lesson.
With Ms. Tanaka, she really knows to pinpoint exactly what's wrong. She really understands the fundamentals and knows what will elevate [my] playing. She really helped me develop my sound, something I am very proud of to this day. It's okay if you make mistakes, but at the end of the day, you really have to make the music. I'm sure there are teachers who are very technical, but I think it's important to find the teachers that really advocate for you to make you the best player you can be and really show that dedication... I love her dedication. If you really need the time, she will find it for you. [Ms. Tanaka is similar to] DeLay in that way. Miss DeLay was really there for her students- and not just in the practice room. She really dedicated all aspects of music to her students. I am lucky to have teachers like this.
OH: How has receiving financial aid made a difference in your musical career?
ZA: I'm just becoming financially independent from my parents. I'm very fortunate, I have working parents who make good salaries because they are both doctors. But it is scary to be an adult! I have to go to school and take on loans. Getting financial aid for a summer program is very important because it does make or break it. People have the school year to worry about [paying for], and it's expensive to come here too if you don't have the support. Financial aid takes the worry away and you can just come here to do what you came here to do: to make music and really further yourself in the musical world.
OH: Do you have any other solo performances this summer?
ZA: Wednesday's APO concert was the only [solo performance] scheduled. But I am doing chamber music and we will be doing a Beethoven septet [later this month], and I've never done that instrumentation. Maybe toward the end of the summer, if I get my rep in shape, I can apply for the Spotlight Recitals, which is always nice to do and good performing experience. And I am in all the Friday orchestra concerts which is super fun... I'm doing the P.A.L.S. program this year and teaching is something that I enjoy as well as performing. I have four students now and I've never had so many students all at once! One of my goals would be to try and help the little kids sound as best as they can. I believe musicians should be well-rounded citizens, so I'm very excited about teaching and hope it will always be part of my life.
To give a gift today in honor of a beloved faculty member, contact Lenor Leeds, Interim VP for Development at 970-205-5062 or lleeds@aspenmusic.org.
For more information on the Where Dreams Begin campaign, please click here.