Convocation
Scroll down for full text of Mr. Fletcher's and Ms. Borda's remarks.

The Aspen Music Festival and School Convocation on Monday, June 27 marked the official beginning of the 2016 season for the 629 music students and 139 artist-faculty in residence this summer.
| | |
| --- | --- |
| Alan Fletcher | President and CEO |
| Robert Spano | Music Director |
| Deborah Borda | President and CEO, Los Angeles Philharmonic |
| Steve Skadron | Mayor of Aspen |
| Jennifer Johnston | Vice President and Dean |
Remarks from Alan Fletcher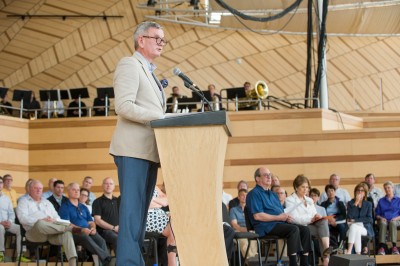 I'd like to start my remarks with a story I like about American music – I hope you'll see that it relates to something we're doing this summer in our orchestra programs: presenting major American symphonic works from the middle of the 20th Century.
This story was told to me by Milton Babbitt, who was one of my teachers. In the mid 1930s, still a teenager, he was studying with Roger Sessions (who much later became my teacher as well). George Gershwin, who then lived in a beautiful apartment on Riverside Drive, invited several of the composers he felt were the most important living American classical composers to be the first to hear the vocal score to his new work, Porgy and Bess. He asked Aaron Copland, Roy Harris, and Roger Sessions to come hear him play through the music. Sessions asked if he could bring his student, Babbitt.
Thus, these composers, all of whom we are presenting this summer, assembled in Gershwin's living room. He played the whole score, often singing along. In the natural silence that followed he said, "So, boys, do you think I can call it an opera?" They all loved the music right away, and assured Gershwin he had created a masterpiece.
Later, they were all sharing a cab down Riverside Drive. Roy Harris, who definitely considered himself first among these equals, said, "You know, when I think about what counts in American music, I always like to remember that I, myself, was born on Lincoln's birthday!" As they all reflected on this, Sessions said, "Yes, and you know they say that lightning never strikes the same place twice!"
Anyway, this leads me to think about Gershwin, whose music we also present this summer. One of my favorites among his songs is "Isn't It a Pity," a good-humored meditation on regret and wasted time. At one point, the singer says, "My nights were sour, spent with Schopenhauer."
Stay with me here. Schopenhauer is the German philosopher, working partly in the time of Beethoven, whose ideas on aesthetics and morality became crucial for Nietzsche, Wagner, Tolstoy, Freud, Mahler, Einstein, Beckett, and many others, though apparently not including Gershwin (since he thought Schopenhauer made for some sour nights!)
And all this is my way of introducing a quote from Schopenhauer that I especially like.
"The true work of art leads us from that which exists only once and never again – the individual – to that which exists perpetually and time and time again in innumerable manifestations."
Here, I think, is the essence of our classical music culture. The individual performance is always changing, while the underlying text can be passed along to innumerable performers, and even means of performance. The individual performance happens only once, but the true work of art manifests itself again and again. Keats said, "A thing of beauty is a joy forever/ Its loveliness increases, it will never/ Pass into nothingness."
In a recent interview, Nic McGegan, who will be with us this summer as always, was asked to comment whether a performance can be perfect, and how. He said, "That is piffle, of course!"
We don't seek a perfect performance; we hope and expect that every performance will reveal something about ourselves, to ourselves – that every performance will say something about our times, to our times. That is as good as it gets, and then we hand on the music to others, so that they make something meaningful to themselves and to their time.
Here's a very personal note: my mother was a wonderful musician. She died a year and a half ago. I was writing to my father and my five brothers and sisters – all musicians – because I was listening to Bach's St. Matthew Passion, which had been one of her favorite works (she was a church musician and choral conductor). My father wrote back to us all: "Yes, music only lives when there are people living it, and loving it, too, as she did, and as we loved her for it and for so much else, and still do."
This is the wonderful gift we experience every day as musicians: to live and love music, thus to make music still live, and thus to be loved for it. Every performance in which we take part is a tremendous affirmation of life.
I'll close with a quote from Mahler, something my friend and colleague Matthias Pintscher recently brought to my attention: "Tradition is not the worship of ashes, but the preservation of fire."
Our work is about life, not about something that merely was, long ago, but about things that are ever fresh and new, because we make them so. This takes, as T.S. Eliot says, "prayer, observance, discipline, thought and action." It asks this concentration from the listeners as well, and gives back a reward unavailable except through such attention. I hope today, and throughout the summer, you'll feel challenged to imagine what your lives in music may be like. I hope you'll address these challenges with strong inner confidence, knowing that the art of music repays those who devote themselves to it. Gershwin, Copland, Harris, and Sessions created art of tremendous importance for their country and their time. Now that art is ours, and so is the call to create our own.
Remarks from Deborah Borda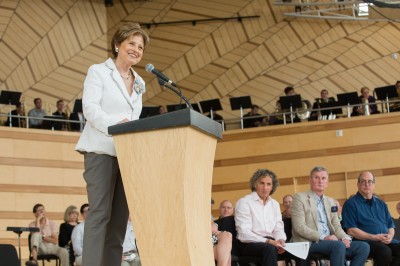 I invite you to travel back in time with me today. To the 1970s, to be precise.
The setting: the opening convocation of the Berkshire Music Center at Tanglewood.
A young musician—very much like yourself—sits in a theater on a glorious, green campus nestled in the Berkshire Mountains. I was that young musician, and my professional life lay before me.
We were in a storied, idyllic setting—"Aspen in the Berkshires"—but we could have been on another planet. Our nation was being torn apart by the war in Vietnam, racial strife, and political divisiveness. The speeches that day neither mentioned nor even alluded to any of this. They were focused solely on the "high art" of classical music. The world seemed not to apply to us, and we were certainly not encouraged to pay much attention to it. We could let matters ride, and the band would play on.
Almost proudly, we stood apart.
Fast-forward to the world we live in today:
At the St. Louis Symphony's opening night concert in 2014, two massive banners were dropped from the balcony reading "Racism Lives Here" and "Requiem for Michael Brown." Members of the audience chanted: "Black Lives Matter."
Earlier this year, a Chicago Symphony concert was delayed as a group of young people charged into the hall, protesting the CSO as a vehicle of the 1 percent.
At Carnegie Hall, police had to be called in to control a crowd protesting Valery Gergiev's more-than-implicit support of Vladimir Putin and his homophobic policies. The same thing happened at the Metropolitan Opera's opening last year.
These events are not occurring in isolation. A growing focus on the contemporary relevance of "high art" and social inequity has led to the unfortunate characterization of classical music as out-of-touch. Arts commissions are analyzing the demographic makeup of cultural organizations, and funders now consider diversity and outreach key benchmarks for support. And, although we think we have tried, classical ensembles do not accurately reflect the face of our communities.
Dare we ask: will the isolated, "Ivory Tower" version of classical music be sustainable in the years to come? And, out of love and simply because we believe in our art so passionately: should it be?
A few weeks ago at the League of American Orchestras' Annual Conference, Congressman Elijah Cummings (a friend of music) delivered the closing address. A line stuck with me. He said, "When you say the word 'symphony' or 'orchestra,' folks think it is some foreign country."
Together, all of us have to figure out how to make a better connection between classical music and the world that lies outside. My young colleagues, you will be pioneers in making that connection.
So let's float some questions. And, they are just that—matters for you to debate and discuss. Alan Fletcher and I invite you to engage with them over your time at Aspen. To continue the conversation, we have established an online forum, and Alan will be convening other opportunities for you to share your thoughts and actions.
And for the others joining us this afternoon, this is for you as well. Our collective engagement around tough issues is an important step for all of us.
—
I run an orchestra—a big one. It is the privilege of my life to lead in this way. Yet, by training and in my heart, I am a musician. It is this combined perspective that has led to my greatest challenge—the one I struggle with personally. You may be surprised, but it has nothing to do with labor negotiations, revenue streams, or monetizing technology.
My dilemma is this: how do we simultaneously support the vitality of our art form while responding to the realities of a changing world? This is something we think about at the LA Phil every day. I have come to think of this dilemma as "finding the groove"—that "groove" being the intersection between the artistic imperative and the social imperative.
It's not easy, obvious, or comfortable work. It's a bit of a mash-up, and it's messy. Yet I contend it is a challenge that will not disappear. The tectonic plates of society have shifted, and figuring out where classical music fits into this new landscape is the opportunity before us all.
—
So, what does "finding the intersection" or the "groove" actually mean? Let me share some real life examples from our work at the LA Phil with you. We don't pretend to know all the answers, but we are striving.
Our most significant commitment to "finding the groove" began ten years ago with the creation of Youth Orchestra Los Angeles—better known as YOLA. The program was inspired by El Sistema and is dedicated to bringing intensive music learning to young people who might not otherwise have access to it. The discipline required to play orchestral music is a living metaphor for good citizenship. We join hundreds of other orchestras and educational institutions throughout the nation in this work, and together, we are making a meaningful, measurable difference in the lives of young people through classical music.
As founders of the music education initiative, Take a Stand, we have worked to convene and support the El Sistema movement nationally and internationally. We hope you will join us on Tuesday night for a performance of the regional National Take a Stand Orchestra, whose players are with us today.
For those YOLA students with profound musical gifts and a desire to pursue a career in music, we are working to initiate a continuum of learning from secondary school through professional music schools and into the ranks of America's great orchestras. We will grow our own.
Our desire to be a vital force within our community is not limited to our El Sistema-inspired initiatives. The LA Phil is, in fact, best known for being a lab for music of our time, experimenting with technology, and collaborating across disciplines. To connect with audiences today, we must always be innovating and looking toward the future.
These are just some examples of how a large institution might find its "groove"—by building social impact upon the foundation of artistic excellence. Many organizations, large and small, are following their own unique creativity and "can do" spirit to find their own pathways to meaning.
—
Today, we are here to focus on you and your pathway.
Your talent and hard work earned you the right to be here. As you practiced alone or played with an orchestra, you may have thought that your journey to becoming a professional musician would be a linear one—a straight line from playing your instrument to playing the music you adore to working with great musicians.
By now, most of you have figured out that it's not that simple. Musicians today must be entrepreneurs. You will need to find your own path, whether you choose to work as an independent artist or with a larger ensemble. Your journey will not be easy—nothing is a given today, but you are better prepared than students who came before you. Why?
As our first 21st century generation, you are natural innovators. You were born into a digital age and find fluidity across genres. You have the ability to live with fuzzy definitions and thrive in the whole gorgeous mash-up that is our modern world. You are oriented toward consensus rather than confrontation—and heaven knows, in our divisive society, we need that skill!
This is your time, and this is your challenge: how do you take who you are as a thinking citizen of our complex world and integrate that into your life as a musician?
MacArthur Fellow Sebastian Ruth, founder of Providence's Community MusicWorks, said, "Doing socially engaged work doesn't have to be mutually exclusive to making a high-level and satisfying career." There is no greater proof of his statement than the long list of musicians who have engaged with the wider world in profound and lasting ways.
Yo-Yo Ma calls this being a "citizen musician." The legendary cellist Slava Rostropovich was an activist whose stand on human rights literally put his life at risk and led to his exile. He asked that we be "soldiers for music." Gustavo Dudamel compels us to remember that "music is a fundamental human right." Incidentally, through his work with YOLA and El Sistema, this is a belief Gustavo lives out every single day.
So, how will you engage?
Here is my proposition. I would argue for a new era of music activism—an era led by you.
How will you express the fullest, most authentic version of yourself as an artist and as a citizen of this world? How will you engage—be it from within an institution or through your own projects?
Believe me, as I encourage you to be full citizens and agents of change—particularly within more traditional institutions, I embrace the very same challenge. Board members, administrators, teachers—we must change as well.
—
Make no mistake; the world needs you now more than ever. Music matters. It offers society a means of healing, reflecting, celebrating, and connecting.
I saw this power in action earlier this year, when our YOLA students returned home after performing at the Super Bowl halftime show with Coldplay, Beyoncé, Bruno Mars, and Gustavo Dudamel. As their bus pulled up to Walt Disney Concert Hall, they were greeted by hundreds of proud parents, community members, and city officials carrying signs and flowers. It was an emotional "welcome home" for our champions, but we were celebrating something far more important than a single performance. We were celebrating the choice these students had made to make music and to create a supportive and loving community through that music. It was a beautiful demonstration of the fact that diversity is a promise, not a problem.
Today I leave you with questions and a charge of how you can take action—how you can be a music activist:
1. Talk to three people NOT like you. Think about folks as unlike you as possible—different neighborhoods, different cultures, different values. Ask them, "What kind of music do you listen to, and what music do you love?" This will require you to listen. Then share with them the kind of music you love, and see what that elicits. This will require you to think about and give voice to your art—quite a learning experience.
2. Invite three people who have never been to a classical music concert to attend one with you, or put on a concert yourself in a place that is totally unexpected. Empower yourself to use your artistry to further social justice and the music we cherish.
3. You are born entrepreneurs. Come up with an innovative app or use of social media that moves your music into new places with new people.
If you think any of this is unlikely, well just consider that Hamilton has made the Federalist Papers something people are actually excited about!
This is the time to tell a new story about classical music in our nation. A story filled with possibility. A possibility that will enrich and enliven your life and your art. We can't predict the future, but we can invent it—and you will invent it.
Be creative. Be courageous. And, find YOUR "groove."

Students with the 2015 AMFS's Aspen Opera Center sing Aspen Convocation, music by Alan Fletcher, text by T.S. Eliot.