ASPEN MUSIC FESTIVAL AND SCHOOL ANNOUNCES THE APPOINTMENT OF CAMERON STOWE TO FACULTY
Back To Press Releases
January 7th 22
MEDIA ADVISORY: January 7, 2022
ASPEN MUSIC FESTIVAL AND SCHOOL ANNOUNCES
APPOINTMENT OF CAMERON STOWE TO FACULTY

The current chair of the Collaborative Piano department at The New England Conservatory and
faculty member at The Juilliard School joins prestigious summer music festival starting in summer 2022

ASPEN, CO—The Aspen Music Festival and School (AMFS) has announced the appointment of Cameron Stowe, a leading specialist in the study and performance of song recital repertoire, to the AMFS artist-faculty as director of the AMFS Collaborative Piano Program. He will assume the role from Rita Sloan, who is retiring after leading the program for 41 years.
"Cameron Stowe is an important figure in our world as a pianist, specialist in vocal repertoire, and thinker about poetry and music," says AMFS President and CEO Alan Fletcher "It is a pleasure and honor to welcome him to our superb faculty."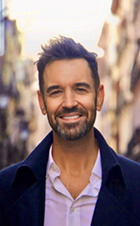 A gifted performer as well as a pedagogue, Stowe is known for his artistry in collaborating with vocalists and has appeared in concert venues and music festivals in East Asia, Europe, South America, and throughout the United States and Canada, playing with some of the most prominent concert singers of his generation.
He has served as chair of the Collaborative Piano department at New England Conservatory since 2008 and as a faculty member at The Juilliard School. He was formerly a professor at University of Toronto, and his festival teaching has included residencies at the AMFS, Toronto Summer Music Festival and Vancouver International Song Institute. He has given masterclasses for singers and pianists throughout the United States and abroad.
Says Stowe, "I am thrilled to be joining the Aspen Music Festival at this exciting time of innovation and honored to assume the role of directing the Collaborative Piano Program, which Rita Sloan has shaped into a superb, one-of-a-kind experience for emerging collaborative artists. As I consider history of the AMFS and learn from my future Aspen colleagues about the Festival's new initiatives and directions, I am honored and excited beyond measure to be a part of this inspiring environment."
Stowe holds a doctorate from Juilliard with a specialized focus in song and vocal chamber music. He earned a master's degree from The Peabody Conservatory at Johns Hopkins University and a bachelor's degree from Oberlin College Conservatory. He also studied at the North Carolina School of the Arts, the Académie de Musique de Sion and Tanglewood Music Center.
He will begin his tenure in Aspen in summer 2022.
For more information on the Aspen Music Festival and School's educational programs, visit aspenmusicfestival.com/students-welcome/about-the-school.
###