Aspen Festival Orchestra
Back To Calendar
With special thanks to Richard Edwards, in memory of Harley Baldwin; and Ann and Tom Friedman; part of the Allison and Warren Kanders Sunday Concert Series
Reserved Seating
Please Note:
Tickets will remain in cart for 30 minutes.
CONOR ABBOTT BROWN: How to Relax with Origami
RACHMANINOFF: Piano Concerto No. 2 in C minor, op. 18
---
ELGAR: Variations on an Original Theme, op. 36, "Enigma"
Don't miss a debut voice the world is buzzing about, along with an Aspen alumnus celebrating his 75th birthday in Aspen's 70th anniversary year.
Now 25, Seong-Jin Cho rose to fame after winning first prize at the Chopin International Competition in 2015. His Chicago debut last October set off major buzz and his performance was "as thrilling a display of sheer powerhouse keyboard bravura as one is ever likely to encounter" (Chicago Classical Review). Hear him take on Rachmaninoff's Second Piano Concerto, the result of a successful course of hypnotherapy after the composer's long composition dry spell. Rachmaninoff dedicated the piece to Dr. Nikolai Dahl, probably the only hypnotherapist to receive such an honor from a major composer. The mood ranges from turbulent drama to rapturous lyricism, with a fair share of thrilling pianistic effects from start to spectacular finish.
Also on the program is Elgar's Enigma Variations, which he "dedicated to my friends pictured within." As for the enigma theme, that remains…well, an enigma. The composer shared the secret with only three people, all of whom carried it to their graves. Late in his life, Elgar admitted that the theme "was so well known that it was strange no one had discovered it." One of Elgar's friends who knew of his penchant for puzzles and practical jokes suggested that the hidden theme didn't exist at all. Perhaps you can figure it out.
Boulder composer Conor Brown's How to Relax with Origami consists of eight vignettes charmingly organized around the principles of Japanese paper art.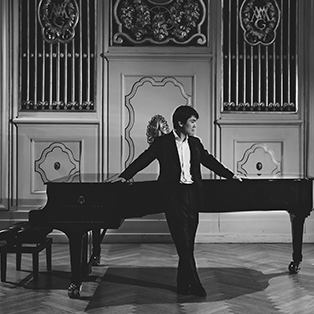 Featured Conductor & Artists
Tickets will remain on hold for 30 minutes.