LIVESTREAM: Aspen Festival Orchestra
Back To Calendar
This event has
already taken place.
BRUCH: Violin Concerto No. 1 in G minor, op. 26
TCHAIKOVSKY: Symphony No. 5 in E minor, op. 64
New this year, the AMFS will present select concerts to the world with a series of free livestreams that represent a slice of the Festival experience! These livestreams are broadcast directly from the performance and will only be available to view while the event is live.
For guidance and tips on how to view our events on the most common TV systems, click here.
The season finale concert showcases the astonishing Augustin Hadelich. A 2016 performance of the Bruch First Violin Concerto drew raves from the Dallas Morning News, which called him "one of the best violinists out there, with technical finesse--those crystal-clear runs!--allied to generous expressivity." Bruch's concerto was the composer's first major work, putting him on the musical map, and setting up expectations for comparable achievements that never quite materialized. Soloists have always loved to play this soaring and melodious piece, and audiences have warmly embraced it. Bruch studied violin for several years, and his love for the instrument shines through. When his publisher once suggested he try a work for cello and orchestra, Bruch replied, "I have more important things to do than write stupid cello concertos." Eugen d'Albert asked for a piano concerto in 1886; Bruch fired back: "Me, write a piano concerto! That's the limit!" (Bruch eventually wrote beautifully for cello with orchestra, though he never did compose a piano concerto.)
Bringing the season to a rousing close is Tchaikovsky's 5th Symphony. The four movements are unified with a "motto theme," commonly thought to represent the idea of Fate, which Tchaikovsky referenced in his early writings about the piece. The theme undergoes various transformations. It harshly interrupts the achingly beautiful slow movement, sneaks in near the end of the lilting third movement, and is finally transfigured into the major key as a sign of victory over Fate. Celebrate the triumph of the 2021 season at this electrifying concert!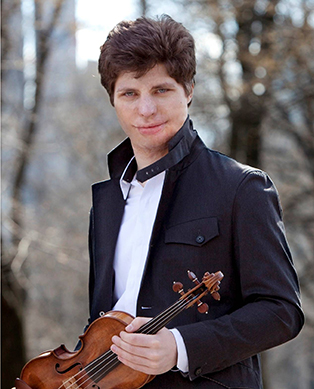 Featured Conductor & Artists