CANCELED-Aspen Chamber Symphony
Back To Calendar
With special thanks to Janet and Tom O'Connor, and Dana and Gene Powell
Please Note:
This event has been canceled. Our amended season will run July 16-August 23. For ticket refund or donation options, please click here.
BEETHOVEN: Overture to King Stephen, op. 117
PAUL DEAN: Horn Concerto (U.S. Premiere)
BEETHOVEN: Romance in F major, op. 50
BEETHOVEN: Piano Concerto No. 5 in E-flat major, op. 73, "Emperor"
Conductor Nicholas McGegan's sparkling performances are always highlights of the summer season, and this mostly Beethoven program is sure to delight you. The program begins with the King Stephen Overture, written for the opening of Hungarian theatre and named for that country's first king. Leonard Bernstein described it as "a charmer and a curiosity, a cross between Béla Barták and Shortnin' Bread." It even contains a theme that Beethoven later used in the finale of his beloved Ninth Symphony.
Another Beethoven gem is the Romance, op. 50, famous for its delicate sweetness and high range for the violin. You'd never guess that Beethoven was coming to terms with his deafness at the time he wrote this piece, which hasn't the slightest hint of angst.
It's believed that for unknown reasons, a publisher later added the title "Emperor" to Beethoven's last and largest piano concerto. It's a safe bet that Beethoven would not have approved especially since the real emperor, Napoleon, was bombarding Vienna at the time the piece was written. Relax into the serene slow movement and let all your cares melt away, then exult in the euphoric energy of the finale. Paul Lewis's 2018 performance of the work was praised for its "energetic drive" and "warmly expressive manner…a performance that refreshed the spirit." (Seen and Heard International)
An Australian composer and an Australian-born soloist take the spotlight when Andrew Bain, principal horn player of the LA Philharmonic, gives the U.S. premiere of Paul Dean's Horn Concerto. Dean "uses the orchestra like a paint palette" (Sydney Morning Herald), so get ready for some exciting colors.
Don't miss this joyful and exhilarating concert.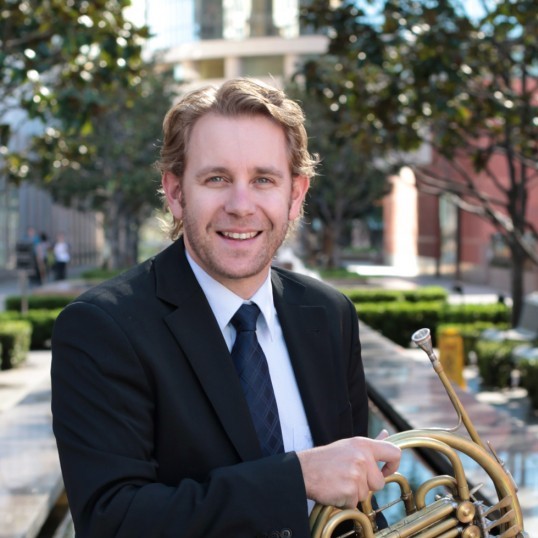 Featured Conductor & Artists