Convocation
Scroll down for full text of Mr. Fletcher's remarks.

The Aspen Music Festival and School Convocation on Monday, June 26 marked the official beginning of the 2023 season for the 460 music students and 124 artist-faculty in residence this summer.
| | |
| --- | --- |
| Alan Fletcher | President and CEO |
| Robert Spano | Music Director |
| Mike Klein | AMFS Board Chair |
| Jennifer White | Vice President for School and Festival Operations |
| Torre | Mayor of Aspen |
| Ana María Martínez | Soprano |
Remarks from Alan Fletcher
The founders of modern Aspen were Walter and Elizabeth Paepcke. They established the Aspen Music Festival and School, the Aspen Institute, the Aspen Skiing Company, the Aspen Center for Environmental Studies, and they accomplished even much more, for this place and for the world. Their grandson Nic DuBrul is now a member of our Board of Trustees. The Paepckes had a phrase for what Aspen means: Mind, Body, Spirit. In meetings with local leaders, I sometimes like to say that "Mind" is the Institute, "Body" is the Skiing Company, and "Spirit" is the music, but that's just my humorous local view.
But over many years, I have also liked to describe what we do here in Aspen as happening "hand to hand, mind to mind, heart to heart." This is an adaptation of "mind, body, spirit" to describe the luminous process of learning and creating music. It is a practice at once humble, simple, and transcendent. Nothing can substitute for the very basic and disciplined and hard work we all do, and nothing reaches the ultimate result we aspire to if there isn't also inspiration from the soul, and the hard, gem-like flame of creativity.
Hand to hand, mind to mind, heart to heart.
This signifies that we are part of a tradition that is handed on, person to person.
A few days ago, I was at an Aspen Institute event including some of the most important leaders in the medical world, along with some of the most generous philanthropists who support science. One of the doctors remarked that modern medicine is just that – very modern, very recent, especially in view of the tremendous span of human history. But, he said, the arts go all the way back. Every generation of humans, since there were humans, has created images, has danced, has told stories, and has made music. A key thinker about aesthetics, Walter Pater, wrote that "all art constantly aspires to the condition of music."
So, our tradition has extraordinary continuity. But traditions that last, that continue to matter, also experience disruption and change.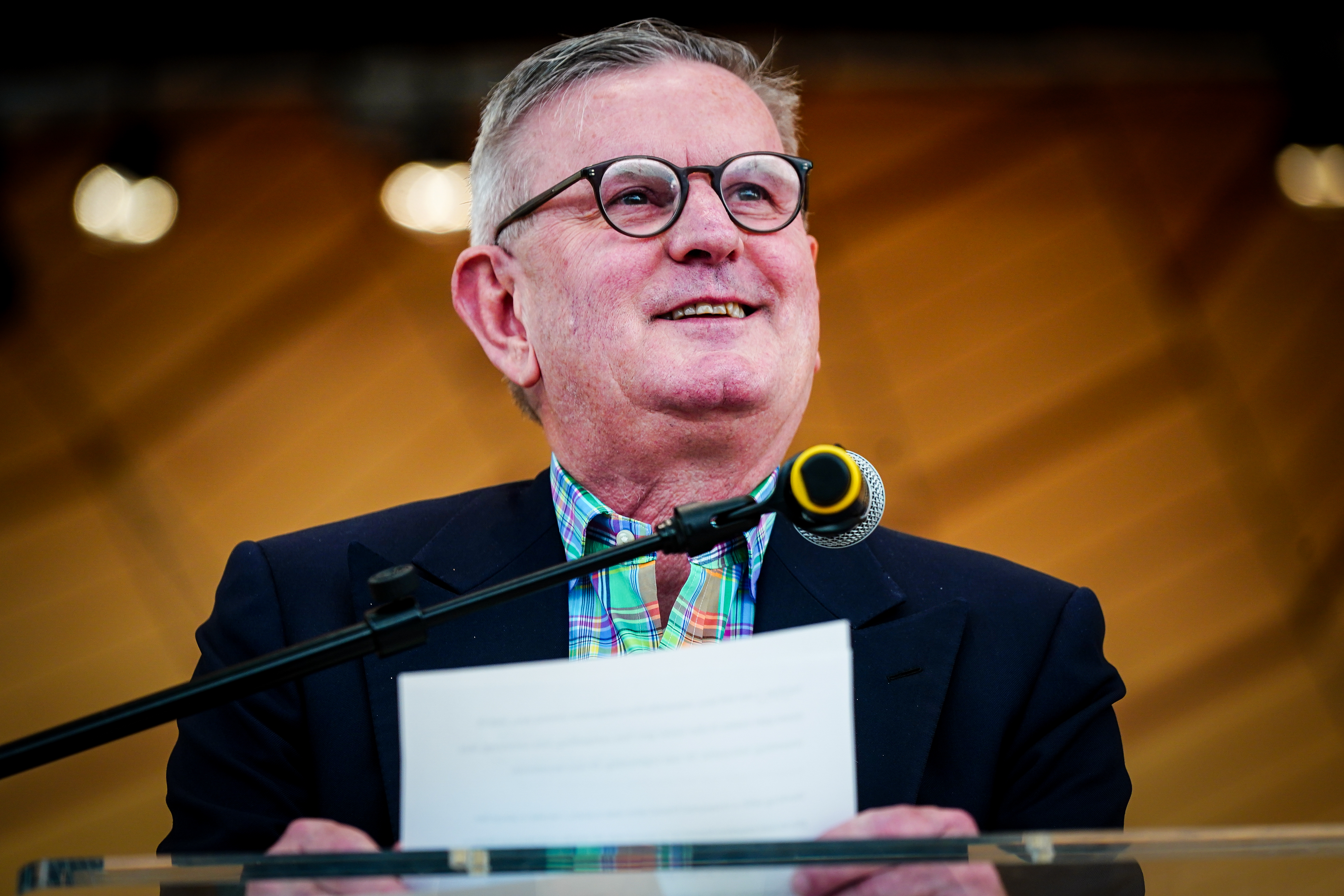 We have teachers, and we depend on them to pass along to us what was also passed along to them. But it isn't only about transmission; it's about transformation.
I was lucky in my teachers. I respected all of them, and I loved some of them, and I wanted to be like many of them, but I never thought that the world of music they lived in was perfect. There were things I wanted to change. It's become possible for me to participate in some important changes in our world, and I'm grateful for that, but I am also keenly aware that the world of music I now live in is also urgently in need of change.
A fundamental, miraculous, perhaps awesome truth is that the world of music will become yours. You will take on responsibility for what it is and how it works, and then you will be judged for how it turns out. If you don't want to worry about that right now in addition to everything else you have to worry about, that is reasonable. But if you do want to think about what makes sense to you and what seems strange, or wrong, to you, that is also reasonable.
Our tradition of music was created by people who were speaking to the future – this is one of the meanings of that sometimes troubling word "classical." They were speaking to the future, and they were also inevitably speaking from where they were. Who they were. The categorical mistake of "presentism" has people today judging the past for what it wasn't, searching only for what we want today. I can tell you that it will be a brutal thing when future generations judge you for what you aren't.
But we do have an opportunity to do things differently. Two strangely different things are true. In science there is progress, while in the essence of humanity there is continuity. The technological abilities we have today are hugely greater than they were for people from long ago, but our human attributes are amazingly the same. Martin Luther King, Jr. said that the moral arc of the universe bends towards justice, and that is a profoundly stirring thought. Things can get better. It is also true that the line of beauty remains constant and ever-present in human history, sometimes etched more deeply and sometimes less, but always looked for, and always needed.
In the United States, our Pledge of Allegiance ends with the words "with liberty and justice for all." Can anyone credibly say that we have ever provided true liberty and justice for all? Did our founders provide it? Do we provide it? But isn't it a stirring, challenging thing to say that we ought to pledge ourselves to try?
One of my closest friends, since college, is a very devout Roman Catholic. She was, and is, serious in her faith, and I think she would agree with me that she did some things not envisioned as ideal in that faith. Who doesn't? So, when I was at Juilliard and she was in grad school, she proposed that we go to an Ash Wednesday service at St. Ignatius Loyola in New York. This is a truly splendid church, full of human art inspired by a vision of divinity. In case you don't know, everyone attending such a service can come to the altar and have some fragments of ash touched to their forehead, as a visible symbol of the discipline of penitence that is to follow in the season of Lent. Well, this isn't my practice, and I didn't want to be just a spectator, so I didn't go. But she reported later that, when her turn came, and the priest was asking each person one question in the series of questions that is in the catechism, the question posed to her was, "Will you renounce Satan and all his wicked ways?" She was supposed to murmur, "I will," and then she would get the ashes. Instead, she paused for some true soul-searching, and she said, "I'll try."
And that's it: we can only try.
The tradition of music we join isn't only one thing; it is many things. It is strong and weak, good and bad, admirable and lamentable. We don't have to accept it all; we can change it. We can't really hope or plan to make things more beautiful or meaningful than the miraculous artworks of the past, because art doesn't get better, it only becomes different. Because it has to. But we can create and live in systems of artmaking and education that are more just, that are more equitable, than those of the past.
I expect most of you are like me in at least one way: we chose music not because it was the easiest thing, but precisely because it was the hardest. I can tell you, especially the composers among you, that it never gets easier. It also never gets less compelling, less satisfying, less rewarding, less joyful. Or less frightening. Or less wonderful.
Working with a treasured friend who was a poet, I wrote a piece for piano and soprano based on a sound mix of words and phrases from a manual for singers written generations ago by the Italian soprano Luisa Tetrazzini. (The turkey recipe was named in her honor.) Anyway, we jumbled and transposed words so the lyrics included things like, "Every day of my life, I climb difficult stories through the gift of song. On the other side of the piano, some of the audience will be a long way off. Others will be much nearer. Always remember to make Northern peoples indulge in gestures. To this end, you must learn to live without a cigar." But the first and best phrase we used from her book of advice was this: "Don't wait to be found."
I think this is essential advice for everyone in the arts. Don't wait to be found. Find yourself. Find yourself in yourself, and find yourself in others who will become your guides, your friends, your support throughout your lives. Find the world of music you want to live in. Make this precious time in Aspen, a place that celebrates mind, body, and spirit, part of your search.
Don't wait.