Aspen Conducting Academy Orchestra
Back To Calendar
With special thanks to Fonda Paterson, in memory of Charles Paterson
Local business support provided by Pitkin County Dry Goods
Please Note:
Tickets will remain in cart for 30 minutes.
BRITTEN: The Young Person's Guide to the Orchestra, op. 34
KAIJA SAARIAHO: Laterna magica
---
BRAHMS: Symphony No. 4 in E minor, op. 98
See the conducting stars of tomorrow in these engaging concerts where student conductors rotate between conducting a movement of a work, or playing in the orchestra. Program Director and AMFS Music Director Robert Spano observes the work of his students at this weekly event.
Britten's The Young Person's Guide to the Orchestra is the perfect introduction to classical music. With some of the catchiest and most charming melodies ever written, Britten takes you on an epic musical tour that showcases each instrument. Finnish composer Kaija Saariaho took the title Laterna Magica from an autobiography by film director Ingmar Bergman. Just as the Laterna Magica machine creates the illusion of a moving image when its handle is turned faster and faster, different musical tempi impact our perception of musical material. As was his habit, Brahms spent the summers of 1884 and 1885 composing in a quiet town in the Austrian Alps. In spite of the season and beautiful surroundings, the symphony which emerged from the 52 year-old Brahms was his darkest. The Fourth Symphony's serious mood caused Brahms concern about how it would be received. Joking, he wrote, "I'm really afraid that it tastes like the climate here. The cherries don't ripen in these parts; you wouldn't eat them!" Brahms needn't have worried; from its first performance to the present, audiences have been devouring this magnificent opus.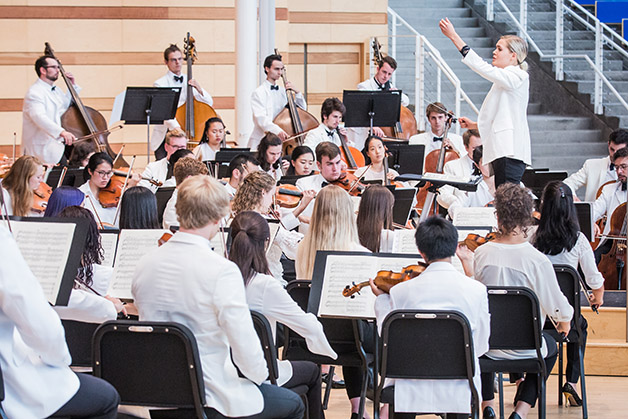 Tickets will remain on hold for 30 minutes.