Aspen Festival Orchestra
Back To Calendar
With special thanks to Mrs. Mercedes T. Bass - Mercedes T. Bass Charitable Corporation
This event has
already taken place.
BRIAN RAPHAEL NABORS: Onward
SIBELIUS: Violin Concerto in D minor, op. 47
---
MAHLER: Symphony No. 1 in D major
The Milwaukee Shepherd Express conjectured that he "well may be the best violinist in the world. [His] gorgeous sound is ample and rich always. Every detail is played with perfectly clear
intent."
Augustin Hadelich's astonishing technique, eloquent phrasing, and seeming effortlessness have consistently made his performances highlights of the AMFS season. From its haunting opening to its astonishing virtuosic finale, the Sibelius Violin Concerto as played by Hadelich is sure to keep you enthralled.
"It came gushing out like a mountain torrent," said Mahler of his First Symphony. Written for a huge orchestra and full of youthful Romanticism, the work follows the journey of Mahler's "hero" through episodes of optimism, struggle, death, and ultimately triumph.
Onward by Brian Nabors opens the program. Not unlike Mahler's First, the work is, in the composer's words, "an homage to the triumphs and growth we experience along the epic journey of life."
Hear the extraordinary Augustin Hadelich in a violin masterwork and experience the power and richness of the orchestra as it takes you on two musical journeys.
---
Performances will have a 20-minute intermission.
This event will also be livestreamed for free. For a full list of livestreams, click here.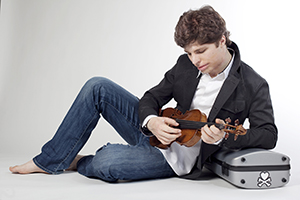 Featured Conductor & Artists