Festival Orchestra: Gil Shaham, Strauss's Till Eulenspiegel
Back To Calendar
With special thanks to Becky and Mike Murray
This event has
already taken place.
JANÁČEK/MACKERRAS The Cunning Little Vixen Suite
JOEL THOMPSON An Act of Resistance
---
KORNGOLD Violin Concerto in D major, op. 35
R. STRAUSS Till Eulenspiegel's Merry Pranks, op. 28
Gil Shaham returns! His impeccable technique, radiant stage presence, and infectious joy in music-making have made him one of the foremost violinists in the world and a perennial Aspen favorite. Hear him in Korngold's brilliantly orchestrated, richly romantic, and technically challenging Violin Concerto. With themes drawn from the composer's film scores, the piece showcases the highest range of the instrument where it sings with a pure, ethereal voice.
The program opens with the suite from Janáček's opera The Cunning Little Vixen. The work begins with an orchestral tone poem depicting a shimmering natural world of buzzing and dancing insects, a pipe-smoking badger, a frog failing to catch a mosquito, and the vixen herself captured by a woodsman. The second movement follows seamlessly with music representing the woodsman's barnyard. In an orchestral interlude, the vixen dreams of sexual awakening and then tries to rouse the hens to their own feminist movement. After her effort fails, she enjoys a chicken dinner instead and then escapes to the forest.
Joel Thompson, composer-in-residence at Houston Grand Opera known for his acclaimed opera The Snowy Day, will be represented by An Act of Resistance, his first orchestral piece. In five compact minutes, Thompson depicts a battle between love and conflict. Listen for the surprise ending!
In Richard Strauss's day, it was common to attribute grandiose spiritual or philosophical meanings to music, and for composers to write serious, intense works that tried to capture the extremes of human experience. Strauss's own Death and Transfiguration is a case in point. By contrast, Till Eulenspiegel's Merry Pranks is a colorful chronicle of the misadventures of a popular German peasant folk hero. When asked whether he had any "metaphysical" intentions in Eulenspiegel, Strauss replied, "Oh, no - I only wanted to give the people in the concert hall a good laugh for once."
Enjoy an Artist Dinner with Shaham on Wednesday, August 2, teach young violinists at Harris Concert Hall Class on Tuesday, August 8, or see his recital on Wednesday, August 9.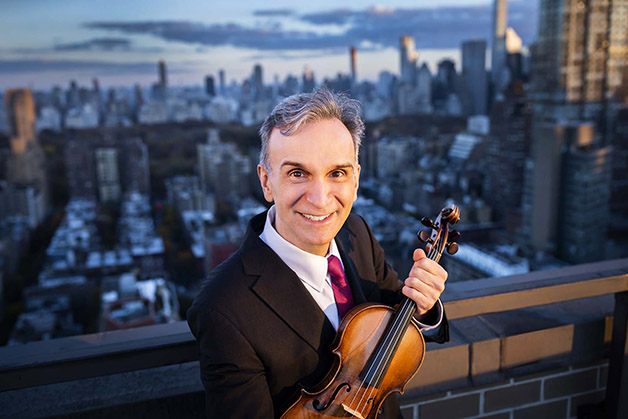 Featured Conductor & Artists