Winter Music Recital Series:
Simone Porter violin, Blake Pouliot violin, and Hsin-I Huang piano
Back To Calendar
Please Note:
Subscriptions On Sale January 10, 2024
Single Tickets On Sale January 17, 2024
EAGLES/OLIVIA MARCKX Hotel California
STRAVINSKY/DUSHKIN Danse Russe from Petrushka
BLOCH Nigun from Baal Shem
RÓZSA Variations on a Hungarian Peasant Song for Violin and Piano, Op. 4
BINGEN/OLIVIA MARCKX Antiphons: based on themes by Hildegard von Bingen
BACHARACH, DAVID/OLIVIA MARCKX I Say a Little Prayer
KORNGOLD Much Ado about Nothing Suite, op. 11
RÓZSA Sonata for 2 Violins, Op. 15
The program will run approximately 65 minutes. Program subject to change.
To view the entire 2024 Winter Music Recital Series, click here.
-------
A trio of young classical phenoms will open the 2024 Winter Music Recital Series with a thrilling evening in Harris Concert Hall! The wide-ranging program includes a variety of works from the Eagles' instantly recognizable tune, "Hotel California," to Korngold's beautiful Suite from Much Ado About Nothing, to the Danse Russe from Stravinsky's Petrushka.
Recognized as an artist of impassioned energy, interpretive integrity, and vibrant communication, AMFS alumna and star Simone Porter's "silken-toned virtuosity puts her right up there with the finest interpreters of her generation." (Chicago Classical Review). Since making her professional solo debut at age 10, Porter has debuted with major orchestras like the New York Philharmonic, the Philadelphia Orchestra, and the Los Angeles Philharmonic and received a prestigious Avery Fisher Career Grant.
Described as "one of those special talents that comes along once in a lifetime" (Toronto Star), since his orchestral debut at age 11, violinist Blake Pouliot has performed with the orchestras of Philadelphia, Aspen, Atlanta, Detroit, Dallas, Montreal, Toronto, San Francisco, and Seattle, among many others. Pouliot's debut album earned a 2019 Juno Award nomination for Best Classical Album. He has been NPR's Performance Today Artist-in-Residence and won the Grand Prize at the 2016 Orchestre Symphonique de Montréal Manulife Competition.
Fellow AMFS alumna Hsin-I Huang brings in-demand skills as a pianist to round out the trio. Her 2017 album with violinist Pouliot earned 5 stars from BBC Music Magazine and was nominated for "Classical Album of the Year" at the JUNO awards.
Share in the joy of live music this winter with this virtuosic ensemble!
-------
Subscribe and Save!
See all three Winter Music Recitals with a subscription and save on the single ticket price.
Premium Subscriptions: $210
Regular Subscriptions: $99
Subscriptions will be available for purchase on January 10, 2024.
Single tickets ($75/$45) will go on sale January 17, 2024.
Support Winter Music
Help us bring warmth to midwinter through the gift of music as a Winter Music sponsor. Sponsors get priority access to the best reserved seats in Harris Concert Hall as well as tickets for The Metropolitan Opera's Live in HD screenings at the Wheeler Opera House.
Click here to learn more
.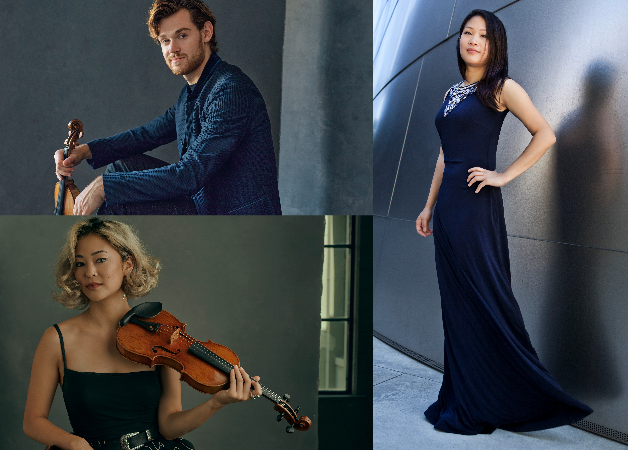 Featured Conductor & Artists