Artist Year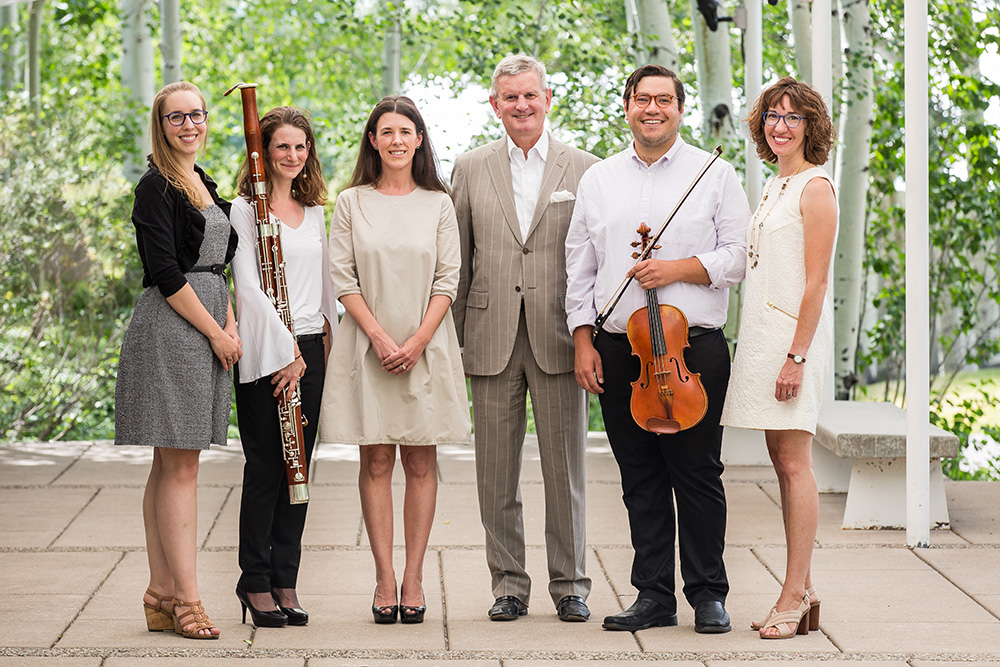 AMFS and Artist Year
A three-year partnership increasing music education for local schoolchildren
In the 2017-18 school year, the Aspen Music Festival and School brings five new music teachers to the area in partnership with ArtistYear, a new AmeriCorps service program dedicated to bringing increased arts education to children around the country. This new relationship provides funding, training, and management for five new full-time ArtistYear Teaching Fellows in the area, three of whom are working with the talented music educators in the Basalt schools and two of whom are working directly with the AMFS teaching after-school programming and private lessons in its AfterWorks programs for local schoolchildren.
The ArtistYear Fellows are committed to a year of arts service and there is no more than a token cost to the local schools. The three fellows in the Basalt schools are working with the elementary general music program and the rapidly growing middle and high school band and choir programs. These three also teach in the AMFS after-school programs and teach private lessons for the students enrolled in those programs. The other two fellows are working full-time with the AMFS in-school and after-school music programs, Beginning Strings, and Lead Guitar.
Says Alan Fletcher, AMFS president and CEO, "The five ArtistYear AmeriCorps members who have joined us here this fall are bringing to this community both the talent and the intention to make children's lives better through art. We support this for our local families and also are proud to be a part of this program as it develops for all the other communities who will benefit from ArtistYear as it grows nationally."
Katie Hone Wiltgen, Director of Education and Community Programming at the AMFS, notes that the fellows will be a huge help in bringing more music to the children of the Valley. She says, "In the Roaring Fork Valley, we are extremely lucky to have many high-quality, dedicated, engaging music teachers at the helm of thriving music programs. We're thrilled to partner with ArtistYear and provide sustained support for these hard-working teachers.
She continues, "The band and choir programs in Basalt are growing so quickly that the directors have become victims of their own incredible success…. There are simply too many students enrolled in band and choir for one person to manage! The ArtistYear Fellows are there now to assist in all band and choir rehearsals. As a former music teacher at Basalt middle and high schools, and I can attest to the fact that a second teacher in the classroom is a huge help! Just as the music programs in Basalt have grown, so, too, have our AfterWorks programs of Beginning Strings, Lead Guitar, and Maroon Bel Canto Children's Chorus expanded rapidly and become staples of after-school offerings at 14 schools. We're always looking for excellent teachers to work with our curriculum, and the new ArtistYear Fellows are hugely important additions to our teaching roster."
ArtistYear is the first national service year organization for artists to dedicate themselves to a year of service to their country through AmeriCorp. The program connects young musicians with year-long placements in arts education. The first national service year program specifically for the arts, ArtistYear launched in Philadelphia in 2014. This is the first year the organization is expanding to other locations, the Roaring Fork Valley and Queens, NY.
THE ROARING FORK VALLEY ARTISTYEAR FELLOWS
Basalt Middle and High School Choir ArtistYear Fellow Ben McMurray is working with teacher Brittany von Stein. McMurray is partnering with von Stein on choir classes and a spring musical production, and he is also working with the AMFS's Maroon Bel Canto Children's Chorus. (The Maroon Bel Canto Children's Chorus is a classic children's choir within the AMFS's AfterWorks school year music lessons and performance program, and it serves students Valley-wide with more than 115 singers.) McMurray is a 24-year-old from Grove City, Ohio. He began piano lessons at age nine after his grandmother started him out with a few "little songs." The next year, he switched to the trumpet after listening to his father practice. "My dad has two degrees in trumpet performance and I constantly heard him practicing at night," he says. "I was fascinated by the way he could play so many notes with just three valves." He attended the Ohio State University, earning a bachelor degree in music as well as being a squad leader for the university's marching band. The past few years, McMurray has been working with the school choir programs around Columbus, Ohio. He applied for ArtistYear to grow as a musician and teacher and to inspire kids to make and appreciate music. "I hope to inspire young people to make and appreciate music, and show them that music is something that extends outside of the classroom. It is an essential part of life," he says. McMurray's other interests include cooking, going to the movies, learning the banjo, and seeing live and local music.
Basalt Middle and High School Band ArtistYear Fellow Lindsay Bobyak is working with teacher Nick Lenio. Bobyak is a 25-year-old double bassist from Plymouth, Minnesota. She started playing violin in elementary school and switched to double bass because she kept forgetting to bring her violin to school and the double bass stayed in the classroom. Bobyak earned both her bachelor's and master's degrees in double bass performance from Indiana University's Jacobs School of Music, during which she was the recipient of the Artistic Excellence Fellowship. She also earned an Associates of Science in String Instrument Technology which allowed her to make her own violin. Leading elementary school music classes in undergrad sparked her interest in teaching, and in the summer of 2016 she went to El Salvador with a program called MusAid that works with the El Sistema school in San Salvador teaching music to underprivileged children. She attended the Aspen Music Festival and School in summer 2017 and notes that "having a built-in support group with the Aspen Music Festival and School and already knowing the community here helped make my decision to join the ArtistYear program and finally leave small-town Bloomington much easier." Besides music she loves sports. She was nominated as the top rugby winger in the state for high school women and is a cyclist who has raced competitively. She also loves horses and bought a Morgan gelding in middle school with her babysitting money. She says, "I ended up training him to second-level dressage before going off to college and sadly selling him to help me buy a bass for school."
Basalt Elementary School Music ArtistYear Fellow Emily Schoendorf is working with teacher Maureen Hinkle in general music education. Schoendorf is a 26-year-old bassoonist from University Park, Maryland. She began playing music when she was twelve, first on clarinet and then the bassoon. She earned her bachelor's degree in bassoon performance from Indiana University and her master's degree in bassoon performance from the University of Southern California Thornton School of Music. During her time in Los Angeles, she won the 2014 USC Winds Brass Percussion Concerto Competition and substituted in concerts with the Los Angeles Philharmonic. She applied to ArtistYear, she says, "because some of the most enjoyable moments during my past 4 years living in Los Angeles were spent teaching music in public elementary schools. I love seeing kids learn music, especially when it's fun for them." Schoendorf also loves cycling and languages and has studied French, Russian, Hebrew, and Chinese.
AMFS Beginning Strings ArtistYear Fellow Daniel Jacobs is working with the AMFS's Beginning Strings after-school and in-school program. In Beginning Strings, elementary school-aged children learn violin, viola or cello via in-school and after-school activities like private lessons, group lessons, master classes and performances. Jacobs is a 27-year-old violist from Onalaska, Wisconsin. He notes, "When I was young, my babysitter would always play Beethoven's 'Moonlight' Sonata before bedtime, and that is probably one of my earliest memories of music." He studied piano and when he was in seventh grade he decided he wanted to study a string instrument. He says, "I tried all of them—violin, viola and cello. I was very tall for my age, and according to my teacher, I had perfect hands for the viola." He went on to receive his bachelor's degree in music performance from the University of Wisconsin-Madison and a master's degree in music performance from the Peabody Institute of the Johns Hopkins University. While at Peabody, he taught viola and orchestra at the Baltimore School for the Arts and found he enjoyed teaching. About ArtistYear, he notes that, "Overall, I hope to become a better teacher, mentor, and musician during the year, but my main hope is to see the kids I teach make discoveries and feel accomplished. I strongly believe all kids are intelligent, and we need to embrace it and allow discovery and imagination." Jacobs is also excited to experience the outdoors of the Roaring Fork Valley. "I'm really looking forward to living in the Roaring Fork Valley because I love hiking and the outdoors," he says. "When I was younger, I skied and snowboarded, so I am excited to relearn."
AMFS Lead Guitar ArtistYear Fellow Will Brobston is working with the AMFS's after-school and in-school Lead Guitar program. In Lead Guitar, Brobston teaches classical guitar technique, music reading, theory, performance skills, and ensemble playing in either twice-weekly after-school group classes or classes during the school day. Brobston is a 26-year-old guitarist from Huntsville, Alabama. He began playing guitar seriously when he was 13. "I had become completely fixated on the instrument after hearing the self-titled album by Black Sabbath," he says. He has a bachelor's degree in music technology from the University of Alabama at Birmingham and a master's of music in guitar performance and composition from the University of Denver. He applied for ArtistYear to learn about the world of professional music education, "I am thrilled to get out into the professional world of music and hope to hone my skills as an educator while providing a quality learning experience for my students!" In addition to music, Brobston is also an avid cyclist and has a particular passion for road biking in the Rockies.