Convocation
Scroll down for full text of Mr. Fletcher's remarks.

The Aspen Music Festival and School Convocation on Monday, June 28 marked the official beginning of the 2021 season for the 263 music students and 101 artist-faculty in residence this summer.
| | |
| --- | --- |
| Alan Fletcher | President and CEO |
| Robert Spano | Music Director |
| Mike Klein | AMFS Board Chair |
| Torre | Mayor |
| Jennifer White | Vice President for School and Festival Operations |
Remarks from Alan Fletcher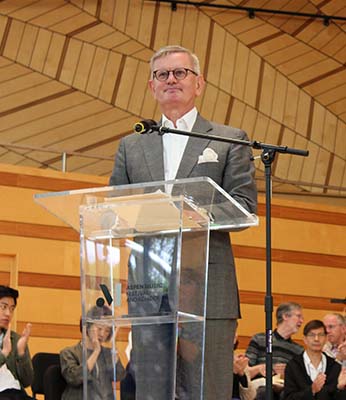 For the few personal remarks I always make at Convocation, I begin by proposing that I am in no place to say any wise things about what we have all been through these past sixteen months. (I note that, in Commencement addresses, when anyone says, "I will not say all those usual things," that is the surest guarantee that they are about to say all those usual things.)
Anyway, we have all been through this continuing thing, together, in the sense that no one was exempt from it, and profoundly apart, because almost all our patterns of being with each other were disrupted. To say one positive thing: if you were able to be with someone you love and trust, then you learned in a new way how beautiful a thing it is to be able to love and to trust. And, as breathtaking a problem as this pandemic is and has been, Duke Ellington, who was our colleague here in Aspen in 1965, said, "A problem is a chance to do your very best."
Something I very often say, especially on occasions like Convocation, or in Commencement talks I give, is that we are blessed to be part of a tradition that is handed on from generation to generation, hand to hand, mind to mind, heart to heart. And we are still proud of this tradition. Virgil Thomson said, at a commencement to which I had invited him, that, "Beethoven only lives because you give him life. Every generation brings new life to him, in new ways." So, when I see our faculty passing along indispensable and beautiful ideas that they themselves learned from legendary teachers, passing this precious knowledge to the musicians who will then sit next to them on our Aspen stage, making Beethoven's Fifth Symphony a breathtaking, new, living thing, I am indeed proud to be a part of all this.
But we are not proud of everything about our tradition. For centuries, and really for most of the history of classical music, women were routinely excluded or discouraged or thwarted from being full partners in it. In an even more current and vivid way, people of color have been systematically excluded or unvalued or made to feel "other," and our educational systems persist to this moment in this unjust, inequitable practice. We must change, and we must do things in new ways – we can change, and we will change. We also have a task of finding and giving new life to the precious work that was accomplished, through centuries of wrong, by those who would not be denied.
I hope you will take time to read our current commitments for diversity, equity, inclusion, and belonging. I hope even more that you will join us and help us make them better, and continue that commitment in new ways, since the current plans are provisional and will need renewal and revision.
An essential thing about our art is that it changes by inclusion. We do not say, "You can be part of this tremendous, wonderful history." We say, "The arc of this history will change because you become part of it. You will show us the new way."
So, an observation I make from having had the blessing of seeing and experiencing the teaching of so many like our faculty here, is this: You cannot ever know enough, have practiced enough, have analyzed enough. Our art is profoundly, inescapably emotional. But emotion and intellect are not opposites. A beloved teacher of mine in childhood said to me, "You have to have the big feelings." And then she put me through intellectual exercises and challenges that still absorb me. We transmit our thoughts into feeling, and we give our feelings to the world. A friend of mine who is not a musician came to a concert with some of my music, and said afterwards, "I am amazed at how you just expose every emotional thing about yourself!" And I could only respond, "Well, that's what we do."
But there is no separation between emotional truth and intellectual inquiry, between practice and discipline on one side and love and communication on the other. Our work is to bring it all together, to be together in the work, and to use all of our ability to think and to know and to understand to get to that moment in performance where the real thing is there, shimmering, just beyond what we can know.