Convocation
Scroll down for full text of Mr. Fletcher's remarks.

The Aspen Music Festival and School Convocation on Monday, June 25 marked the official beginning of the 2018 season for the 645 music students and 130 artist-faculty in residence this summer.
| | |
| --- | --- |
| Alan Fletcher | President and CEO |
| Robert Spano | Music Director |
| Robert Hurst | AMFS Board Chair |
| Ann Mullins | Mayor Pro-Tem |
| Jennifer Johnston | Vice President and Dean |
Remarks from Alan Fletcher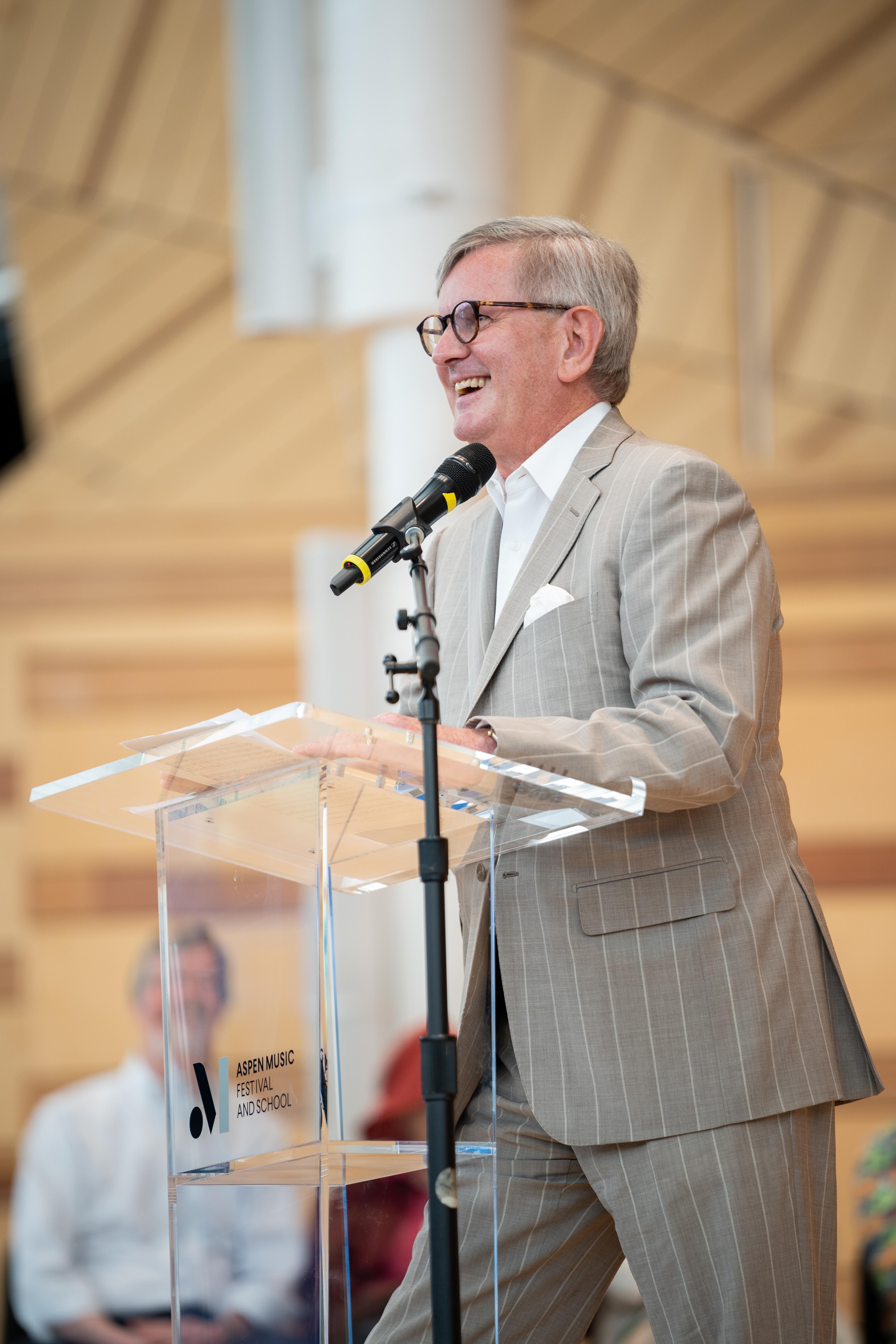 My theme today is "A dramatic capacity to focus." Well, actually, the theme is a slightly different thing, a thing you'll only understand if you do focus!
If you can believe it, an eminent astrologer once gave me a reading, which began with his announcement that I have sun, rising, moon, Mercury, Venus, Mars and Jupiter all in Scorpio. He said to me, "You have a dramatic capacity to focus. That's really important in music and the military." Since I had no military ambitions, I decided to concentrate on music, evidently with the blessing of the universe.
It is true, though, that musicians tend to have a dramatic capacity to focus. We have to behave, day to day, knowing that every day counts, and we need to focus on that. The capacity to focus will have a dramatic importance for us, every day.
I had a friend, when I was in grad school, who made lists every day, to keep herself focused. Once, I was helping her put together a dinner party at her apartment, and I saw that day's list on the fridge. "Reserve plane tickets for next week, buy coffee, water, green beans, toothpaste, call Mom, clean bathroom, conquer all fears, give doorman the guest list." Wait, what was that second to last thing? "Conquer all fears?" I quietly decided not to ask her until later how that was working for her.
But I did start making my own lists. The way my life works now, I primarily compose music in September and October, at a beautiful place in Maine. Every morning I make the day's list. Feed the dogs. Walk the dogs. Check emails. See if the tree guy can look at that tree that doesn't look so good. Compose deathless masterpiece. Do the lunch dishes. Yes, "compose deathless masterpiece," because you might as well try, right?
Here's another little story: early in my composing career I invited a new friend to come to a concert including one of my works. She and I were working together in a church job, but she isn't a musician. She listened to my music, and commented, "Wow –you seem so reserved, but you just completely reveal yourself in the music! How can you stand to be so emotionally exposed?" I said, "Well, that's what we do."
We keep ourselves at it, day after day. Others will help, and be more or less encouraging, but it is your own dedication and discipline that will bring you and your work to the stage. Your own focus. You'll do better and worse, but you will never think, "It's good enough." The great, and sometimes terrible, piano teacher Adele Marcus used to say, "You're only a concert pianist during a concert." She meant, I think, that every success is only a platform on which the next success can be built, and there can be no complacency. You've never made it; you're always making it.
I hope you all understand that I'm saying these things as simple facts. If they discourage you, then be discouraged – but they're not meant as discouragements. Just facts. Does any one of you think a life in music is going to be easy? Does any one of you think that you will succeed because you deserve to? But, I hope, every one of you thinks it's worth it to work at this.
So, why?
Not – why do you want to do this? But rather, why is it important?
There are many ways to answer this, but today I want to focus on just one. We need for you and your work to be successful, because it is honest work. Artists are truth tellers. They mean what they say. They say what they mean. They are worth listening to.
After all the necessary technical work, the essence of practice is in uncovering one's own honest – often searingly honest – interpretation. And we need that honesty.
In a culture where truth, where facts, where reality is so debased, artists stand up there and reveal themselves in all honesty. And what a beautiful phrase that is: "in all honesty."
There is a true, inherent drama in focus. We think big. We trust others to think big with us. We stay at it. We stay with it.
Truth telling is a hallmark of the creative and performing artist. We try to connect our innermost, authentic selves with the text, the score. In a class famously captured on video, the great drama teacher Stella Adler advises her gifted acting students that "the ideal is to be like a musician; they know how to respect text, and still be themselves."
I know we occasionally hear about, or tell about, "faking it." This is inevitable. Personally, I was taken aback once in a Juilliard class I was taking with one of the world's greatest collaborative pianists. I was assigned to play Faure's lovely song "Nell," and had dutifully worked it up. No sooner had I played a few bars than the teacher stopped me, saying, "No one plays all the notes in 'Nell!' Let me show you the work-around." I, being an idealistic young student, suggested that this was faking it, and he said, "No, improving it!"
But the exigency of just getting through something is not the ideal. The ideal is finding a way to say something personal and true, important and meaningful, even useful – in every performance.
Personal, true, important, meaningful, useful.
Personal, because otherwise why is it you that is on the stage?
True, because, as Keats said, "Beauty is truth."
Important, because art matters, because humans in every known generation in history have considered it important to make music. Music is mysteriously inherent in the human mind and spirit.
Meaningful, because music expresses emotions, as well as intellectual meaning, in its own unique way. Mathematical, structural meaning shines through music. Emotions, that resist reduction into sentences, shine through music.
Useful, because time and again, people say about music that they need it. Music helps us in grief, in trouble, in times of uncertainty. Music lifts us in times of joy. Music sustains us in times of loneliness. Music joins us when we need to be linked together. Music inspires us to be our best. Music makes us feel, music makes us think.
Once again, the ideal is finding a way to say something personal and true, important and meaningful, even useful – in every performance.
Above all, music is an endeavor that encourages openness, listening, sensitivity, responsiveness, communication, and honesty.
Let us work together to make the best music we can.
Let us stand for truth, in a world that truly needs it.