Chamber Symphony: Beethoven's "Pastoral," Joyce Yang
Back To Calendar
With special thanks to Deborah and Richard Felder and Ann and Tom Friedman
This event has
already taken place.
BRITTEN: Four Sea Interludes, from Peter Grimes, op. 33a
MOZART: Piano Concerto No. 24 in C minor, K. 491
---
BEETHOVEN: Symphony No. 6 in F major, op. 68, "Pastoral"
This summer's theme, "The Adoration of the Earth," is in full force for this season opener. Two Aspen favorites, conductor Jane Glover and the brilliant AMFS alumna Joyce Yang, team up for a program sure to please both first-time concertgoers and longtime fans.
In Britten's powerful opera about the unjust treatment of a social outcast by an intolerant community, the sea plays a critical role in the characters' lives. Six interludes depict its various moods and serve to separate each scene. Britten extracted four of them – Dawn, Storm, Sunday Morning, and Passacaglia – for publication apart from the opera. The colorful and haunting orchestration is so evocative you may feel like you're at the shore instead of at 8,000 feet!
Some of that turbulent roiling continues in Mozart's Piano Concerto No. 24, the last of three composed while he was working on the opera The Marriage of Figaro. It's one of only two piano concertos Mozart wrote in a minor key. Mozart scholar Alfred Einstein called it "an explosion of the dark, tragic, passionate emotions." Beethoven was particularly impressed by it, remarking to his friend after a performance, "We shall never be able to do anything like that!" With Joyce Yang's passionate playing and dazzling technique, you'll hear all the colors and shifts of mood of this dramatic work.
Concluding the program is Beethoven's beloved Sixth Symphony, one of the two that the composer nicknamed himself. Beethoven had a profound appreciation of nature and loved to walk through the countryside outside of Vienna. He once wrote, "How delighted I will be to ramble for a while through the bushes, woods, under trees, through grass, and around rocks. No one can love the country as much as I do. For surely woods, trees, and rocks produce the echo that man desires to hear."
Welcome the season with a concert that celebrates the variety and beauty of Nature!
Also see Yang in a perform in a recital on Wednesday, July 5 or at Artist Dinner with her on Thursday, July 6.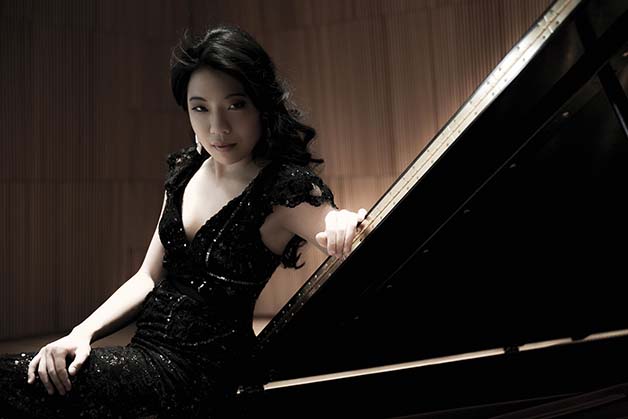 Featured Conductor & Artists