Aspen Festival Orchestra
Back To Calendar
With special thanks to Kay Bucksbaum, part of the Allison and Warren Kanders Sunday Concert Series.
This event has
already taken place.
AUGUSTA READ THOMAS: Brio
BRAHMS: Piano Concerto No. 1 in D minor, op. 15
---
SIBELIUS: Symphony No. 5 in E-flat major, op. 82
Join alumnus and conductor Joshua Weilerstein for a program featuring two musical powerhouses—one a performer and one a creator.
The late novelist Philip Roth had this to say about Yefim Bronfman: "Then Bronfman appears. Bronfman the brontosaur! Mr. Fortissimo! Enter Bronfman to play at such a pace and with such bravado as to knock my morbidity clear out of the ring." The Chicago Sun Times notes, "He can roar, but he also can whisper. He can conjure a multitude of dynamics, shifting quickly from one extreme to another." Brahms's stormy and passionate First Piano Concerto is an ideal vehicle for Bronfman's gifts, and a work with an adventurousness this astounding pianist deeply admires.
Sibelius, another superb orchestrator, is showcased on this program. His Fifth Symphony was inspired by swans in flight, and begins with a simple four-note horn theme which develops organically, culminating in an exhilarating rush of energy. The finale is one of the most majestic and triumphant in the entire symphonic repertoire. As Sibelius himself wrote, "God opens his door for a moment, and his orchestra is playing the Fifth Symphony."
Relish brilliantly orchestrated music played by a brontosaur-sized orchestra at this uplifting concert!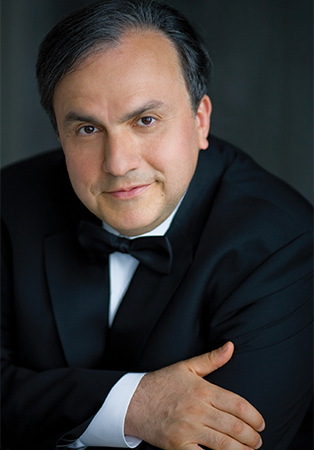 Featured Conductor & Artists