Winter Music Recital Series:
Isidore String Quartet
Back To Calendar
Please Note:
Subscriptions On Sale January 10, 2024
Single Tickets On Sale January 17, 2024
MOZART String Quartet in C major, K. 465, "Dissonance"
HENRI DUTILLEUX Ainsi la nuit
MENDELSSOHN String Quartet No. 5 in E-flat major, op. 44, no. 3
The program will run approximately 85 minutes. Program subject to change.
To view the entire 2024 Winter Music Recital Series, click here.
-------
Winners of a 2023 Avery Fisher Career Grant, the New York City-based Isidore String Quartet represents some of the freshest talent being presented today in the great concert halls of America and Europe. The ensemble brings a varied program to its Harris Concert Hall debut with works by Mozart, Henri Dutilleux, and Mendelssohn.
Among the most famous of Mozart's string quartets, the C major quartet, K. 465, is one of six dedicated to Haydn and inspired by him. Musicologist Alfred Einstein observed that, in following Haydn's example, Mozart may have been 24 years younger but he was no lesser; he learned "as a master from a master."
Commissioned for the Juilliard String Quartet and now considered a treasure of the string repertoire, Henri Dutilleeux's Ainsi la nuit was heavily influenced by the works of Beethoven and Bartók.
One of Mendelssohn's middle quartets, the String Quartet No. 5 in E-flat major, op. 44, no. 3, described as "joyful" and "passionate," will conclude the program with classical poise and balance.
Violinists Adrian Steele (AMFS alumnus) and Phoenix Avalon, violist Devin Moore (AMFS alumnus), and cellist Joshua McClendon (AMFS alumnus) began as an ensemble at the Juilliard School, reconvening post-pandemic in the summer of 2021. The ensemble already has extensive tours of North America and Europe on the books, as wll as a two-year appointment as the Peak Fellowship Ensemble-in-Residence at Southern Methodist University in Dallas. The Quartet has collaborated with eminent performers including James Ehnes, Jeremy Denk, and Shai Wosner.
-------
Subscribe and Save!
See all three Winter Music Recitals with a subscription and save on the single ticket price.
Premium Subscriptions: $210
Regular Subscriptions: $99
Subscriptions will be available for purchase on January 10, 2024.
Single tickets ($75/$45) will go on sale January 17, 2024.
Support Winter Music
Help us bring warmth to midwinter through the gift of music as a Winter Music sponsor. Sponsors get priority access to the best reserved seats in Harris Concert Hall as well as tickets for The Metropolitan Opera's Live in HD screenings at the Wheeler Opera House.
Click here to learn more
.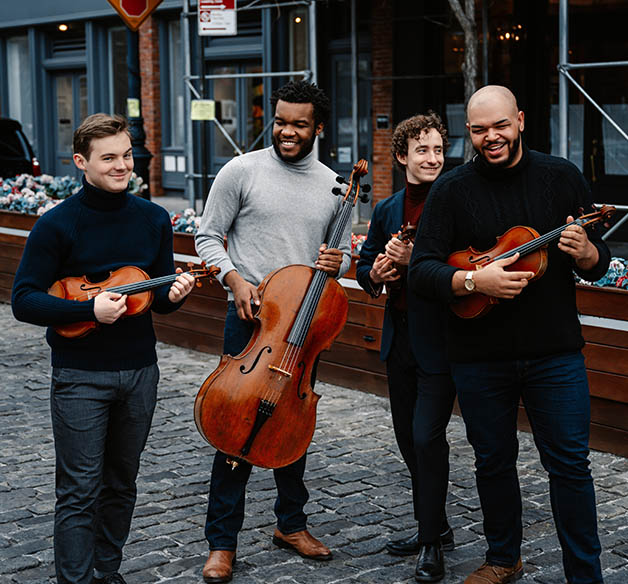 Featured Conductor & Artists