Considered the national musical symbol of Mexico, Mariachi music has become a transnational genre that is popular worldwide. In 2012 it gained status on UNESCO'S Representative List of the Intangible Cultural Heritage of Humanity. Mariachi music has its roots in the western central region of Mexico with a stronghold in the state of Jalisco. By 1905, rural musicians began performing in Mexico City, initiating the transformation of Mariachi music into the urban genre that is popular today.
While the etymology and origins of the word "Mariachi" are controversial, it is important to understand that in modern usage it has multiple meanings and can describe a genre, a musician, and an ensemble. When the French intervened in Mexico, installing Archduke Maximilian of Austria 1864–67, a mistaken belief took hold that the word derived from the French word mariage (marriage). This idea seemed plausible, because of the popularity of Mariachi at weddings. This myth was largely dispelled by the discovery of a letter written in 1852 (twelve years before the French arrived), when Father Cosme Santa Anna, a Catholic priest, complained to the archbishop of Guadalajara describing drunken, disrespectful behavior during public celebrations on Holy Saturday. He ambiguously refers to the hedonistic acts of drinking, gambling, and crimes that occurred at these events as mariachis.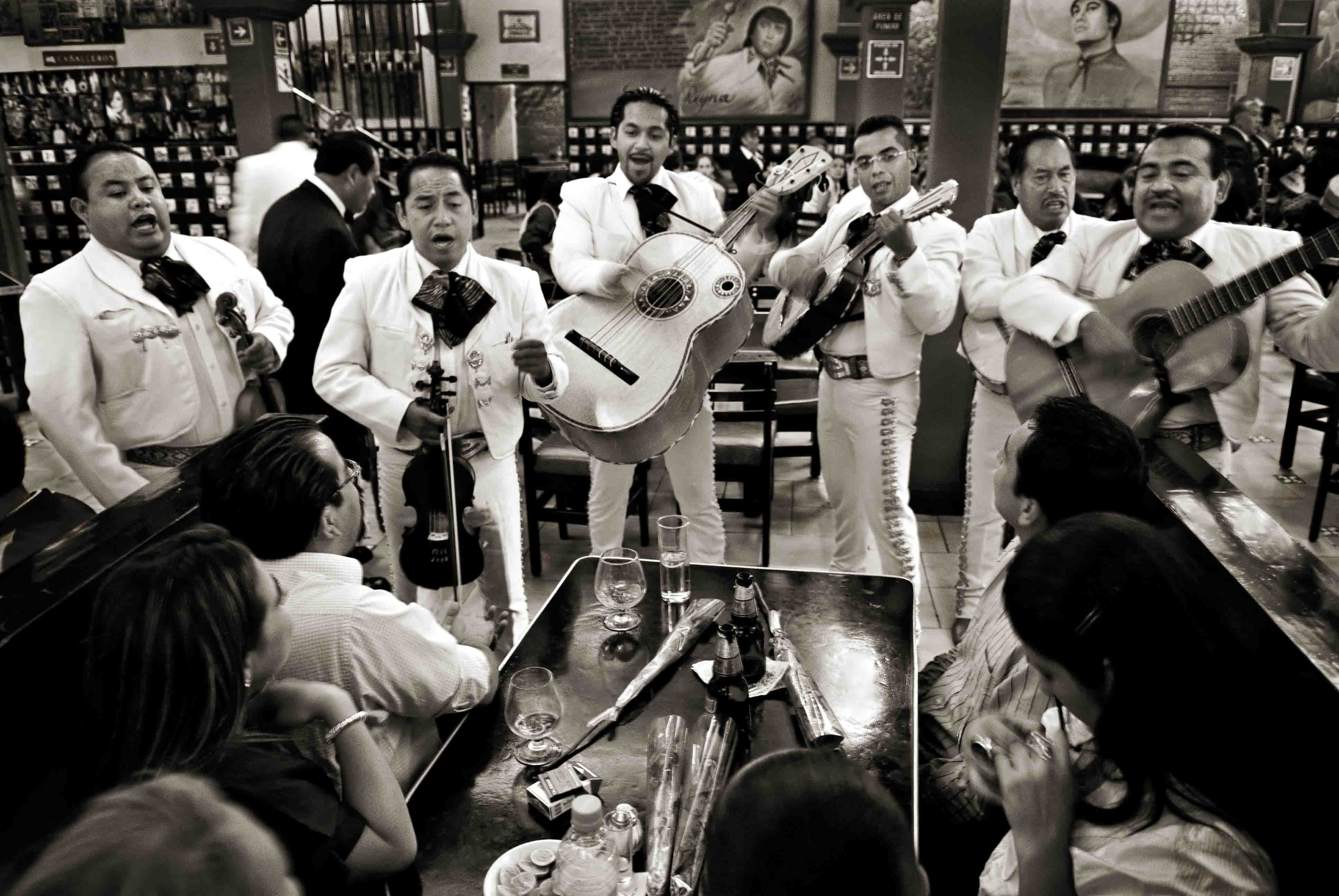 The rural Mariachi of the nineteenth and early twentieth centuries were primarily string ensembles consisting of violins, guitar, vihuela (small five-string guitar with curved spine), guitarra de golpe (small five-string guitar with a flat spine), guitarrón (large bass guitar), and an arpa (folk harp that is played while standing). By the 1940s an urban style had emerged in Mexico City with a slightly altered instrumentation including violins, trumpets, guitar, vihuela, and guitarrón. Although the arpa fell out of favor in the early twentieth century, it is currently regaining popularity with the emergence of show and academic ensembles.
Radio and film directly influenced the dissemination and popularity of the urban Mariachi style and its promotion as a national symbol of Mexico. XEW, a powerful radio station in Mexico City during the 1930s, broadcasted Mariachi music serving to popularize it throughout Mexico. The development of a film genre featuring singing charros (cowboys) became popular throughout the 1930s and 1950s. Pedro Infante and Jorge Negrete rose to fame singing música ranchera (country music), often accompanied by Mariachi ensembles in their films. During this period, the traje de charro (Mariachi suit) became the popular attire for Mariachi musicians. Although still used by cowboys, its adaptation for use with the Mariachi has led to the development of a highly stylized traje requiring the skills of tailors specializing in the art form of constructing and designing these suits by hand. Through media, Mariachi music became a profitable commercial genre. This has in turn led to the development of highly trained professional ensembles, the most famous being Mariachi Vargas de Tecalitlán. The longest-running Mariachi group in the world, it was established in 1898 by Gaspar Vargas in Tecalitlán, Jalisco as a small string-based ensemble. The group eventually moved to Mexico City, and by the 1940s had become a larger urban ensemble that has since been featured in many radio broadcasts and films. In the twenty-first century, Mariachi Vargas de Tecalitlán continues to represent Mariachi music at an elite professional level.
In the United States, particularly in the Southwest, Mariachi music serves as a representation of ethnic pride for Mexican immigrants and Mexican-Americans. Mariachi Los Camperos de Nati Cano, established in Los Angeles, California in 1961, is one of the most venerated and longest-running elite professional Mariachi groups in the U.S.. They have appeared in film and on television and radio, and their founder Natividad "Nati" Cano created the now popular concept of the Mariachi dinner show with the opening of his restaurant La Fonda in 1969.
Wherever played, Mariachi music serves an important social function and often accompanies various important life events such as baptisms, quinceañeras (celebration of a girl's fifteenth birthday), weddings, funerals, religious, and celebratory events. Different types of ensembles, each with varying degrees of musical training, provide outlets for cultural expression and pride. Mariachi is developing into a popular world music genre, with Mariachi groups comprising non-Mexican practitioners forming around the world. A vibrant and flexible tradition, Mariachi music will continue to gain popularity worldwide.
-------
Pictured Above: Traditional Mariachi ensemble at Salón Tenampa in Mexico City, 2010 (photograph) by Guillaume Corpart Muller. Reproduced under CC-SA-03 license
Bibliography
Jáuregui, Jesús. 2007. El Mariachi: Símbolo Musical de México. Primera edición. México: Santillana Ediciones.
Salazar, Lauryn. 2011. "From Fiesta to Festival: Mariachi Music in California and the Southwestern United States." Ph.D. dissertation, University of California, Los Angeles.
Sheehy, Daniel. 2006. Mariachi Music in America: Experiencing Music, Expressing Culture Series. New York: Oxford University Press.