Leadership
Michael Klein, Chair, Board of Trustees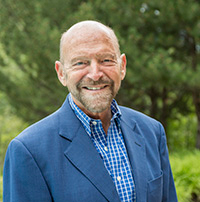 Michael Klein has been a member of the AMFS Board of Trustees since 2008, leading its Strategic Planning process in 2014, and serving as its Vice Chair for four years. In 2018 he became Chair. Klein has had extensive involvement in public and private business, currently including the CoStar Group, Inc. (NASDAQ – CSGP), a publicly traded database and software company focused on real estate, which he co-founded and for which he serves as Board Chair; Tutor Perini Corporation (NYSE – TPC), a construction company for which he serves as Vice Chair and Lead Director; and ThinkFood Group, a privately held restaurant concern. His current principal non-profit activities include serving as Board Chair of The Shakespeare Theatre Company (Washington, DC), as well as Board Chair and CEO of the Sunlight Foundation, the Gun Violence Archive, and the Global Warming Mitigation Project—all of which he founded. He is also a member of the boards of The Aspen Institute, the NAACP Legal Defense Fund, and Harvard Law School.
Robert Spano, Music Director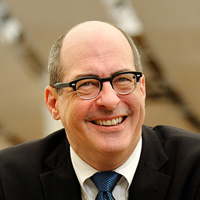 Robert Spano, conductor, pianist, composer, and teacher, is known worldwide for the intensity of his artistry and distinctive communicative abilities, creating a sense of inclusion and warmth among musicians and audiences that is unique among American orchestras. After twenty seasons as music director, he will continue his association with the Atlanta Symphony Orchestra as music director laureate. An avid mentor to rising artists, he is responsible for nurturing the careers of numerous celebrated composers, conductors, and performers. As music director of the Aspen Music Festival and School since 2011, he oversees the programming of more than 300 events and educational programs for 630 students and young performers. Principal guest conductor of the Fort Worth Symphony Orchestra since 2019, Spano became music director designate on April 1, 2021, and began an initial three-year term as music director in August 2022. He is the tenth music director in the orchestra's history, which was founded in 1912.
In the 2022–23 season, Spano led the Fort Worth Symphony in six symphonic programs, three chamber music programs, and a gala concert with Yo-Yo Ma, in addition to overseeing the orchestra and music staff and shaping the artistic direction of the orchestra and driving its continued growth. Additional engagements included a return to Houston Grand Opera to conduct Werther.
Maestro Spano made his highly-acclaimed Metropolitan Opera debut in 2019, leading the US premiere of Marnie, the second opera by American composer Nico Muhly. Recent concert highlights have included several world premiere performances, including Voy a Dormir by Bryce Dessner at Carnegie Hall with the Orchestra of St. Luke's and mezzo-soprano Kelley O'Connor; George Tsontakis's Violin Concerto No. 3 with the Dallas Symphony Orchestra; Dimitrios Skyllas's Kyrie eleison with the BBC Symphony Orchestra; the Tuba Concerto by Jennifer Higdon, performed by Craig Knox and the Pittsburgh Symphony; Melodia, For Piano and Orchestra, by Canadian composer Matthew Ricketts at the Aspen Music Festival; and Miserere, by ASO bassist Michael Kurth.
Spano recently returned to his early love of composing. His newest work is a song cycle on Rilke's Sonnets to Orpheus that he wrote for mezzo-soprano Kelley O'Connor. In 2016, he premiered his Sonata: Four Elements for piano at the Aspen Music Festival, and a song cycle, Hölderlin-Lieder, for soprano Jessica Rivera.
The Atlanta School of Composers reflects Spano's commitment to American contemporary music. He has led ASO performances at Carnegie Hall, Lincoln Center, and the Ravinia, Ojai, and Savannah music festivals. Guest engagements have included the Cleveland, Philadelphia, and Minnesota Orchestras, New York and Los Angeles Philharmonics, and the San Francisco, Boston, Chicago, Dallas, Houston, New World, San Diego, Oregon, Utah, and Kansas City symphonies. Internationally, Maestro Spano has led the Orchestra Filarmonica della Scala, BBC Symphony, Amsterdam's Royal Concertgebouw Orchestra, Orquestra Sinfonica Brasileira, Orquestra Sinfonica Estado Sao Paulo, Wrocław Philharmonic, Australia's Melbourne and Sydney symphonies, and the Saito Kinen Orchestra in Japan. His opera performances include Covent Garden, Welsh National Opera, Lyric Opera of Chicago, Houston Grand Opera, and the 2005 and 2009 Seattle Opera productions of Wagner's Ring cycle.
Alan Fletcher, President and CEO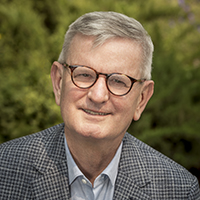 Alan Fletcher is an accomplished scholar, composer, and arts leader. He serves as president and CEO of the Aspen Music Festival and School. Alan previously served as professor and head of the School of Music at Carnegie Mellon University, and as professor, dean, and provost of New England Conservatory. Born in Riverside, New Jersey, he earned his baccalaureate at Princeton University, Phi Beta Kappa and magna cum laude. He earned a master's degree and doctorate at the Juilliard School as a Danforth graduate fellow, where he received the Irving Berlin Fellowship and the Alexandre Gretchaninoff Prize. Alan attended the Institute for Educational Management at Harvard University's Graduate School of Education, and he has been a frequent fellow at the MacDowell Colony.
Alan's leadership activities have included chairing the 1997 Salzburg Global Seminar Music for a New Millennium: The Classical Genre in Contemporary Society, which convened 70 distinguished musical leaders from around the world in Mozart's birthplace. Fletcher lectures nationally and internationally on music and its social importance and has delivered keynote addresses to the National Association of Schools of Music, ClassicalNEXT in Vienna, the Federation for Asian Cultural Promotion, the Shanghai International Arts Festival, and many more.
Fletcher has contributed articles and opinion pieces to numerous publications including the Huffington Post, The Guardian, Symphony magazine, Gramophone magazine, The Wall Street Journal, Sonus: Journal of Global Music, the Pittsburgh Post-Gazette, The Baltimore Sun, the Journal of Music Theory Pedagogy, The Chronicle of Higher Education, and others.
Alan studied composition with Roger Sessions, Milton Babbitt, Edward T. Cone, and Paul Lansky and piano with Jacob Lateiner and Robert Helps. He has won numerous composing awards and received commissions from the National Dance Institute, the Pittsburgh Symphony, Los Angeles Philharmonic, Atlanta Symphony, Zurich Chamber Orchestra, Nashua Symphony, National Gallery of Art, Boston Celebrity Series, Duquesne University, New York Camerata, and other noted ensembles, organizations, and soloists. Alan's music includes more than 200 works in all traditional classical forms. His music is recorded on Albany and Exton Records and published by Boosey & Hawkes and Subito.
Fletcher has served on many boards, panels, juries, seminars, and committees, including the boards of the Aspen Institute, Aspen Science Center, Aspen Chamber Resort Association, the Boston Modern Orchestra Project, the Pittsburgh Opera, the Pittsburgh Symphony, the International Festival for Contemporary Piano, and is an Advisor for Advisory Board for the Arts.