Long a staple of the solo violin repertoire, Beethoven's Kreutzer Sonata in A Major (Opus 47) has played an outsized role in American cultural history, but not for the reasons we might think. Beethoven collaborated on the piece with George Polgreen Bridgetower (1778–1860), a violin virtuoso whose capabilities impressed Beethoven enough that he later recommended him to others and called the piece "Sonata mulattica" to acknowledge Bridgetower's African ancestry. Yet Beethoven eventually rededicated the Sonata to the French violinist Rodolphe Kreutzer, and the name "Kreutzer Sonata" has stuck to the piece ever since, notably as the inspiration for Leo Tolstoy's novella of the same name.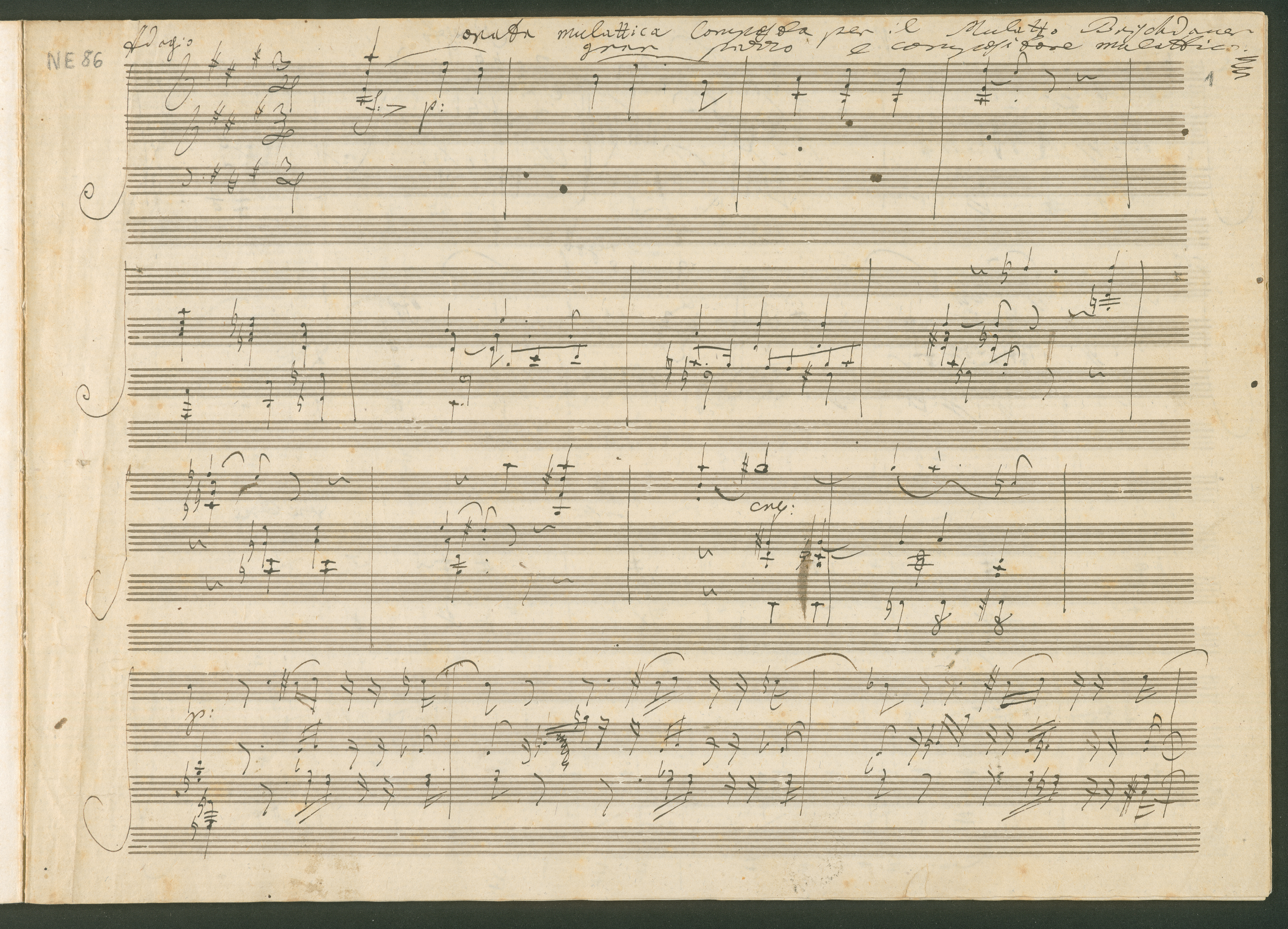 In a certain sense, Beethoven's rededication of the Sonata "erased" Bridgetower's contributions from public view, leading a reader of London's Musical World to write a letter to the editor in 1858, saying, "The name 'Bridgetower' is found in none of our musical lexica, nor have we any means in our ordinary sources of information arriving at his biography. . . . May I hope, Sir, for some further information in relation to this youth, through the columns of your valuable journal?" Responding to the query, a British violinist named J. W. Thirlwall recounted that Bridgetower had told him that "Beethoven and he were constant companions . . . but, ere the sonata was published, they had some silly quarrel about a girl, and in consequence Beethoven scratched out the name of Bridgetower and inserted that of Kreutzer." This detail only added to Bridgetower's mystery. And so the hunt for more information about him began.
Scholars Josephine Wright and William Hart have shown that ample evidence of Bridgetower's life and career remains available for study, but access to those sources was severely limited in earlier eras. The American Beethoven biographer Alexander Wheelock Thayer (1817–97), for example, could never confirm Thirlwall's story, and it remains largely apocryphal. Not helping the matter, other mid-century American writers made grossly inaccurate statements about him: the New York-based music critic Theodore Hagen once called Bridgetower "an American sea-captain." (He was born in Poland!)
Bridgetower's place in American musical culture took a dramatic turn in 1892, when the distinguished Viennese music critic Eduard Hanslick discussed Bridgetower's contribution to Beethoven's Sonata in an article written for the Neue Freie Presse that March. A few weeks later, the New York Tribune summarized the article and explained that Hanslick's "revelations" about Bridgetower had caused a sensation in Europe's musical centers. Other American periodicals, from the Musical Courier (a prominent classical music magazine) to the St. Louis Post-Dispatch and Honolulu Advertiser, picked up the story, forcefully reinserting Bridgetower into the public imagination.
As fate would have it, Antonín Dvořák arrived in the United States to direct the National Conservatory of Music in New York later that year. In May 1893, he famously argued that African American folksongs should form the basis of a distinctly American style of classical composition, causing a sensational debate in the press that was reignited after the premiere of his new symphony, "From the New World," in December. Suddenly, classical musicians of African ancestry had become the hot-button topic of musical discussion around the country.
Whereas Dvořák's interests lay in the education of Black musicians for future contributions to the art, certain Black intellectuals also sought deeper connections to the history of classical music in Europe. One of Dvořák's students, Will Marion Cook, had studied violin in Berlin with Joseph Joachim, one of the greatest violinists of all time, and articulating the significance of these transatlantic connections became an important project. Given that Bridgetower was not an American but had made a signal contribution to the standard repertoire, he became a central figure in this work.
Writing for The Freeman in 1911, the violinist Clarence Cameron White (1880–1960) remarked that Bridgetower had "created a great sensation throughout Europe" and that "since that time the Negro has come in for more or less prominence in the various countries of Europe." "Europe" he added, "is an ideal place for study and travel for our people. There is always a great opportunity to see and hear the best in any branch of art and encouragement is always given to the exceptionally clever person, regardless of color." Indeed, many African American classical musicians—Roland Hayes, Marian Anderson, Everett Lee, Dean Dixon, and others—found a degree of success in Europe that was at times beyond their reach in Jim Crow America.
Meanwhile, the musicologist Maud Cuney Hare (1874–1936) was pursuing detailed historical research into Bridgetower's life, the results of which she published in her 1936 book Negro Musicians and Their Music. As early as 1893, Bridgetower had become a target of racist attack. A writer for the Musical Courier, for example, exaggerated his falling out with Beethoven, claiming the composer had told his student Ferdinand Ries to "tell this black son of forty devils to go to the uttermost hell, and may the devil put the lid on and let him sizzle!" Cuney-Hare's work sought to counteract such indignities with accurate retellings.
Even so, Bridgetower's legendary status has proved alluring for creative artists over the last century. Cuney-Hare herself wrote a fictional drama featuring Beethoven, Bridgetower, and other peripheral figures that was first performed at a "candelight musicale" honoring the 150th anniversary of Bridgetower's birth. Perhaps most notably, former U.S. Poet Laureate Rita Dove captured his story in the aptly titled Sonata Mulattica (2009), which formed the basis for an interdisciplinary collaboration with the Orchestra of St. Luke's earlier this year.
At a moment when predominantly white classical music institutions are rethinking their relationships to race and racism in this country, it is instructive to consider that Black musicians have always played significant roles in the creation of the European classical music tradition—not only as composers and performers (as in Bridgetower's case), but as thinkers, writers, historians, and artists.
For more on Dvořák's place in American musical culture, see Professor Shadle's new book Antonín Dvořák's New World Symphony, from Oxford's Keynote Series.
For more on the life and career of George Bridgetower, see the scholarship of Josephine Wright and William Hart.