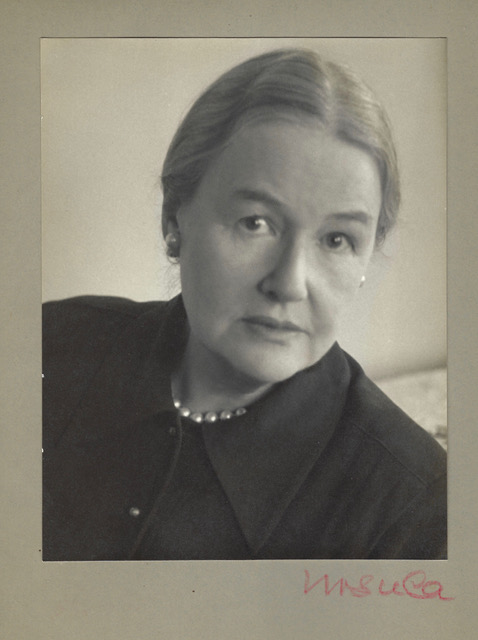 When the Blitz began and bombs decimated the Kensington streets where she used to live, there was little Rebecca Clarke could do but listen for updates on the radio, hoping and praying that the districts where here friends lived would be spared. In particular, Clarke listened for news about Argyll Street. Here, her best friend and performance partner, cellist May Mukle, was running her "Mainly Musicians" social club in a basement that doubled as an air raid shelter. Mukle directed operations with her usual fervor, clattering around in her tin hat that she kept on at all times—just in case—hosting concerts and musicians' wedding receptions as bombs rained down around them.
Had Clarke still been in London, she would surely have been at Mukle's side. But the declaration of war in 1939 had left Clarke stranded in America. At the time she had been visiting her brothers in New York, and even though she was a British citizen, after the onset of war Clarke was denied a visa for re-entry into the U.K. Luckily, unlike so many who found themselves displaced and unsettled because of war, Clarke had family she could call on. Her father was American, and she had previously toured and performed in the U.S., so she had a network of friends and family members who could support her until she found her feet.
Set up with a piano at her brother's home, the war years resulted in one of Clarke's most productive periods. She composed prolifically, penning her Passacaglia on an Old English Tune for viola and piano, Daybreak for voice and string quartet, Prelude, Allegro & Pastorale for viola and clarinet, Binnorie for voice and piano, I'll Bid My Heart Be Still for viola and piano, Dumka for violin, viola, and piano, and a plethora of songs and violin works—many against the backdrop of the Blitz broadcasts. Historical British music had been a source of inspiration throughout her career, but it took on especial poignancy when she was so far away from home, hearing the Britain she knew and loved being changed almost beyond recognition. A melody by the Tudor composer Thomas Tallis provided the inspiration for her Passacaglia, which moves from a melancholy start to a triumphant close. It's tempting to hear the piece as an ode to a Britain that Rebecca knew was changing—not a nostalgic lament, but more an expression of hope that change can bring renewal and transformation. Just a few weeks later, on May 10, 1941, a bomb dropped on the Queen's Hall in Fitzrovia, destroying the concert hall where in 1913 she had become one of the first six women to play in a professional U.K. orchestra.
In all of Clarke's war works, there's a tension between modern and traditional. For most of her life Clarke had been at the forefront of modern music, hailed by the Daily Telegraph as "a frank disciple of modernity" in 1922. But she was not prepared to embrace atonality, which was becoming increasingly dominant in the U.S. thanks to the arrival of Schoenberg and Stravinsky. In many of her war pieces, this friction is absolutely central. In the sparse and uncompromising Prelude, Allegro & Pastorale we can hear Clarke testing her boundaries, pushing her harmonies and textures as close to atonality as she would ever get. Dumka has more of the Romantic tradition that Clarke adored in it. It's a sumptuous rhapsody, much of it steeped in the sound world of Dvořák and Brahms, the composers she had grown up playing. But it's still a piece of two characters, the dissonant harmonies and driving rhythms bringing it closer to her contemporaries Bartók and Sibelius.
This changing musical landscape may well have contributed to Clarke stepping back from publishing her music after the War. She had gone as far as she wanted to go, and possibly felt that her style was out of place in a post-war world. Having lived in England all her life, after the War Clarke settled in America for good. In 1944 she married James Friskin, a composer and pianist who she had first met as a student at the Royal College of Music, and they lived out their final years together, happily, in New York. Even though Friskin encouraged Clarke to compose, after the War she completed only one original work, the 1954 song "God Made a Tree." World War II had been a turning-point for Clarke as much as for classical music in America more broadly, closing her compositional career with some of the most beautiful and heartfelt music she ever wrote.