Chamber Music Lab
Chamber music experiences for older, more advanced string players
Audition and Student Responsibility | Cost and Scholarship | Register

PROGRAM OVERVIEW
Love to make music with a small group of friends? Want a learning and performance opportunity specifically designed for older, more advanced string players? Moved past the Beginning Strings class level but still want to be involved? AMFS Chamber Music Lab is for you!
In this chamber music program designed for older, more experienced string players, you will work in small groups to develop ensemble skills, learn new music and techniques, and expand your independent musicianship with a dedicated ensemble coach.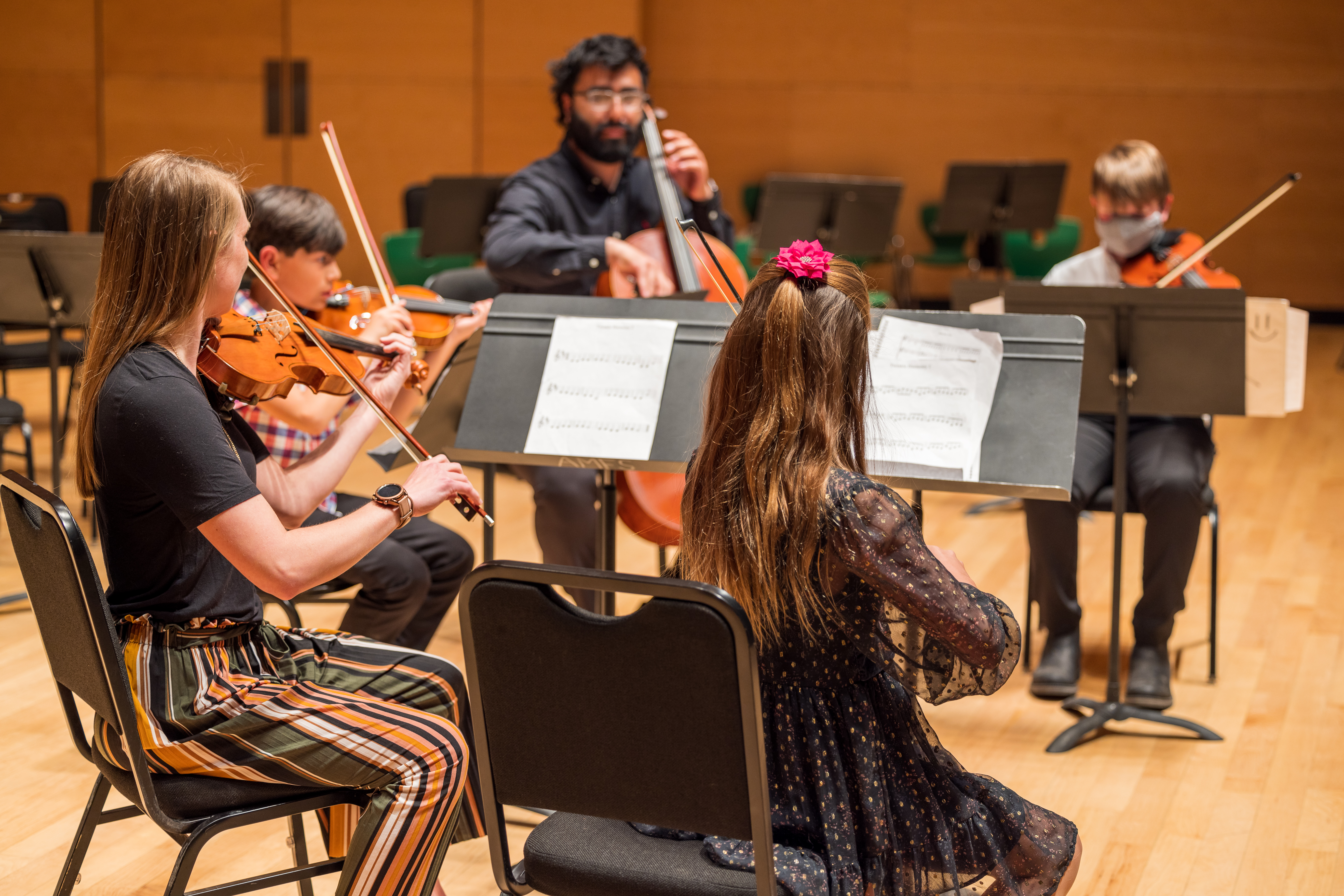 Chamber music can be one of the most engaging and enjoyable experiences for many musicians. It invites us to collaborate eagerly, communicate compassionately, and create beautifully with fellow musicians. By playing in a chamber ensemble, you will have opportunities to develop your own ideas about the music by being responsible for your own part, and you will also be able to listen to and learn from the other members of the group—all in service of creating something beautiful together. The coach will help you make your piece come to life in a successful performance by facilitating learning about various tools like non-verbal communication, breathing, and rhythmic counting to stay together as a group without a conductor. When each individual is dedicated to learning their part and committed to working as a team, amazing things can happen!
Most Chamber Music Lab students do not also participate in Beginning Strings classes, as they're likely past the curriculum level of most Beginning Strings students. Chamber Music Lab students who would like to also participate in weekly Beginning Strings classes (Blue Square or Black Diamond level) are expected to be strong leaders and role models in the class and must receive instructor approval for class attendance.
ENSEMBLES
Chamber Music Lab participants will be formed into small ensembles as soon as possible according to age/grade level and experience/ability level, plus location. Small ensemble groups will meet regularly for one-hour coachings with a dedicated chamber music teacher (the Chamber Lab Coach), according to the shared availability of the ensemble members and the coach.

Ensemble members will work with their Coach to schedule up to twenty total coachings over the course of the school year. Coachings may take place in Beginning Strings schools, but not during Beginning Strings classes.
PLACEMENT AUDITION and STUDENT RESPONSIBILITY
Placement Audition
To accurately access the current playing level of Chamber Music Lab registrants, place students in an ensemble with other students playing at a similar level, and assign students to a coach and a private lesson teacher who can best meet their needs, we require all Chamber Music Lab participants to submit a Placement Audition Video.
Within one week of registration, please send us a video that includes the following: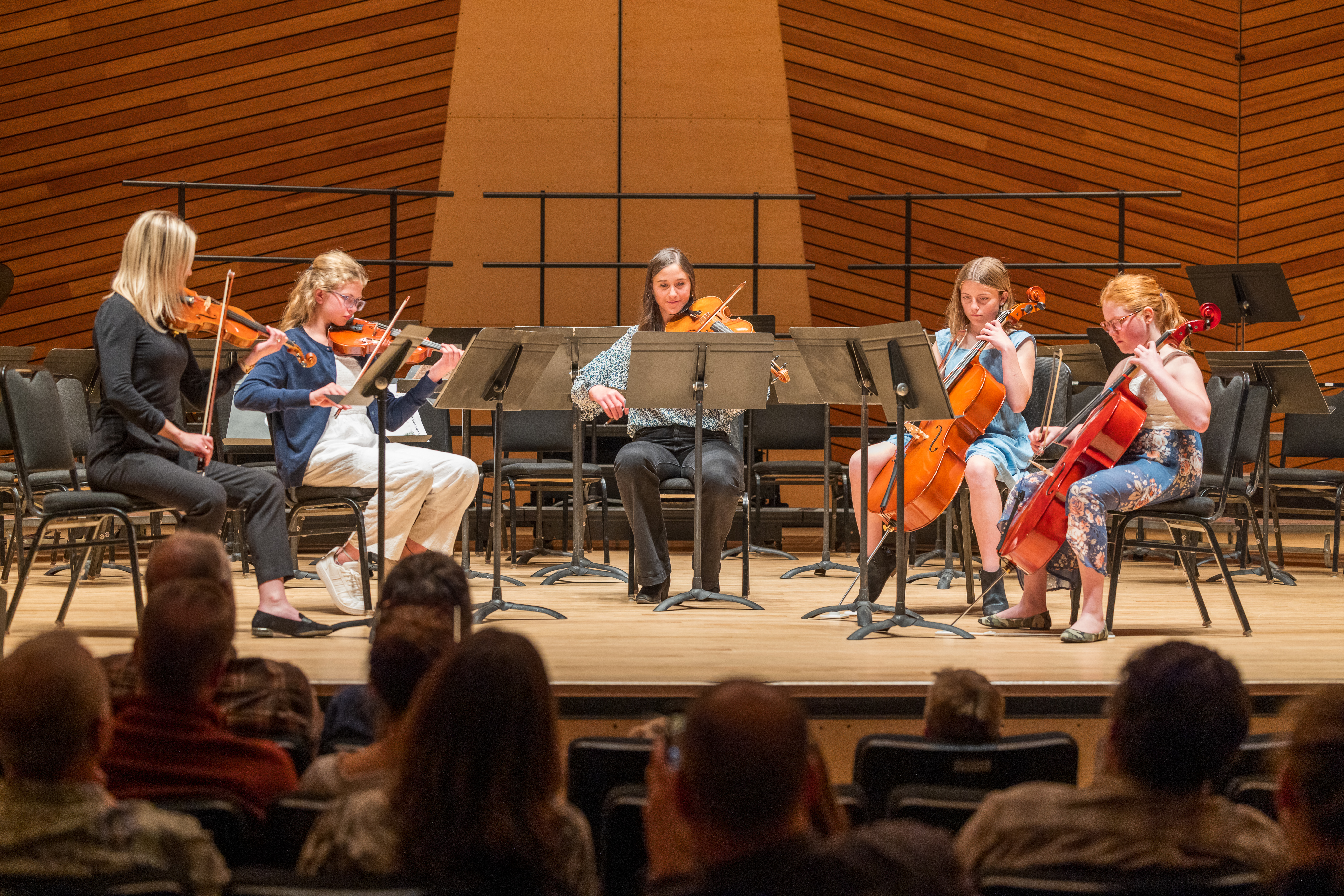 A piece you have prepared to a performance-ready level (and ideally that you have worked on with your private lesson teacher) that best demonstrates your current playing level

Does not need to be memorized. A portion of a piece is fine, as long as it's a representative sample of your best playing.

D-Major scale, using your best tone production and intonation

One or two octaves, your choice. This is your chance to show us how beautifully you can play, so be sure to take your time!
Student Responsibility
Participation in Chamber Music Lab is by invitation only and requires a high level of commitment.
Parents: Please discuss these expectations with your student BEFORE REGISTERING for Chamber Music Lab!
Chamber Music Lab participants are expected to practice consistently outside of ensemble coachings to make sure they can independently play their assigned parts.

Students will determine a practice schedule with their private lesson teacher. As a general rule, students should aim for least 20 minutes of focused practice per day, at least five days per week. Daily practice is highly encouraged.
It's always more fun when everyone comes to coachings prepared so that Chamber Music Lab coaching sessions can be spent making music together, after the individual practicing has happened at home.

Chamber Music Lab participants are expected to take advantage of all private lessons included in the program, with at least ONE private lesson completed before November.

We recommend that Chamber Music Lab students are enrolled in weekly or bi-weekly private lessons throughout the school year. The three lessons included in tuition are intended to get students started in private lessons.

Chamber Music Lab participants are expected to attend coachings regularly, with no more than TWO excused absences per semester.

Please note that this is a 20+-week program and that students should commit to the entire series of chamber music coachings.
Because chamber music typically involves only one student per part, absences can be detrimental to ensemble success.
Conflicts and emergencies should be communicated to the Chamber Music Lab coaches or AMFS Education team as soon as they are known, or at a minimum, at least 24 hours before each coaching.
If students have excessive absences or any unexcused absences, they may be asked to leave the Chamber Music Lab program.
Cost includes coachings, all ensemble repertoire, AND three ONE-HOUR private lessons (lessons alone are valued at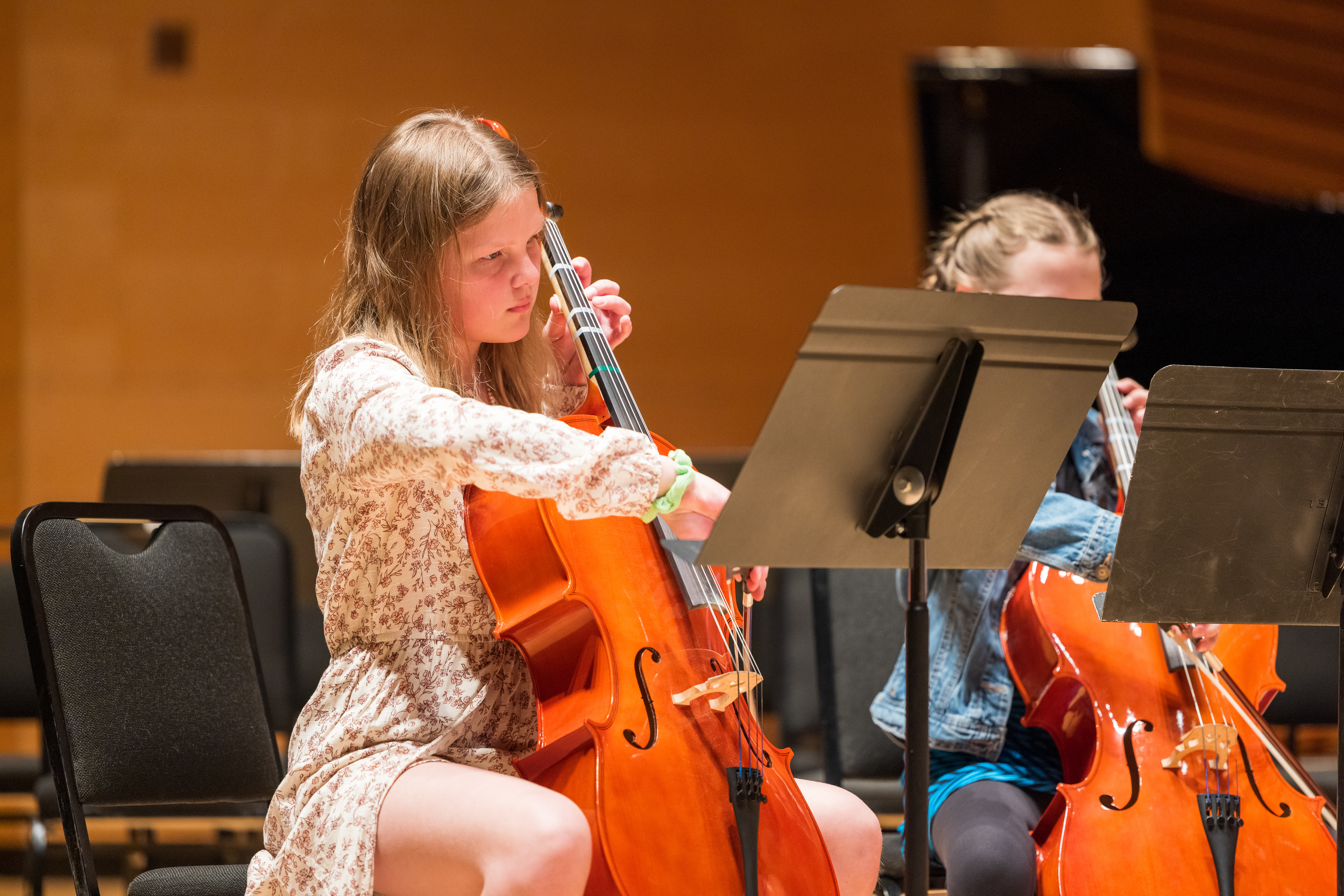 $240!). This program is heavily subsidized by the AMFS and generous donors, and the actual program cost is more than $800 per student!
Students are responsible for the cost of an instrument (either a rented or purchased violin/viola/cello); some AMFS-owned scholarship instruments are available.
Chamber Music Lab PERFORMANCES
All ensembles will perform at least once on the Harris Hall stage, with additional possible performances throughout the school year.
February – AfterWorks Solo Recital | Harris Concert Hall - Select ensembles invited to participate based on work in Chamber Music Lab coachings
Early May – Beginning Strings & Chamber Music Lab Showcase | Harris Concert Hall
* Chamber Music Lab coachings end in late May, or whenever the ensemble has completed their coaching series.
Scholarship
A limited number of tuition scholarships are available to students who demonstrate significant financial need. Additionally, a limited number of instrument scholarships are available to students who are unable to afford the cost of purchasing or renting a violin/viola/cello to use an AMFS-owned instrument while enrolled in Chamber Music Lab.
Payment Plan
Payment plans for Chamber Music Lab tuition are available, if necessary, and can be requested during the acceptance process.
Late Registration Fee
Students who complete the Chamber Music Lab registration form after 8 AM on Tuesday, September 27 may be assessed a Late Registration Fee of $25 to cover late application processing and ordering of additional student supplies.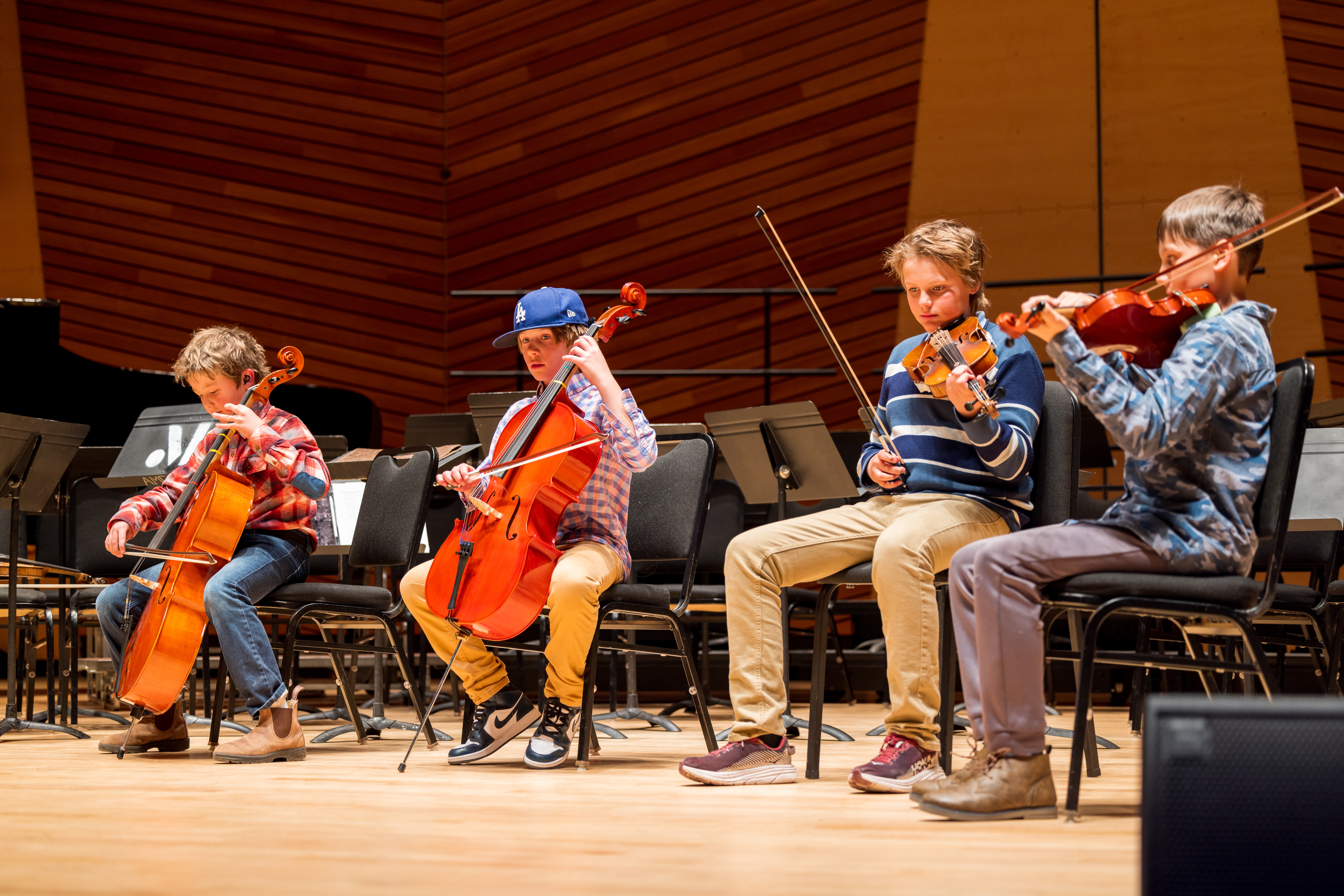 AfterWorks Refund Policy
Once a student has registered for an AfterWorks program (Beginning Strings, Chamber Music Lab, Lead Guitar, or Maroon Bel Canto Choirs), the following policy will apply to tuition refunds if that student chooses to leave the AfterWorks program:
Before first class/rehearsal: full tuition refund
Between first and third class/rehearsal: half tuition refund
After third class/rehearsal: no refund
Registration for Chamber Music Lab opens on Thursday, August 18 at noon and closes on Tuesday, September 27. Late registrations will be accepted starting Wednesday, September 28 and may be subject to a $25 Late Registration Fee.
ABOUT AFTERWORKS
The Aspen Music Festival and School's AfterWorks program offers after-school, in-school and summer programming, in collaboration with Valley schools, to support music education. These programs are designed to complement the quality music instruction students receive from schools and private instructors.
---
To learn more, please contact:

Heather Kendrick
Manager of Education and Community Programming
hkendrick@aspenmusic.org
970 205 5057
Significant underwriting of the AfterWorks program is provided through generous contributions from:



The Meinig Family Foundation