AMFS Mariachi Workshop 2023
Aspen Music Festival and School's
Mariachi Workshop for Middle and High School Musicians

July 24-26, 2023
After the HUGE success of the AMFS's first-ever Mariachi Workshop in summer 2022, we're bringing it back, and you will NOT want to miss out! Join us for a FREE three-day workshop with expert mariachi teachers and performers!



Tuition:



FREE for all participants!

Who:
For students with at least 1 year of experience on their instrument
Incoming 5th graders – High School
(mature incoming 4th graders considered on a case-by-case basis)
No prior mariachi experience necessary!
Priority registration privileges for students who participated in the 2022 AMFS Mariachi Workshop

What:
Explore Mariachi music with the AMFS, and perform alongside a professional Mariachi ensemble! This three-day program includes:
active full-group rehearsals and technique-building sessions on traditional mariachi instruments (vihuela, guitarrón, violin, guitar, trumpet, and voice) and non-mariachi instruments alike... Whatever instrument you play, you CAN participate!
instructional breakouts with instrument specialists from across Colorado and local music educators
keynote presentations on the tradition and historical evolution of mariachi folk music
intergenerational learning opportunities
a featured performance in Benedict Music Tent as part of the AMFS's Community Concert alongside Denver-based professional ensemble Mariachi Sol de mi Tierra... The concert was attended by over 1,800 people in summer 2022!
lots of fun, friendship, community building, and more!

Workshop Location:
Basalt High School
600 Southside Drive
Basalt, CO 81621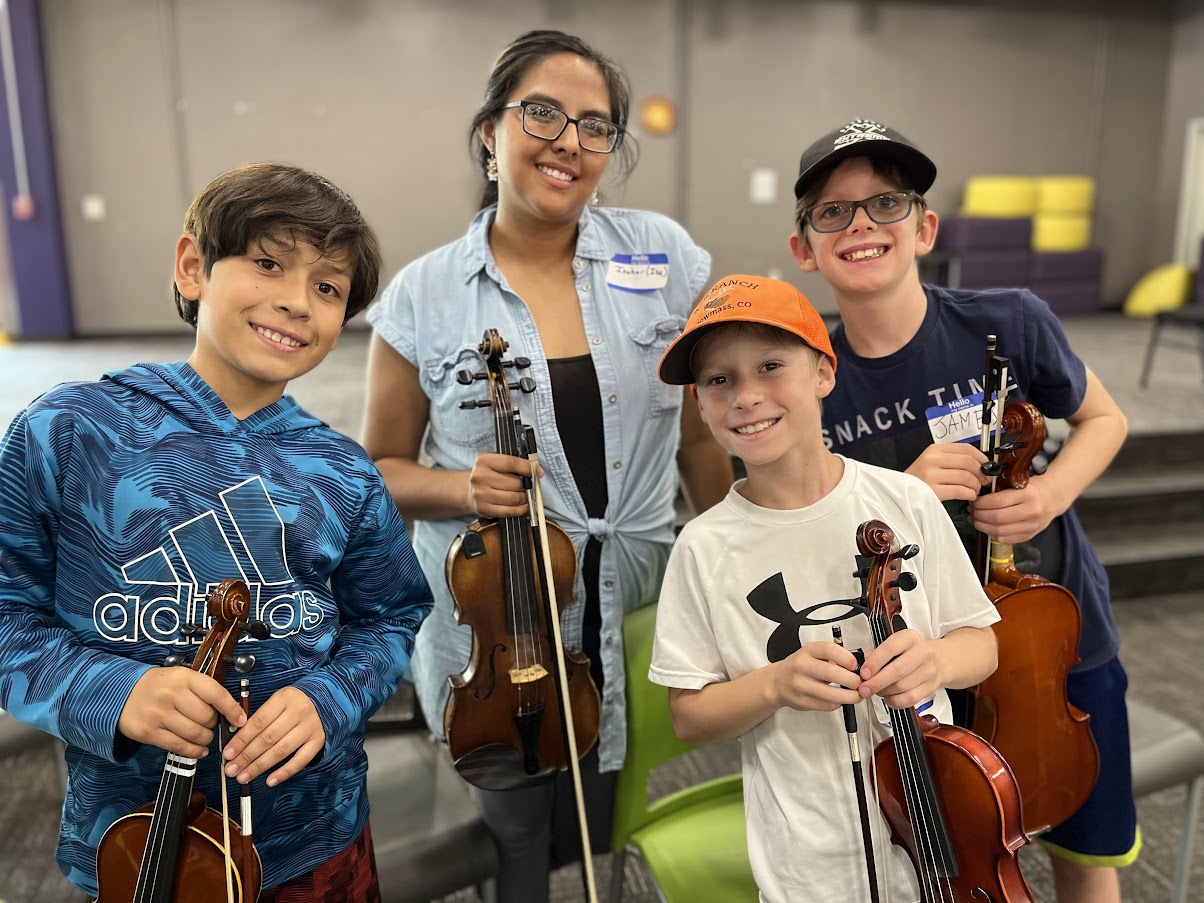 Workshop space provided in partnership with Basalt High School - Thank you for partnering with us to create music education opportunities for Roaring Fork Valley students!
Workshop Hours:
Monday, July 24 | 9:00 AM - 5:30 PM
Tuesday, July 25 | 9:00 AM - 5:30 PM
Wednesday, July 26 | 9:00 AM - 5:00 PM ; Performance at 5:30 PM
To accommodate working parents:
- Check-in available as early as 8:15 AM
- Pick-up available as late as 6 PM
Performance:
AMFS Community Concert
A Mariachi Celebration
Wednesday, July 26 | 5:30 PM
Benedict Music Tent | Aspen
Join us at 4 pm for a pre-concert fiesta, with community partners (to be announced).
Food and beverages available for purchase, plus drink specials for the adults. Bring a blanket for the lawn, grab your friends and family, and make it a party!
Concert and pre-concert fiesta are free and open to all ages.
Workshop Lead:
Michael Linert, of Westminster High School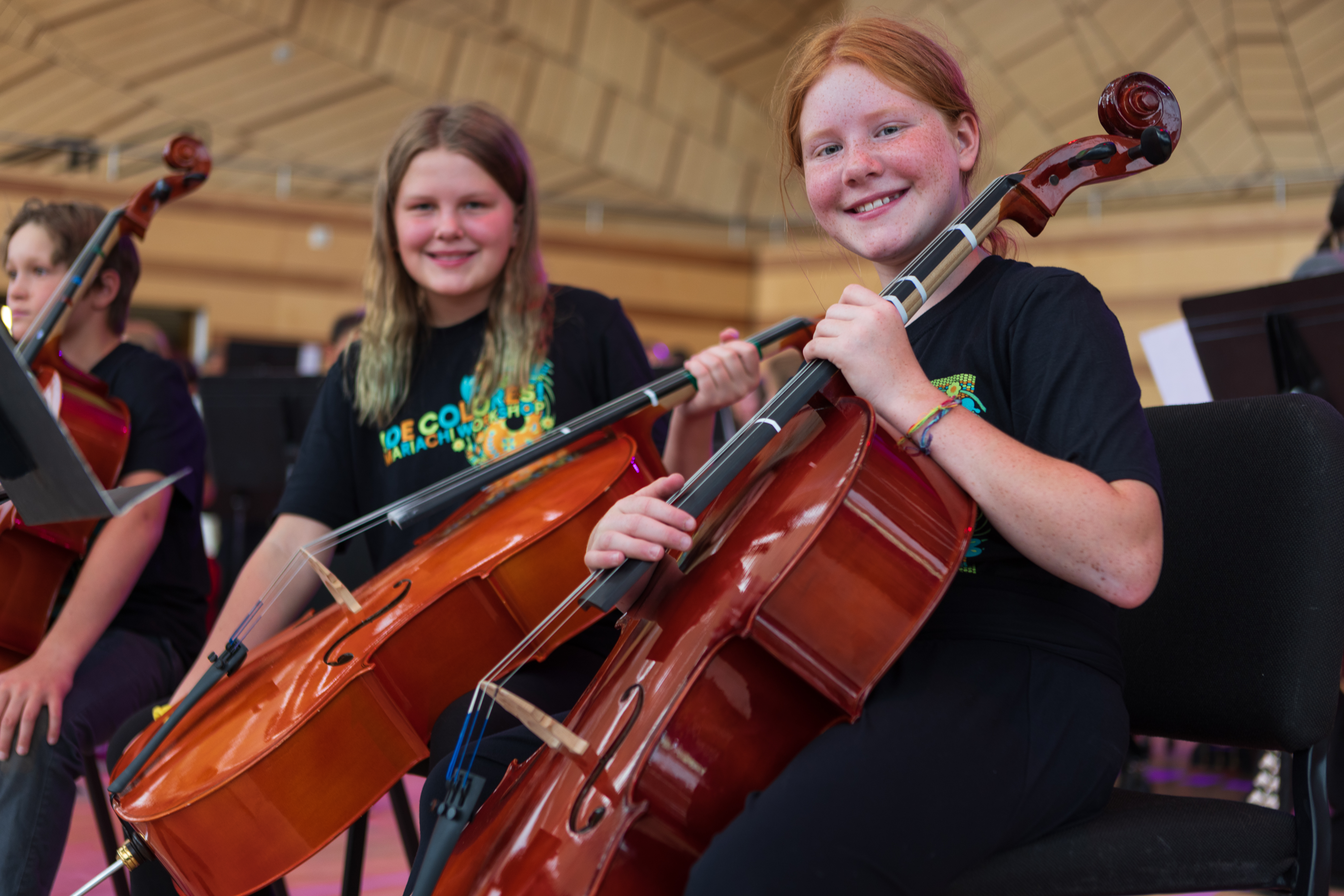 Instrument Specialists:
A team of Colorado-based Mariachi Instrument Specialists will lead students in clinics and rehearsals.
Isahar Mendez-Flores, violin
Luis Madrid, guitar, guitarrón
Matt Martinez, vihuela
Priscilla Arasaki, violin
RaeLynn Martinez, voice
Victor Becerra, trumpet

Instrument Specialists will be supported by Mariachi Teacher Assistants:
Abraham Jimenez, vihuela, voice
Karina Lucero, violin
Lupita Vidal Castro, vihuela, violin
William Trevizo, guitar, guitarrón

Local Music Educators: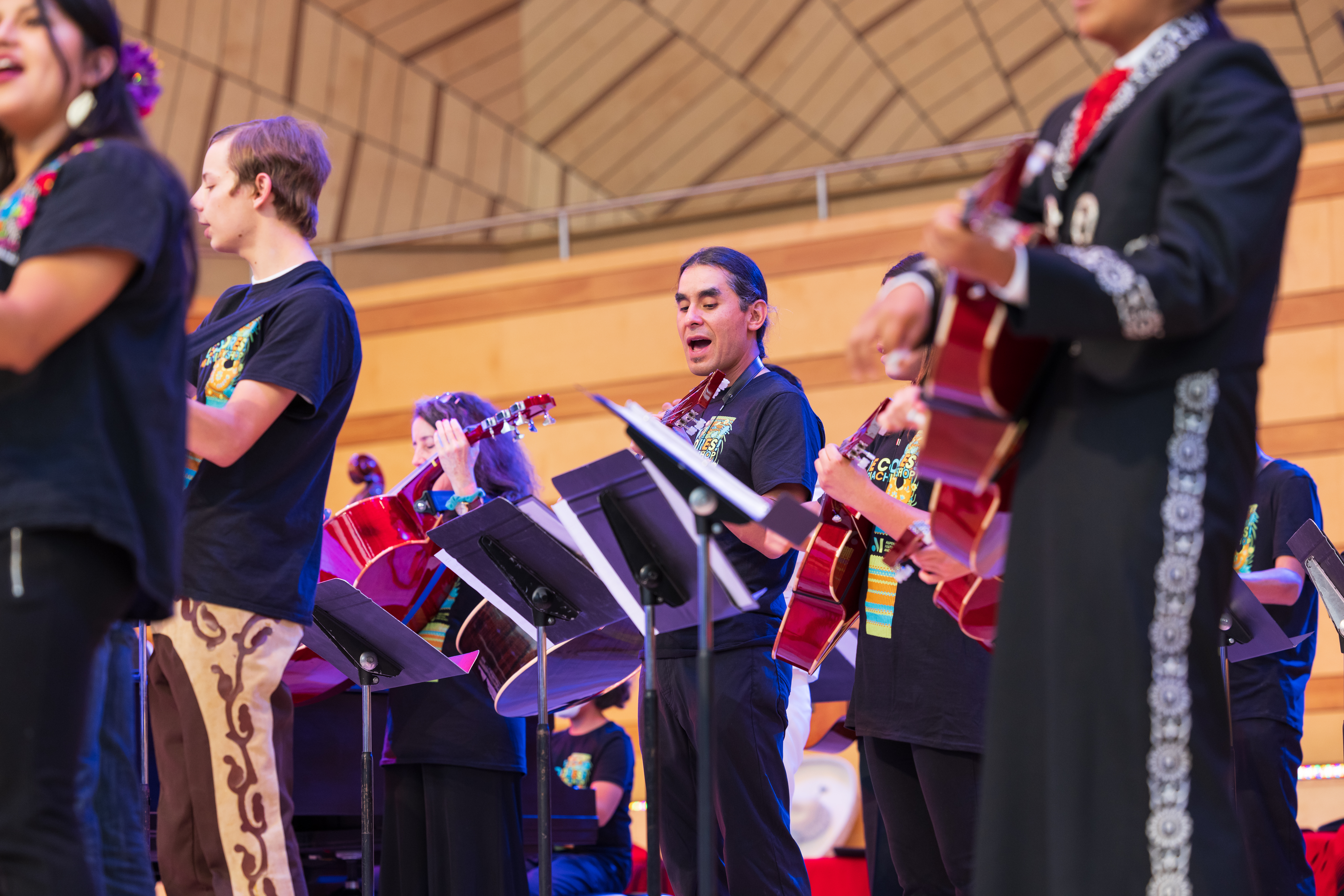 A team of local music teachers will be on hand during the entire Workshop to support students and instrument specialists and learn Mariachi Education techniques:
Andrew Zakerski
Ashton Taufer
Bill Ishee
Camille Backman
Lindsay Bobyak
Mateo Sandate
Ross Kribbs

Professional Workshop Ensemble:
Mariachi Sol de mi Tierra
https://www.facebook.com/mariachidenver/

Mariachi Sol de mi Tierra was formed to present something fresh and different from the groups active in the Denver area. On August 6, 1999, four young enthusiasts, Oscar R. Vaca, Jesus Ramirez, Raul Romero, and Vicente Romero, invested their trust and faith to their new leader, Juventino Romero. Sitting together, they planned an adventure that, with determination, practice, and hard work, bloomed into a powerful collaboration. Over time, they attracted more musicians, leading to today's eight-strong mariachi ensemble.
Mariachi Sol de mi Tierra enjoys a prestige that they have gained over the past twenty years. They have been a part of events at the National Western Stock Show, and for the past nineteen years have shared the stage with the Colorado Symphony in the festivities for Cinco de Mayo and Mexico's Independence on September 15 at Boettcher Concert Hall. In 2021, they were inducted into the Colorado Chicano Music Hall of Fame. The group has also accompanied great Mexican singers when they have performed in Denver. With a firm commitment to enacting the beauty of Mexican culture, Mariachi Sol de mi Tierra now prides itself on offering audiences their dedication, love, and passion for mariachi.
Juventino Romero - Mariachi Sol de mi Tierra leader: At fourteen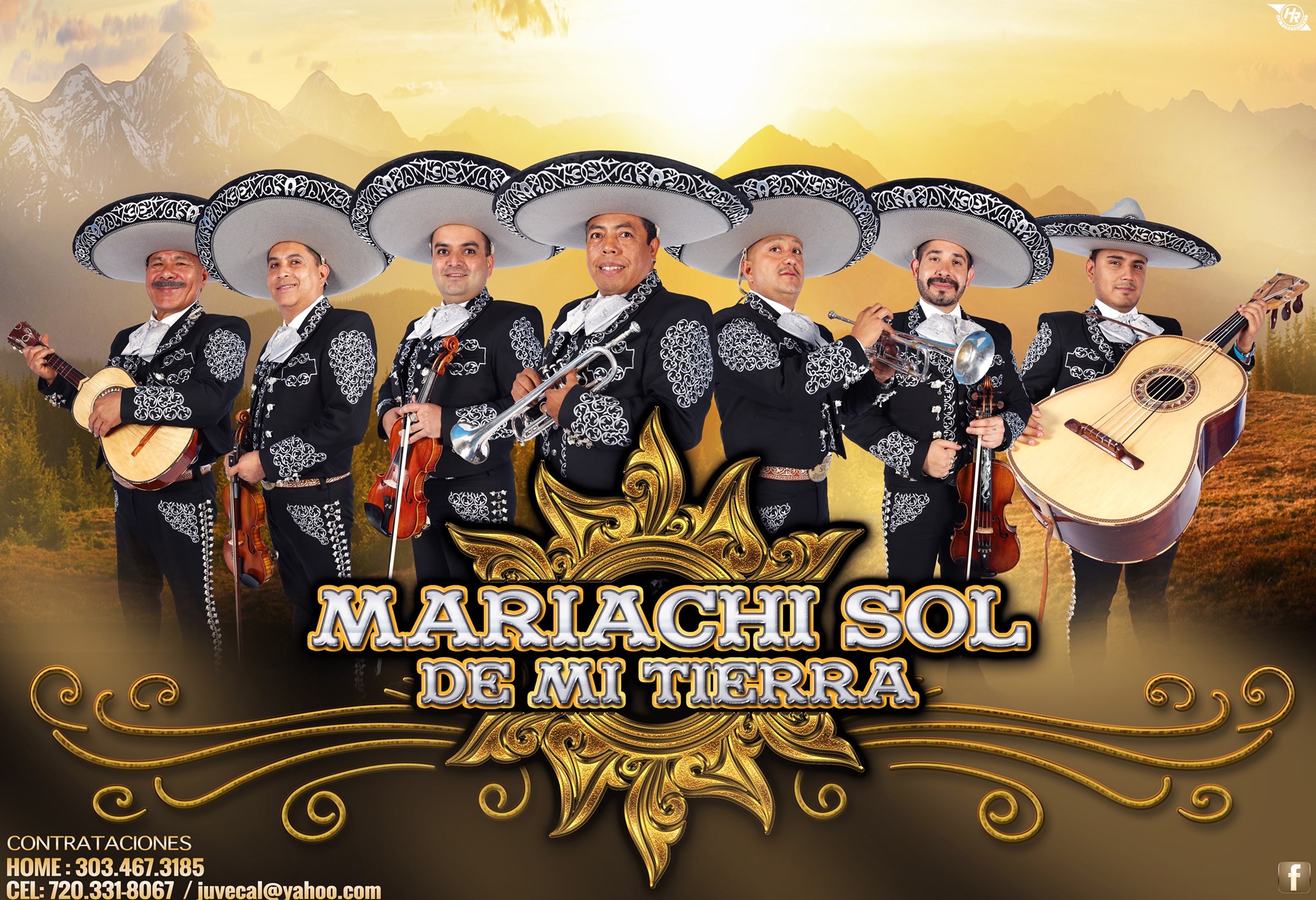 years of age, Juventino Romero began his first instrumental lessons with the guidance of his father, Vicente Romero. Along the way, he began attending music school in Mexico City, dedicating himself to the trumpet and taking vocal lessons. At eighteen, he began playing in the Garibaldi Plaza as a mariachi musician. During this time, he has traveled the world sharing his love for mariachi music. A year after getting married to his beautiful wife Juana, in 1995, they moved to Colorado and started their family. The first few years in Colorado were very difficult as they did not know many people or the language, and Juventino struggled to find a mariachi group in Denver that was passionate about transmitting the beauty and culture that comes from Mariachi music. In 1999, with the trust of four fellow musicians, he began Mariachi Sol de mi Tierra. Since then, Juventino has engaged with his community to spread the beauty of mariachi. He has taught in Denver's public schools for seven years, and has led many workshops and classes at Metropolitan State University of Denver. He takes pride and honor in spreading Mexican culture through mariachi music.
With additional support provided by the National Endowment for the Arts, a Federal Agency, and by Hensley and James Peterson
Questions? Reach out to us:
Heather Kendrick
Dean of Education and Community
education@aspenmusic.org
970-205-5057