Summer Programs
Due to the COVID-19 pandemic, AMFS family programming will be limited for the 2021 summer.
The Aspen Music Festival and School offers a wide variety of kids and family programs meant to inspire the next generation of classical music enthusiasts. Whether you're enjoying a family picnic at Music on the Mountain, singing and dancing at Gotta Move!, or gathering a multi-generational group to enjoy a Family Concert, you're sure to experience the excitement of the Aspen Music Festival and School and create cherished family memories that will last a lifetime. Also, explore our summer long educational programs — not just for kids! These programs allow locals and summer residents the opportunity to learn and grow their musical skills with lessons and musical activities throughout the summer.
Select a program of interest below to learn more.
Festival for Kids:
Kids Notes & Family Concerts | Gotta Move! | Tunes & Tales | Sing Play Move
Summer Educational Programs:
P.A.L.S. (Passes and Lessons Scholarship) Program | Festival Lessons
Kids and Family Programs:
Music on the Mountain | Youth Discounts

Festival for Kids
Kids Notes and Family Concerts
The Family Concert will be recorded in 2021 and made available to music teachers in the Roaring Fork Valley for use in their classrooms. The concert will not be open to the public, and no Kids Notes event will take place.
Gotta Move!
Gotta Move! will not take place in 2021. We look forward to safely enjoying this large-group program together in the summer of 2022.
Modeled on "Music Together," children sing, move, and play instruments, developing their curiosity about music. Always engaging and captivating for young music lovers, kids are sure to have fun in this high-energy, multi-age environment.
Annie Flynn – All-Valley Music Together
Tammy Barr – Aspen Music Together
Tunes & Tales
Description: In collaboration with the children's librarians at the Pitkin County Library and the Basalt Regional Library, kids are treated to enchanting stories blended with music performed by AMFS students and local musicians. For kids under age 9, with an adult.
Pitkin County Library:
Mondays at 10:30 AM - June 28, July 5, 12, 19, & 26, 2021
Inside - limited audience capacity
Basalt Regional Library:
Tuesdays at 10:30 AM - July 6, 13, 20, 27, & August 3, 2021
Outside
For more details, visit the AMFS Events page.
Registration is open now!
Description: An early childhood music education program for the youngest classical music fans! Sing Play Move's curriculum is based in folk/world music, action and game songs, nursery rhymes, instrumental play, free/creative and guided movement, and simple composition. Children and parents alike will delight in thoughtful, engaging, and fun classes led by master music educator Kate Klotz.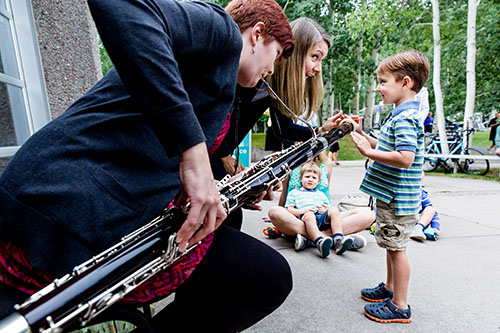 Register for an available spot to be placed with a socially-distanced group, OR (new this year!) join together with three-five other families to create your own private class pod
Download a printable PDF here.
Location and Schedule:
June 28 - July 2, 2021
On the AMFS Meadows Campus (near the Benedict Music Tent)
30 minute class sessions, plus 5-10 minutes of music exploration time
This is a subscription-based course that meets daily Monday-Friday. Curriculum is progressive within the week by day, and it is highly recommended to attend class daily for the entire week. Children attend class with a parent or caregiver to experience music-making together!

COVID-19 Precautions:
Socially-Distanced Classes: Families will sit together on personal blankets, spaced at least six feet from other families. Only members of the same household will be permitted to sit together.
Separate Materials: Each family group will be provided with their own instruments and materials to use during class, and we'll take care of all the cleaning.
Masked for Safety: Masks will be worn by teacher, adults, and facilitators, particularly when singing.
Open-Air Environment: Classes are held in an open-sided tent, for sun protection and maximum ventilation.
Small Groups: We can only accommodate five-six families per session, to ensure both appropriate distancing and individual attention.
---
Summer Educational Programs
Educational Programs listed below are for locals or summer residents of the Roaring Fork Valley
Due to the continuation of restrictions associated with the COVID-19 pandemic, the Aspen Music Festival and School's summer season will be limited in scope. While our full P.A.L.S. program will not be possible this summer, we are pleased to offer a Virtual P.A.L.S. iteration with an online private lessons series. Learn more.
INCLUDED IN VIRTUAL P.A.L.S. 2021:
Virtual private lessons with an assigned teacher (either local to the Roaring Fork Valley or a former AMFS student who taught in P.A.L.S. in a previous summer and is now teaching virtually)

Five half-hour lessons for students entering grades 1-5 (Little P.A.L.S. division)
Five one-hour lessons for students entering grades 6-12 (P.A.L.S. division)
Not Included in Virtual P.A.L.S. 2021:
Due to tight audience restrictions, campus limitations, and careful social distancing measures, some of our favorite parts of the P.A.L.S. program will not be included this summer.
AMFS P.A.L.S. Season Pass: P.A.L.S. students will NOT receive a season pass, discounted concert tickets, or access to concerts/recitals.
P.A.L.S. Events: P.A.L.S. Events (like P.A.L.S. masterclasses, pre-concert chats, backstage tours, and recording sessions) are not scheduled for the 2021 summer.
P.A.L.S. Ensemble Experience: We will not be forming chamber music ensembles in P.A.L.S.
Private music lessons will not be available through Festival Lessons during the 2021 summer. If you would like to hire a musician for private lessons, a courtesy listing is provided here of local musicians who frequently work with the AMFS and come highly recommended.
---
Kids and Family Programs
Music on the Mountain
Description: AMFS music students play spirited chamber music with the stunning Elk Mountain Range as a backdrop. Perfect for the whole family — bring a picnic or purchase lunch at the Sundeck restaurant. (Gondola ticket or strenuous hike required to get to this event.)
Location: Top of Aspen Mountain
Schedule: July 10, 17, 24, 31, & August 7, 14 at 1:00 PM
For more details, visit the AMFS Events page
Youth Discounts
The Festival encourages children to come to concerts to experience the joy of live music. In 2021, there have been some changes due to public health precautions, however there continue to be $5 tickets for children up to age 18 to all regular events (excludes Special Events, Rodelinda, and benefits). Youth Passes will not be sold in 2021 but will return in 2022.
---
To learn more, please contact:

Katie Hone Wiltgen
Dean of Education and Community
970 205 5055
khonewiltgen@aspenmusic.org
Heather Kendrick
Manager of Education and Community Programming
970 205 5057
hkendrick@aspenmusic.org