Maroon Bel Canto Choirs
2021-2022 SCHOOL YEAR PROGRAM INFO WILL BE POSTED IN AUGUST, WITH REGISTRATION OPENING IN LATE AUGUST.
THE INFORMATION BELOW IS FOR THE 2020-2021 SCHOOL YEAR.
The Maroon Bel Canto Choirs program has been canceled for the 2020-2021 school year.
While we would love to be singing together this fall and through the remainder of the school year, we know these things to be true:
The safety and well-being of our singers, directors, and staff is our number one priority.
Because of the air flow required for singing (i.e. the coordinated and forceful inhalations and exhalations), singing is in the "super-spreader" category for COVID-19. Research now shows that for singing to safely occur in a choir setting, a minimum of 8-10 feet between singers is required in an outdoor rehearsal. The safe distance is significantly more than that if singers are inside. That would prove to be impossible in most indoor choir classrooms and rehearsal and performance spaces. Outdoor rehearsals just aren't possible for us for a majority of the school year due to our mountain weather.
A hallmark of the MBCC program is combining students from all over the valley to sing as one large ensemble. That simply can't happen safely now.
Schools, if/when they are open, will be limiting the number of students that can be together at a time.
Combining students across multiple grades isn't allowed at this time and likely won't be for the foreseeable future. Combining students from different schools most definitely won't be allowed.
Performances (at least in the format that we know and love) are virtually impossible at this time.

The core of the Maroon Bel Canto Choirs program involves in-person ensemble singing, combining students from different grade levels in one ensemble, and then combining ensembles from different schools into one mass choir. With all of those things on the "no-go" list, we looked extensively into every possibility to keep Maroon Bel Canto Choirs going this year, but we know now that we simply will not be able to maintain our commitment to the integrity and nucleus of the Maroon Bel Canto Choirs program if we can't gather en masse to rehearse and perform in person.
We are hopeful that we'll be able to host some kind of "choir day" later in the year, if it's safe to do so... a full-day, fun, interactive choir workshop in Harris Hall. Information will be posted here later this year and sent directly to past Maroon Bel Canto Choir participants, if a "choir day" is possible.
The AMFS's Beginning Strings (violin, viola, and cello) and Lead Guitar (classical guitar) programs will be running this school year, both beginning in a distance learning model through Winter Break, with hopes of transitioning to our typical, in-person model if and when schools are fully open and community partners are able to utilize school space.

Sing with students from all over the Roaring Fork Valley in a choir designed just for you!
Maroon Bel Canto Children's Chorus – for students in grades 3-5
Maroon Bel Canto Singers – for students in grades 6-8

Schools | Cost and Scholarship | Register
Program Information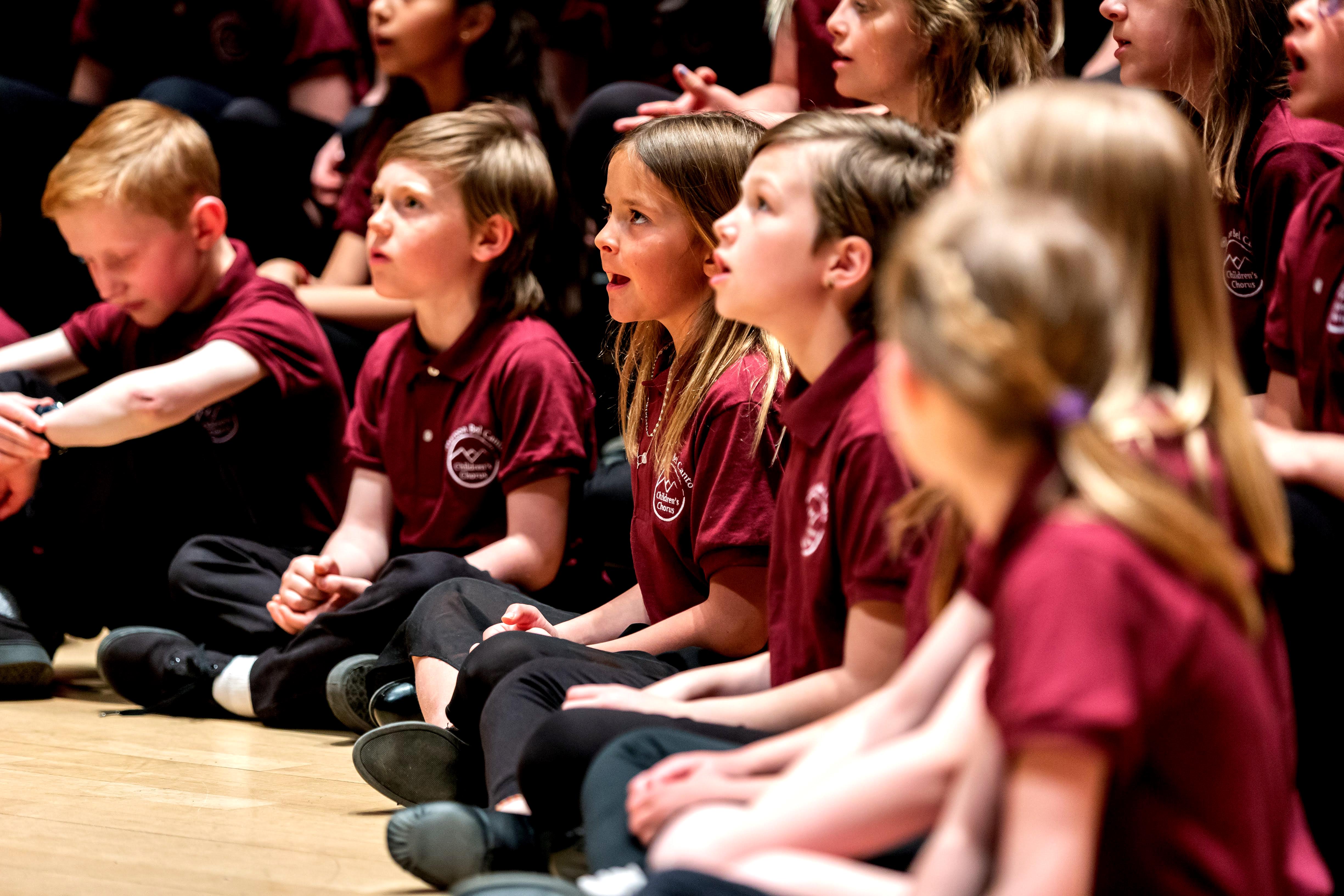 Maroon Bel Canto Choirs offers two choir divisions for the 2019-2020 school year: Maroon Bel Canto Children's Chorus (for grades 3-5) and Maroon Bel Canto Singers (for grades 6-8).
Maroon Bel Canto Children's Chorus (MBCCC) gives students in grades 3 through 5 the chance to participate in a traditional children's choir with other young singers and learn the foundation of choral singing in a fun, supportive, high-energy environment. Singers rehearse weekly at their chosen MBCCC school site and then join with singers from across the valley in two mass rehearsals and a performance. The choir is open to all students with a desire to sing.
Maroon Bel Canto Singers (MBCS) is a smaller, more select ensemble for older students, with or without prior choral experience. In this choir for sixth through eighth graders, singers rehearse weekly at their chosen MBCS school, participate in three MBCS Workshops, and perform a concert in March. With the focus squarely on older middle-school singers, we'll learn challenging and fun repertoire, develop sight-reading skills, and move quickly through advanced choral techniques! Starting in the second week of October and ending before Spring Break, MBCS is designed so busy middle school students can sing in the ensemble and still participate in other after school activities and athletics, including spring sports.

Maroon Bel Canto Choir Schools
All Roaring Fork Valley students (regardless of what school they attend during the school year) are welcome to sing in an MBCCC or MBCS ensemble at any participating school.

Meet the AfterWorks Teachers

Maroon Bel Canto Children's Chorus – for students in grades 3-5
Aspen Community School
Basalt Elementary
Glenwood Springs Elementary School
Sopris Elementary School

Maroon Bel Canto Singers – for students in grades 6-8
Aspen Middle School
Basalt Middle School
Riverview School
Glenwood Springs Middle School
Two Rivers Community School

Combined Rehearsals and Performances
Maroon Bel Canto Children's Chorus: A pillar of the MBCCC program is the opportunity for students from all participating schools to come together and sing as a mass choir twice per school year in Mass Rehearsals held at Harris Concert Hall in Aspen. Mass Rehearsals, led by MBCCC conductors and school-based directors, take place at Harris Concert Hall. In the end of the year MBCCC Showcase Concert, students from all MBCCC schools will sing together on stage in Harris Concert Hall. An additional mid-year performance may take place at individual MBCCC schools or combined with MBCCC ensemble from schools in the same community, as determined by MBCCC directors.

Transportation to and from Aspen is provided for the first and second Mass Rehearsals for students participating in MBCCC at BES/BMS, GSES, and SES. Transportation is only provided to Aspen on the final MBCCC Showcase day, as the students will be presenting a 6:30 PM concert in Harris Concert Hall. Parents: You will drive your singer home after the Showcase Concert. If you do not plan to attend the concert, please make carpool arrangements for your child with the parents of other singers prior to the concert day.
Maroon Bel Canto Singers: Because singing is always more fun with a large group, MBCS singers will join together at three MBCS Workshops throughout the school year and will perform a final Showcase Concert in Harris Concert Hall.
Transportation is provided for all singers to AND from the 1st and 2nd MBCS Workshops (unless the Workshop is held at your MBCS home-base school). Transportation TO Harris Concert Hall will be provided for students from BMS, Riverview, GSMS, and TRCS for the MBCS Workshop #3. Singers from AMS take RFTA buses or a mini-bus from the Aspen School District campus to Harris Concert Hall. Parents: You will drive your singer home after the Showcase concert; return transportation will NOT be provided. If you do not plan to attend the concert, please make carpool arrangements for your child with the parents of other singers prior to the concert day.

After-School Program Cost: $195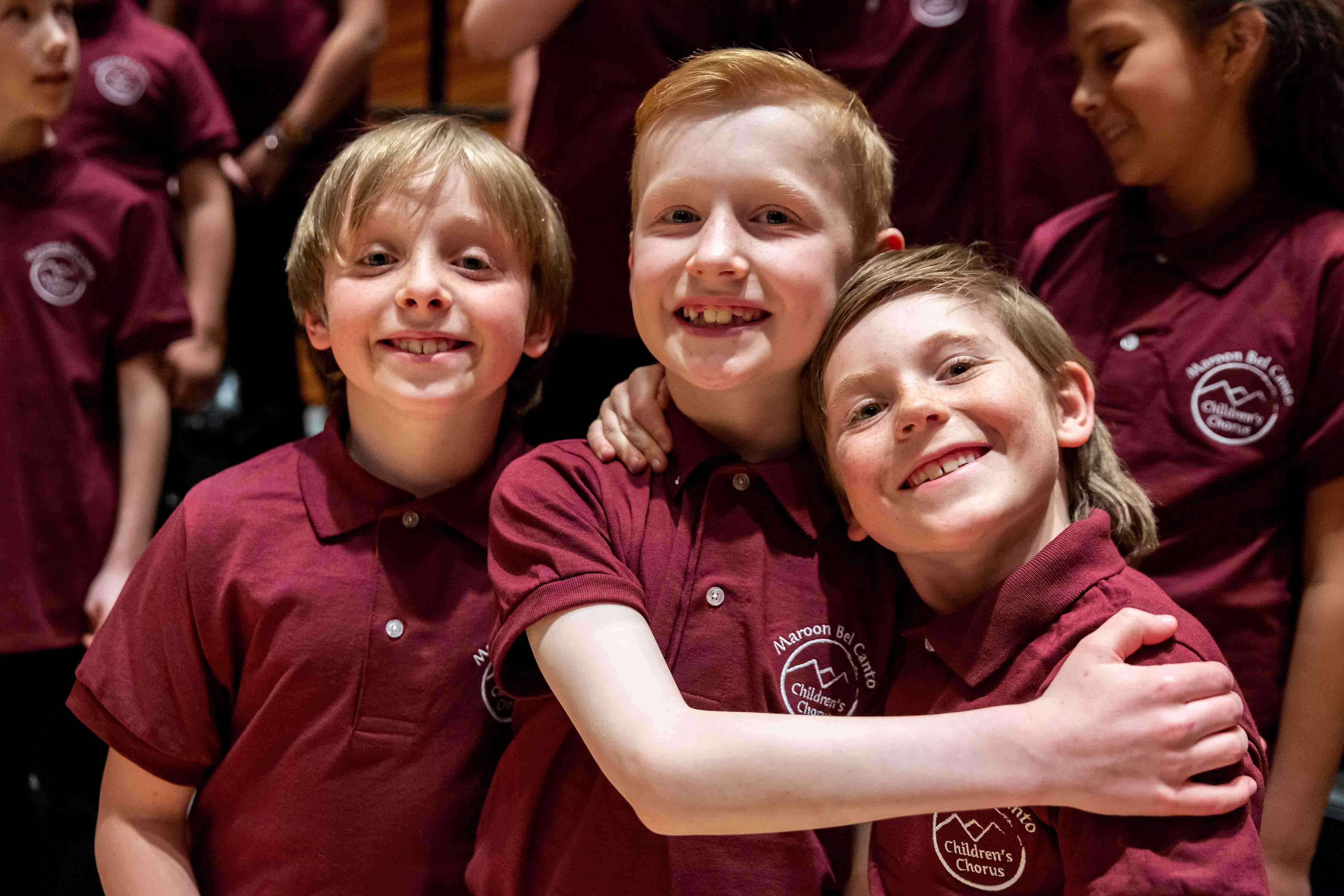 Cost includes all rehearsals and concerts (see above), snacks during the Mass Rehearsals/Workshops, dinner before concerts, bus transportation (for mid- and down-valley schools on school district buses) to/from Mass Rehearsals/Workshops/Concerts, a music binder, all music, and a MBCCC/MBCS uniform shirt.
This program is heavily subsidized by the AMFS and generous donors, and the actual program cost is more than $400 per student.
Please note that this is a 20+-week program (for MBCCC)/17+-week program (for MBCS) and that students should commit to the entire series of rehearsals and performances. Obviously, some conflicts could arise, but in order for students to be a contributing member of a choral ensemble, they need to be in rehearsal as much as possible. If space allows at a particular school, mid-year enrollment will be permitted; the tuition amount remains the same.
The AfterWorks Refund Policy is as follows:
Once a student has registered for an AfterWorks program (Beginning Strings, Lead Guitar, or Maroon Bel Canto Choirs), the following policy will apply to tuition refunds if that student chooses to leave the AfterWorks program:
Before first class/rehearsal: full tuition refund
Between first and third class/rehearsal: half tuition refund
After third class/rehearsal: no refund
Late Registration Fee: $25
Students who complete the MBCC registration form after the registration deadline will be assessed a Late Registration Fee of $25 to cover late registration processing and ordering of additional student supplies.

Scholarship
A limited number of tuition scholarships are available to students who demonstrate significant financial need.

Payment Plan
Payment plans for Maroon Bel Canto Choirs tuition are available, if necessary, and can be requested during the registration process.

How to Register
When the Maroon Bel Canto Choirs program is up and running again in the 2021-2022 school year, registration will take place here, starting in mid-August and continuing through the registration deadline in early October.

About AfterWorks
The Aspen Music Festival and School's AfterWorks program offers after-school, in-school and summer programming, in collaboration with Valley schools, to support music education. These programs are designed to complement the quality music instruction students receive from schools and private instructors.
Significant underwriting of all AfterWorks programs is provided through generous contributions from Alpine Bank of Aspen, Leelee and Bill Harriman, the Meinig Family Foundation, and Anne and Chris Reyes. Additional support of AfterWorks and the ArtistYear program is provided through generous contributions from Edith Kallas and Joe Whatley, and Tita and Dan McCarty.
---
To learn more, please contact:
Katie Hone Wiltgen
Dean of Education and Community
khonewiltgen@aspenmusic.org
970 205 5055