Beginning Strings
After-school violin, viola, and cello instruction for beginning and intermediate string students, in grades 2+
Schools | Cost and Scholarship | Instruments
Program Overview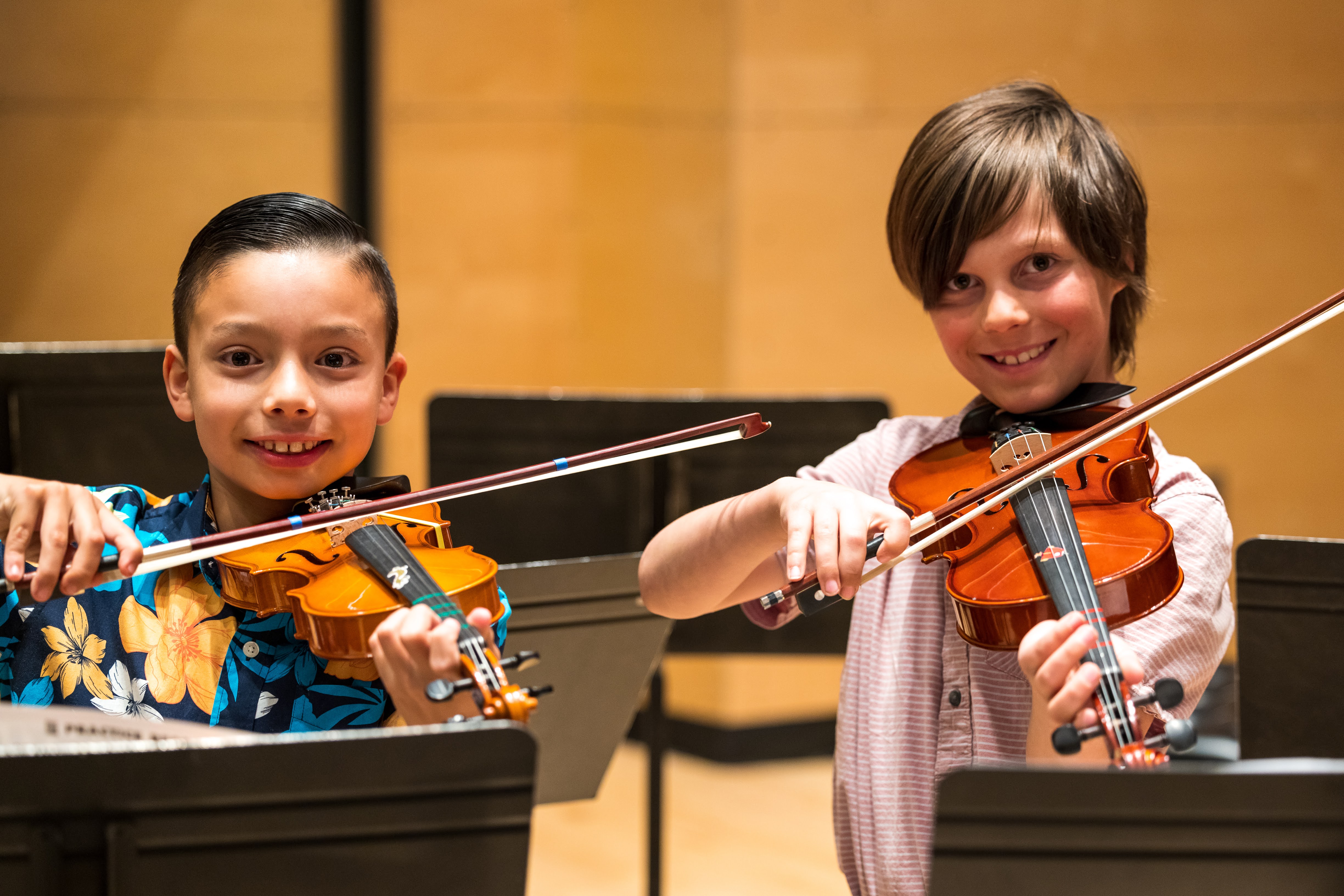 Would you like to learn a string instrument? If so, Beginning Strings is for you!
This program is for students who wish to study violin, viola or cello in a supportive and engaging musical environment. Curriculum includes weekly group classes at six after-school locations throughout the Roaring Fork Valley, performance opportunities, and private or small-group lessons. Our team of teaching artists inspire students to develop a love for music through string education, performance, and music literacy in a social environment. Many students engage in the program for multiple years and develop a strong foundation of both musical and interpersonal skills.
Open to students in grades 2-5 and through middle school for those with past Beginning Strings experience. Instrument and tuition scholarships are available. Students are expected to commit to classes for the duration of the program, from October through early May.
Schools: 2022-2023 School Year
The Beginning Strings program will run as an after-school program at six schools during the 2022-2023 school year. All Roaring Fork Valley students (regardless of what school they attend during the school year) are welcome to participate in Beginning Strings at any participating school.
Meet Your AfterWorks Teachers!
10/5/2022: Registration is now closed for the 2022-2023 school year. All Beginning Strings classes are full and not accepting additional students.
Mondays, 3:10-4:40 pm
Class starts October 3
Wednesdays, 2:05-3:35 pm
Class starts October 5

Thursdays, 3:20-4:50 pm
Class starts October 6
Thursdays, 3:35-5:05 pm
Class starts October 6
Wednesdays, 2:05-3:35 pm
Class starts October 5
Tuesdays, 3:35-5:05 pm
Class starts October 4
Have a scheduling conflict with the Beginning Strings day at your school this fall? We can help... Reach out to us about options!
After-School Program Cost: $275
Cost includes 20+ weeks of 90-minute classes, a starter supply pack (rosin, shoulder rest or rock stop, finger tapes, Essential Elements method book, music stand), a series of private or small group lessons (lessons alone are valued at $120!), at least one performance on the Harris Concert Hall stage, and snacks during classes. Students are responsible for the cost of an instrument (either rented or purchased). Some AMFS-owned scholarship instruments are available.
The cost of this program is heavily subsidized by AMFS donors. Without their generous support, the actual cost per student would be closer to $700. Thank you, donors!
Scholarship
A limited number of tuition scholarships are available to students who demonstrate significant financial need.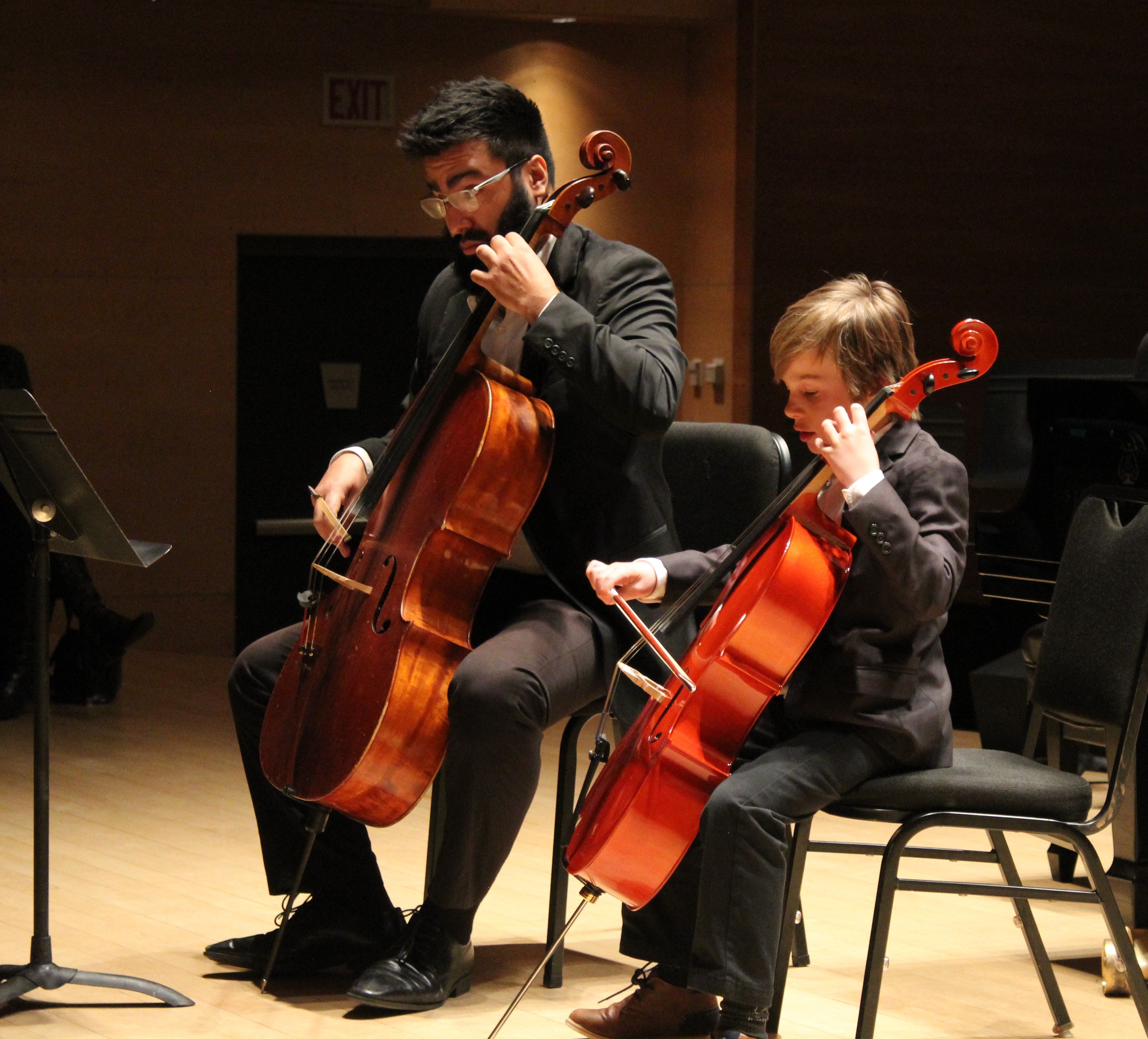 Additionally, a limited number of instrument scholarships are available to students who are unable to afford the cost of purchasing or renting a violin/viola/cello. Instrument scholarships permit the use of an AMFS-owned instrument while enrolled in Beginning Strings.
Payment Plan
Payment plans for Beginning Strings tuition are available and can be requested during the acceptance process.
Late Registration Fee
Students who complete this Beginning Strings registration form after 8 AM on Tuesday, September 27 may be assessed a Late Registration Fee of $25 to cover late application processing and the ordering of additional student supplies.
AfterWorks Refund Policy
Once a student has registered for an AfterWorks program (Beginning Strings, Chamber Music Lab, Lead Guitar, or Maroon Bel Canto Choirs), the following policy will apply to tuition refunds if that student chooses to leave the program:
Before first class/rehearsal: full tuition refund
Between first and third class/rehearsal: half tuition refund
After third class/rehearsal: no refund
Instruments
Students can select to learn violin, viola, or cello through the Beginning Strings program. Follow these links to see each instrument demonstrated by our friends at The Harmony Project: violin, viola, & cello.
Not sure what to play? Pick violin... It's the most affordable option and easy to transport--a great place to start!
All students should have an instrument ready for the first day of Beginning Strings class. Students will receive detailed information about securing an instrument when they have been accepted to the Beginning Strings program and will receive access to the AMFS's discounted pricing on instruments.
Determine what size instrument your student needs with these helpful videos: violin, viola, cello.
Students have three options to secure an instrument:
Purchase an instrument through a music shop. We recommend Shar Music in Ann Arbor, Michigan. Click HERE for rental and purchase information.
Rent an instrument from a music shop (again, we suggest Shar Music; monthly rental rates to be announced)
Apply for an instrument scholarship to use an AMFS-owned instrument
Advanced Opportunities
Blue Square & Black Diamond Level Students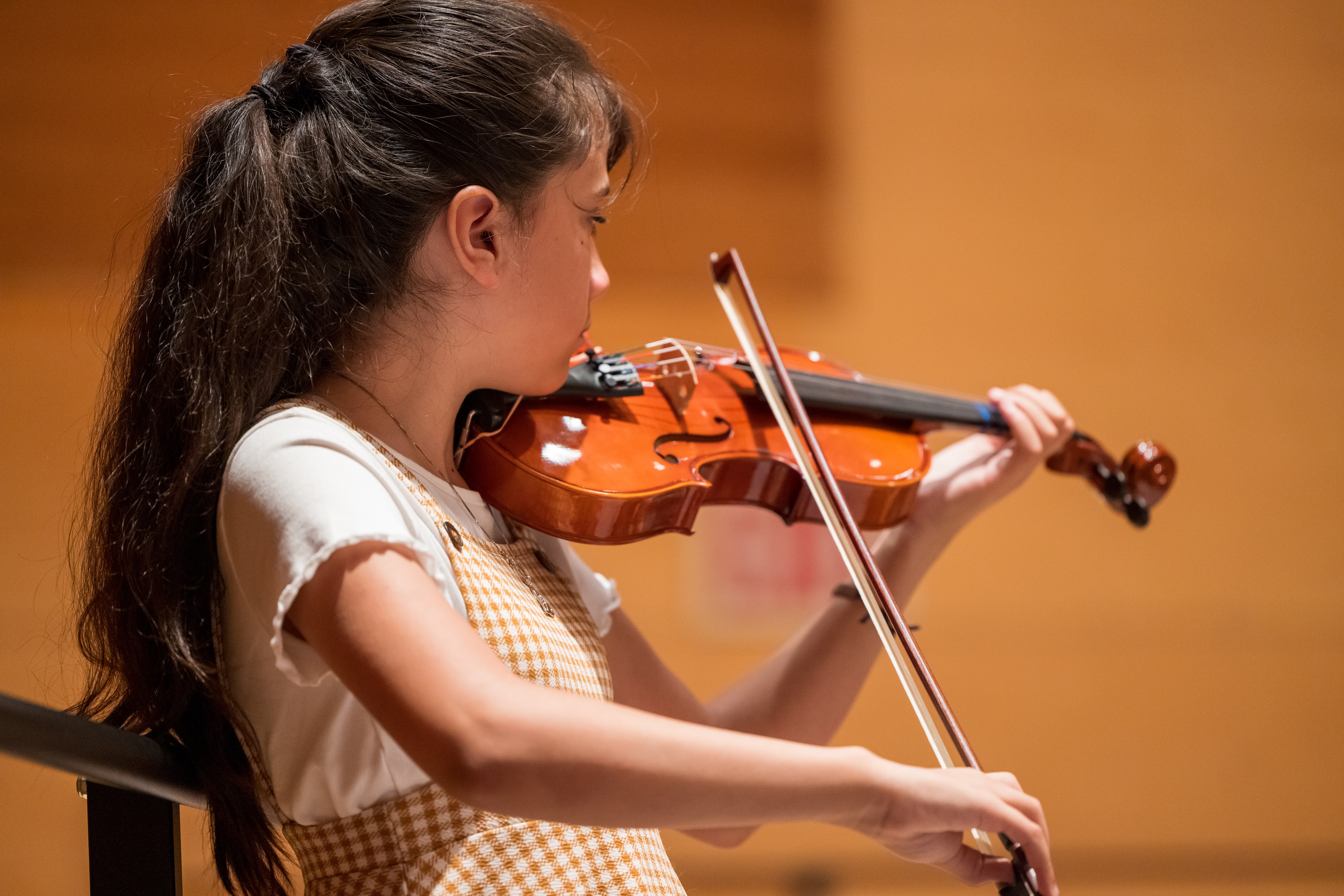 Were you involved in Beginning Strings in the past? If you have achieved placement in the Blue Square (intermediate) or Black Diamond (advanced) level of the Beginning Strings program, you will be placed in your own class during the already scheduled class times. All students will be assessed during the first week of class and placed into the appropriate class division.
AMFS CHAMBER MUSIC LAB - For Double Black Diamond Level Students & Beyond
If you have reached the Double Black Diamond Level in Beginning Strings and/or moved past the regular curriculum and would like to continue, AMFS Chamber Music Lab is for you! In this chamber music program, you will be placed in a small ensemble to develop ensemble skills, learn extended techniques, and expand your independent musicianship with a dedicated ensemble coach.
Interested students will be formed into chamber music groups according to age/grade level and experience/ability level. Small ensemble groups will meet regularly at locations and times based on student and coach availability. Learn more here!
Looking for Youth Orchestra opportunities? Check out offerings from our friends at the Roaring Fork Youth Orchestra (not an AMFS-affiliated program).
Performance Opportunities
Friday, March 3, 2023 - AfterWorks Solo Recital | Harris Concert Hall at 5:30 PM

Select students invited to participate based on work in private lessons

Wednesday, May 3, 2023 - Beginning Strings & Chamber Music Lab Showcase Concert | Harris Concert Hall at 5:30 PM

Beginning Strings classes end after the spring Beginning Strings Showcase
How to Register
Registration for Beginning Strings opens on Thursday, August 18 at noon and closes on Tuesday, September 27. Late registrations will be accepted starting Wednesday, September 28, if space remains in classes, and may be subject to a $25 Late Registration Fee.
About AfterWorks
The Aspen Music Festival and School's AfterWorks program offers after-school, in-school and summer programming, in collaboration with Valley schools, to support music education. These programs are designed to complement the quality music instruction students receive from schools and private instructors.
---
To learn more, please contact:

Heather Kendrick
Manager of Education and Community Programming
hkendrick@aspenmusic.org
970 205 5057

Beginning Strings scholarship support is provided by Michael Rand.
Significant underwriting of the AfterWorks program is provided through generous contributions from:



Leelee and Bill Harriman
The Meinig Family Foundation